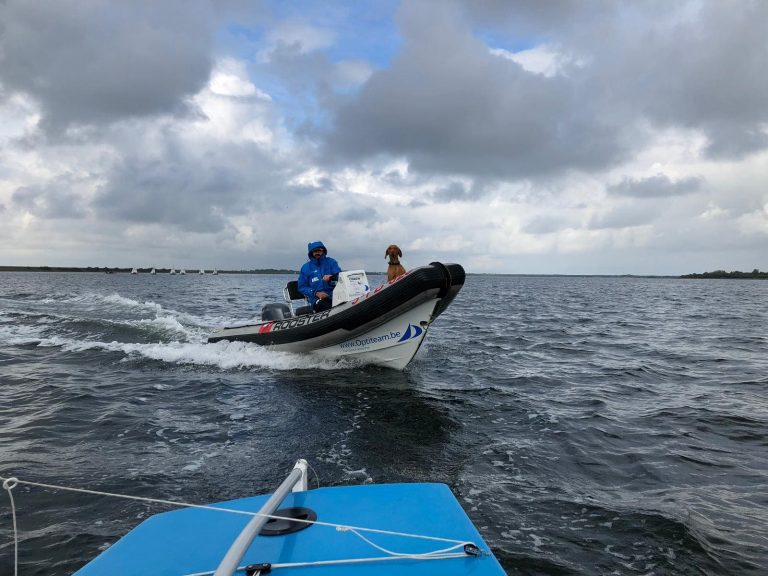 Scharendijke, Netherlands, April 27-28, 2019
In the late afternoon of Friday the first part of the Snipe Gypsy Camp was built on the boat parking of the Watersport Vereniging Scharendijke. The atmosphere was immediately good and the weekend started with a cozy BBQ in which the Fireballs also joined the Gypsy Camp. As predicted, there was a strong breeze on Saturday morning and the Race Committee was considering a possible start. There was a 22-25 knots from southwest direction with peaks of more than 30 knots. At 11:00hrs the deferral flag was raised and at 12:00hrs the committee wisely decided to cancel the race for the rest of the day.
Then we decided to take our courage together and descend to Surfcentrum Brouwersdam to – after a solid lunch – still get our windsurfing skills from under the dust with some of us. After a session of 1.5h everyone was exhausted but satisfied and we went back to the Snipe Gypsy Camp. The aperitifs could begin and after dinner there was an extensive sound on Andy's birthday. The limoncello flowed abundantly but turned out to be fatal for some on Sunday morning so 1 team had to give a lump sum…
On Sunday the conditions were excellent. A 9-10 knots with gusts of 12-13 knots from the north resulted in 4 nice series. Team "Keen Katia" managed to climb forward each time and therefore performed very consistently with 4 first places. The "Ladiesteam" clearly indicated that they will have to be taken into account at the upcoming SWEC 2019 and put down a nice 2nd place overall.
Finally a "special thanks" to Maurice Slap for using the Coach Rib and the Triple Snipe Trailer.
Nr
Sail Number

Team

Club

T
N
R1
R2
R3
R4
R5
R6
R7
1

 BEL 30783

KLYC

4.0
3.0
2

 BEL 29977

KLYC

10.0
7.0
3

 BEL 30714

SODIPA

16.0
10.0
4

 BEL 29988

KLYC

15.0
10.0
5

 ITA 29935

KLYC

17.0
11.0
6

 BEL 30357

KLYC

22.0
16.0
7

 BEL 30479

KLYC

32.0
24.0

DNC

DNC

DNC

DNC