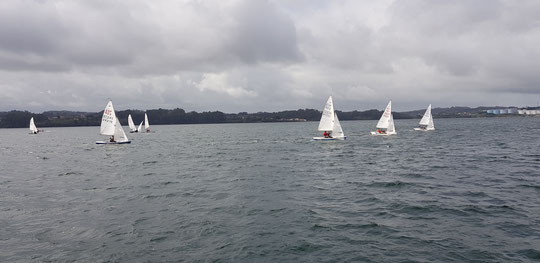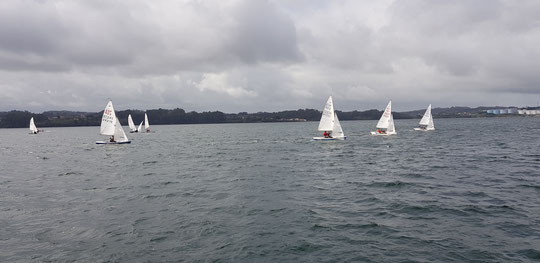 Ferrol, Spain, December 15, 2019. Final of results of the series started on January 12:
Miranda & J. Tizon, 27
Tajuelo & AlejandroDolz, 27

DiegoLopez & ManuEspin, 27
El domingo se disputó la última jornada del G.Prix que organiza la Comisión Naval de Regatas de Ferrol, y que comenzó a disputarse el 12 de enero.
A la última jornada se llegaba con el Pichurreiro de Miranda a la cabeza, con 19 ptos, seguido por el Xacarandaina de Diego lopez con 25 y el O Lieiro de Tajuelo con 26.
El dia, a pesar de que los meteos no era buenos, estuvo excelente para la práctica de la vela, pues hubo un viento de entre 8 y 10 nudos bastante estable en dirección.
La regata estuvo muy disputada, produciéndose un resultado final inesperado, pues los tres barcos que ocupaban los primeros puestos acaban al final empatados a 27 puntos, al obtener Tajuelo un primer puesto, Diego L. un segundo y Miranda un octavo, decidiéndose el liderato a favor de Miranda por mayor numero de primeros, seguido de Tajuelo y Diego López.
Al acabar la prueba, la Comisión Naval de Regatas ofreció una comida de confraternización, y, posteriormente, tuvo lugar la entrega de Trofeos presidida por el Presidente de la C.N.R, aprobándose el calendario del 2020, que tendrá la primera prueba el 11 de Enero.