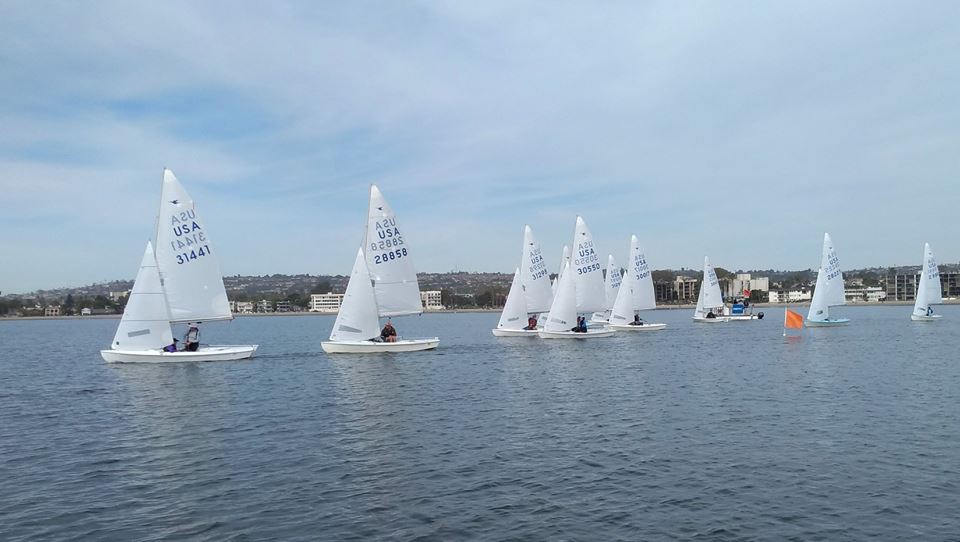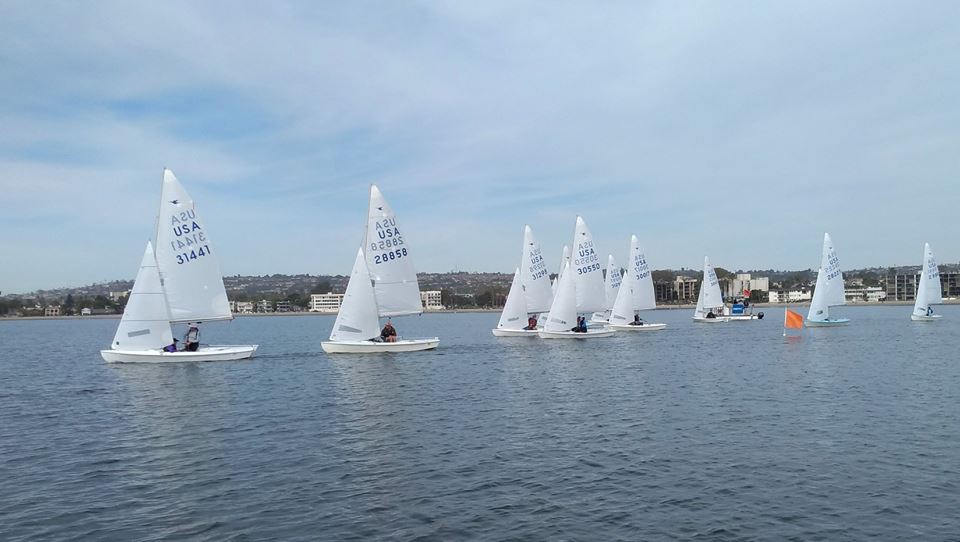 Mission Bay, CA, USA, January 20, 2019
Report by Don Bedford
The Fleet's highlight for January was our annual Las Vegas Regatta the weekend of the 19th/20th. The term "Regatta" is used very loosely here. As usual, there was no entry, no registration, and no trophies – just some great racing on Mission Bay. We saw about a dozen boats out for the weekend and a mix of conditions.
Saturday began light and ended with gusts to 12 knots along with some record tides. The light teams did great for a few races then when hiking off toe-nails their performances were eclipsed by those teams up closer to the 300 lb range. After the five races, and some boats able to plane in post-race, we were rewarded with crazy low tides that caused many boats to opt out of retrieving boats from the beach and head for the old school hoist method. Later, some great bar talk and sharing of tuning and tips occurred while enjoying what was left of the warm January day.
Sunday began with lighter winds and saw a 30 minute postponement before a decent course could be set. Finally a westerly blew in for five knots and the racing commenced. The lefts and rights blew down the course and the wind died and built again, giving lots of room for improvement and lose over the three-leg courses. When it appeared that the wind was going fade completely we lost a few boats but the remaining boats were rewarded with enough breeze to squeeze in a few more for a total six races.
While Randy Lake was one of the skippers who headed to the barn a little early, he never finished a race lower than second! We had a few other teams mix into the top five positions and everyone said the improved over the short sailing sabbatical we have during the holiday season. A big thank you goes to our own Craig Storms and the Sunfish Fleet for running the R/C for the regatta. We'll be paying that back with a couple of Single Handed Saturday days coming this year.
Our next big event will be our annual golf tournament on February 2nd and the SCYA Midwinters at MBYC (in the bay) February 16/17. Also, stay tuned to an upcoming announcement for our next clinic to get the boat / skipper / crew up to speed for 2019.
We'll hope to see you on the water!
Don Bedford