Rocky Mountain Snipe Championship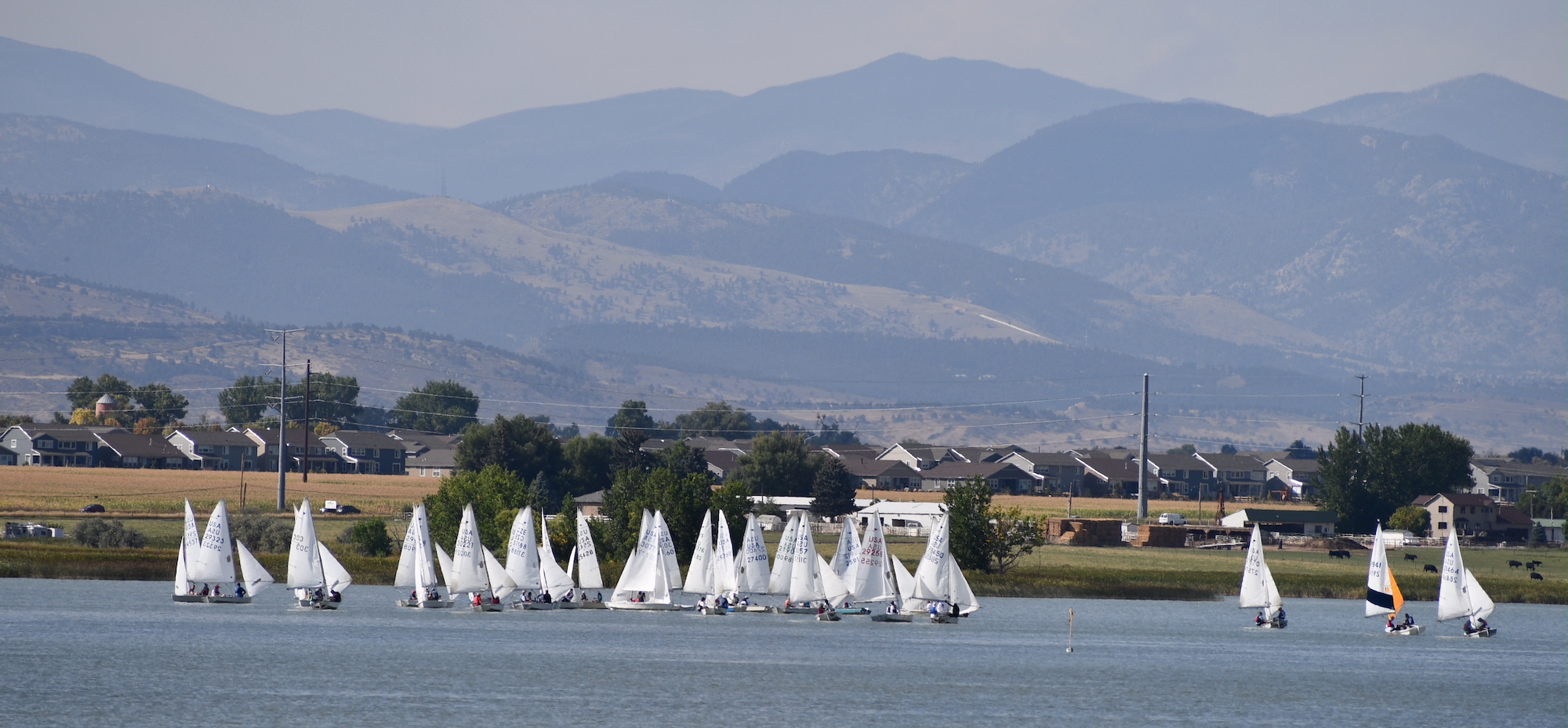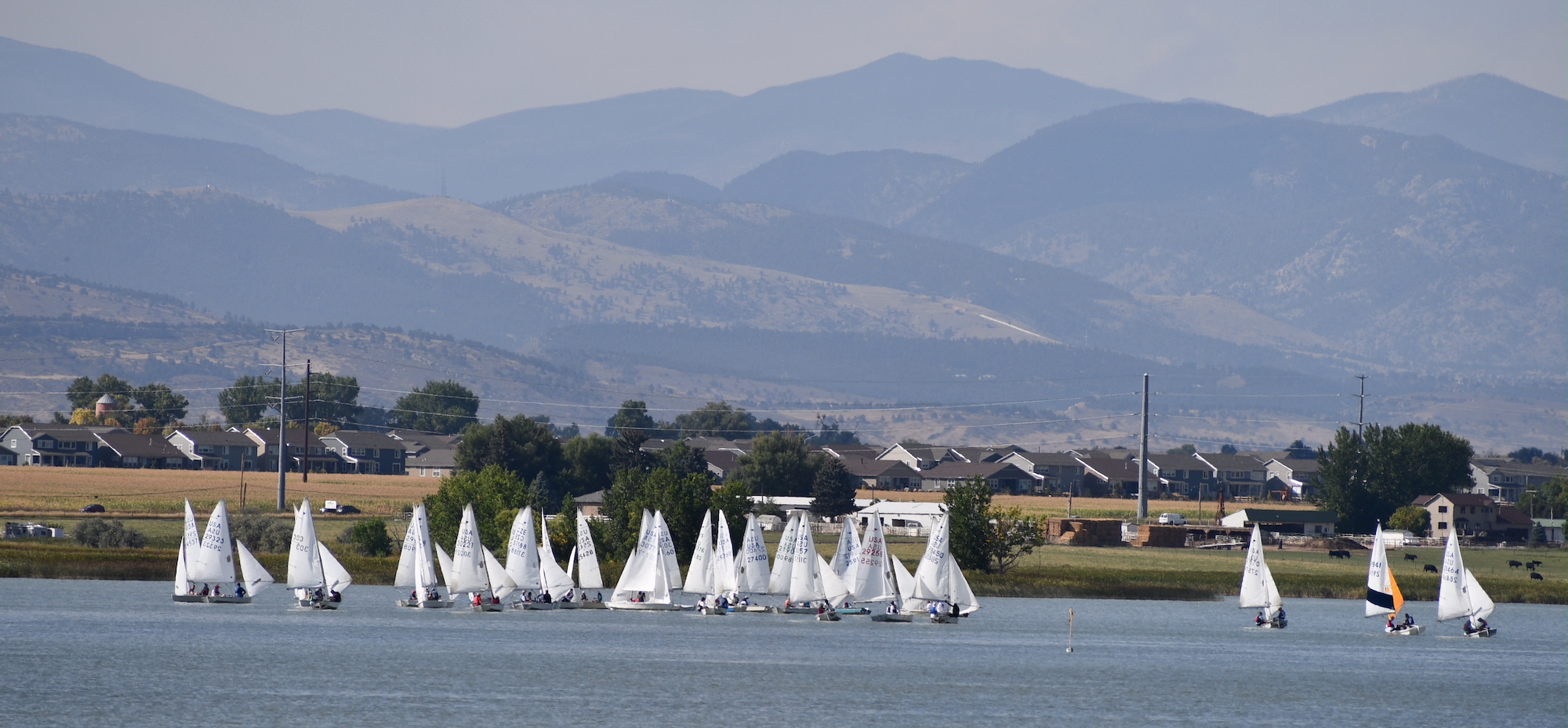 Longmont, CO, USA, September 26, 2021. September brought the Rocky Mountain Snipe Championship and World Qualifier to our little Union Reservoir in Longmont, Colorado. Thirty-two teams from around District II competed over three days in light and shifty mountain conditions.
There was a wide range of competition from 90-year old's to 14-year old's! Fun was had by all, enjoying the largest Snipe showing in Colorado since Snipe Nationals at Dillon Reservoir in 2007.
Three races were held on Friday, which brought the best winds ranging from 5-12 knots. The conditions were very challenging at times with shifts, gusts and lulls – keeping the teams on their toes. Garth and Peggy Fasano dominated the field with their effective roll-tacking skills. 
Despite the lighter wind on Saturday, three more races were held. Teams honed in on their wind reading skills to catch the next puff coming over the lake. Keeping even tempered and waiting for the next opportunity is the only way to survive a grueling sail's race! The top teams showed they were up for the challenge and were able to defend their positions well.
Early Sunday morning the wind forecast looked promising, but as soon as everyone was out on the water and ready to race, nothing was left. No races were held and all opted to head for shore for some lunch and a very delightful awards ceremony.
Thanks to everyone who helped to make this a memorable regatta in the middle of a dessert!
Amanda Kremer
SAILORS
SAIL NUMBER
BOAT NAME
CLUB/ORG
NET
TOTAL
R1
R2
R3
R4
R5
R6

1

Garth Fasano
Peggy Fasano

USA 31

None

NYYC / BMYC

12

18

2

[6]

1

3

1

5

2

Steve Tautz
Delia Leonard

USA 25912W

None

Fleet 640 – Bow Mar

15

21

1

5

[6]

6

2

1

3

Blaine McCleskey
Adrienne McCleskey

USA 29537

None

Fleet 210 – Rocky Mountain

15

22

3

[7]

3

1

5

3

4

Ryan Schubert
Amanda Kremer

USA 30391

Purple Haze

Fleet 210 – Rocky Mountain

20

29

5

3

4

2

6

[9]

5

Doug McKnight
Rosemary McKnight

USA 28464

None

Fleet 210 Rocky Mountain

29

39

[10]

4

2

5

8

10

6

Alexander Horne
Henry Richter

USA 27626

None

Fleet 210 – Rocky Mountain

32

45

[13]

13

10

4

3

2

7

Gene Soltero
Laura Dahl O'Leary

USA 30777

Princess Soggy Bottom VIII

London Corinthian Sailing Club

37

70

8

1

13

[OCS – 33]

11

4

8

Robert Pincus
Mike Ruwitch

USA 30618

Schu-Fly

Fleet 210 – Rocky Mountain

43

59

7

[16]

8

9

7

12

9

Bruce Buchan
Alanna Fernnandez

USA 29941

None

Fleet 210 – Rocky Mountain

44

64

4

2

9

[20]

18

11

10

Brian Smith
Brittany Smith

USA 30473

None

Fleet 210 – Rocky Mountain

49

69

9

15

5

16

4

[20]

11

Dave Baker
Peter Schiavoni

USA 29323

None

Fleet 640 – Bow Mar

51

70

11

9

16

7

[19]

8

12

Nikolai Woeger
Fabian Woeger

USA 27400

Lobster Noodles

Fleet 210 – Rocky Mountain

54

82

6

12

11

10

15

[28]

13

Bruce Miller

USA 28900

None

Fleet 210 – Rocky Mountain

58

74

[16]

10

7

15

12

14

14

Mike Slouka
Cody Gonzales

CZE 31188

None

Fleet 640 – Bow Mar

63

87

[24]

18

12

13

14

6

15

Martin Holmgren
Sofie Holmgren

USA 28141

TBD

Fleet 210 – Rocky Mountain

63

81

12

17

[18]

12

9

13

16

Kim Adam
Daniel McBrearty

USA 25912B

Watery Tart

Fleet 210 – Rocky Mountain

69

94

15

11

[25]

11

17

15

17

Peyton Lester
Doug Moldawsky
Cliff Lester

USA 27094

Irene

Fleet 210 – Rocky Mountain

70

94

18

[24]

15

14

16

7

18

Carl Richter
Yaga Richter

USA 25428

None

Fleet 210 – Rocky Mountain

73

99

23

14

[26]

8

10

18

19

James MacKenzie
Paul Acker

USA 29760

None

Fleet 210 – Rocky Mountain

85

107

14

[22]

21

21

13

16

20

Adam Field
Danielle Wilesky

USA 29255

Stiletto

Fleet 210 – Rocky Mountain

91

118

[27]

8

23

18

23

19

21

Tyler Hendricks
Suzi Wells

USA 27570

Firehaus

Fleet 210 – Rocky Mountain

101

127

19

23

19

17

[26]

23

22

Richard Summers
Chris Little

USA 30860

None

Fleet 210 – Rocky Mountain

101

130

[29]

21

20

TLE – 22

21

17

23

Jim Stillson
Katy Stillson

USA 29908

None

Snipe Fleet 001

111

139

25

20

17

TLE – 22

[28]

27

24

Alexander Blitz
Hannah Hayes
Nate Wilhelmi

USA 24638

None

Fleet 210 – Rocky Mountain

113

141

[28]

26

22

19

20

26

25

Sonya Glasser
Ariel Ropek

USA 28376

None

Fleet 210 – Rocky Mountain

115

142

22

25

24

TLE – 22

[27]

22

26

Taylon Starr
Mindy Michaels

USA 31157

Mork&Mindy

CSC

117

150

21

[OCS – 33]

27

TLE – 22

22

25

27

Eliot Payson

USA 31244

None

Fleet 640 – Bow Mar

124

157

17

27

14

[DNS – 33]

DNS – 33

DNS – 33

28

Isaac Vance
Sam Hedin

USA 303

None

Fleet 210 – Rocky Mountain

124

154

[30]

28

28

TLE – 22

25

21

29

Patrick Leahy
Ardi Dushi

USA 30221

None

Fleet 309 – Iowa/Nebraska

130

163

31

29

[OCS – 33]

TLE – 22

24

24

30

Simon Day
James Day

USA 31700

None

Fleet 210 – Rocky Mountain

144

177

26

19

[DNS – 33]

DNS – 33

DNS – 33

DNS – 33

31

Marcus Ward
Lorena Ward

USA 28449

None

Fleet 210 – Rocky Mountain

152

185

20

[DNF – 33]

DNS – 33

DNS – 33

DNS – 33

DNS – 33

32

Martha Young
Akash Kalsekar

USA 28450

None

London Corinthian Sailing Club

154

187

[DNS – 33]

DNS – 33

DNS – 33

TLE – 22

DNF – 33

DNS – 33