MarlinSpike Rum Cup – Final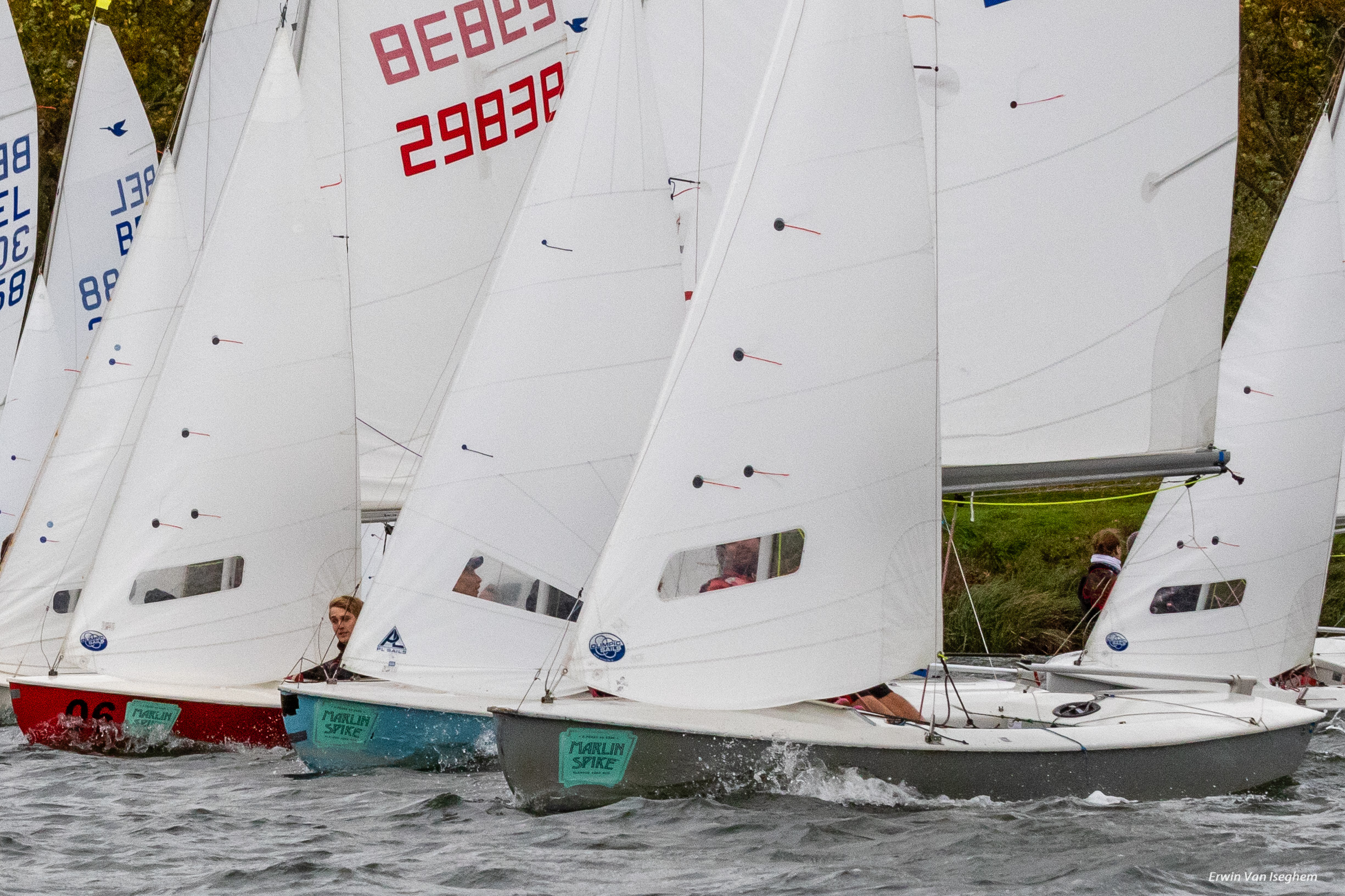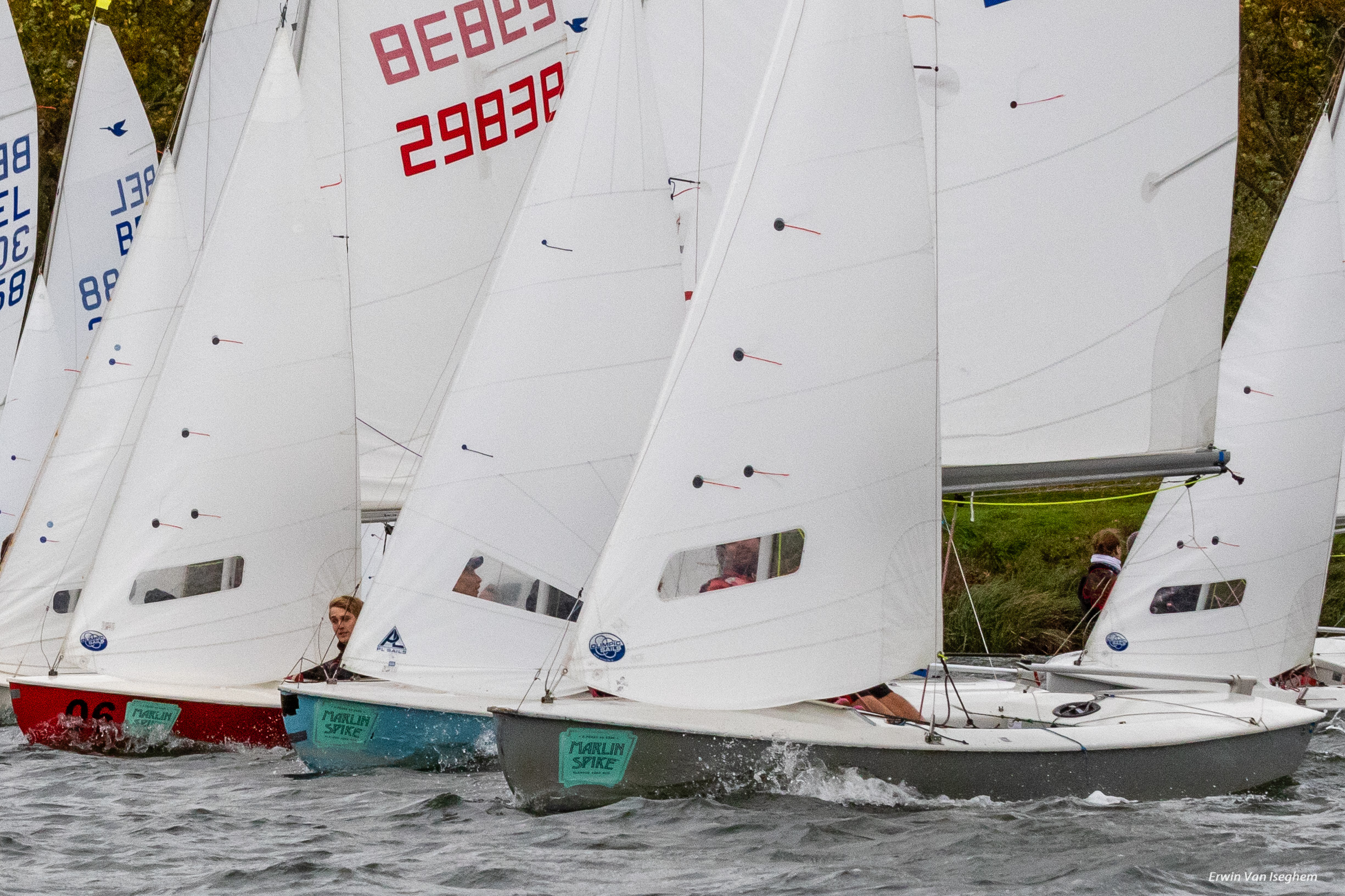 (Photo courtesy of Erwin Van Iseghem)
During the weekend of 19-20 October 2019 the second edition of the famous "MarlinSpike Rum Cup"  took place at the Antwerp Lake "Galgenweel". A nice mix of National and International boats showed up at the start line with teams from Great Britain, France, Italy & Spain resulting in a total fleet of 25 Snipes!
Although the weekend started with some drizzle, the sky cleared up fairly quickly and by the time the first warning signal was given, the conditions were perfect to start racing with an average breeze of 10 up to 15 knots.
In view of the lower wind forecast for Sunday, the Racing Committee decided to maximize the number of races on Saturday which resulted in a total of 7 races sailed that day.
By the end of the day, Manu Hens and his better half Maj Kristen Hansen Borgen (who just returned from the World Cup in Brazil) took the lead closely followed by Bart & Eva Janssens/Jacobs and Jan & Nathalie Peeters/Janssens.
As usual, the Organization didn't want to be held liable for thirsty and hungry Snipe Sailors, so they made sure a delicious lunch was served and in the evening, the "Serious Fun" part kicked off well with an open MarlinSpike Rum Bar followed by a nice dinner at the The Royal Liberty Yacht Club (KLYC) where the sailors could enjoy the beautiful view over the River Scheldt and the Antwerp City Skyline.
As expected, Sunday appeared to be a more challenging day in terms of weather conditions and the day started with the AP Flag and a lake looking like a mirror. Luckily a small breeze kicked in around noon time. Although the conditions during the 1st race of the day were really at the limit of valid racing (barely achieving average of 5 knots), the breeze slowly built up and by the end of the day 3 races were sailed of which 1 Medal Race which was won by Bart & Eva Janssens/Jacobs. The 3rd Position went to Corentin & Yannick Demanet/Laumans.
Again the "MarlinSpike Rum Cup" appeared to be a success formula and together with the "Belgian Nationals" and the "Antwerp Snipe Cup", it seems this Race can be added to the list of popular Belgian Snipe Events attracting people from abroad.
Thanks to the main sponsors "MarlinSpike", an innovative and "blended aged" rum. And the following partners: www.optiteam.be & www.perssonmarinebelgium.com and Windkracht12 to make this event possible.
Antwerp, Belgium, October 20, 2019. Final results after 10 races + medal race
BEL Manu Hens & Maj Kristin Hansen Borgen
BEL Bart Janssens & Eva Jacobs
BEL Corentin Demanet & Yannick Laumans
BEL Jan Peeters & Nathalie Janssens
BEL Erwin Everaert & Jan Everaert