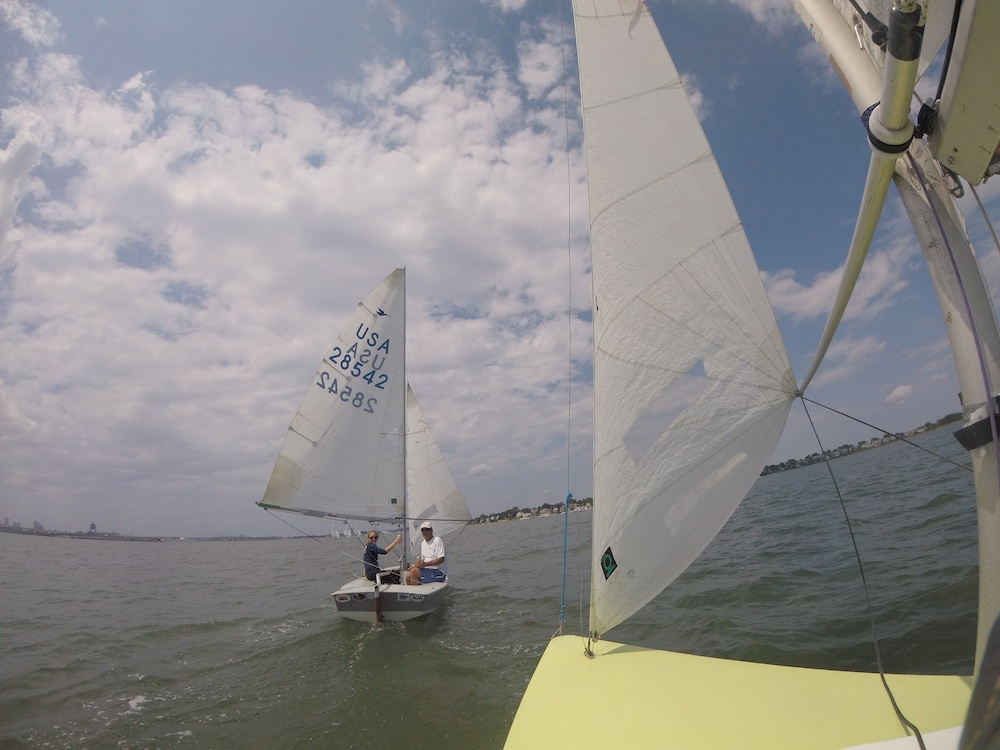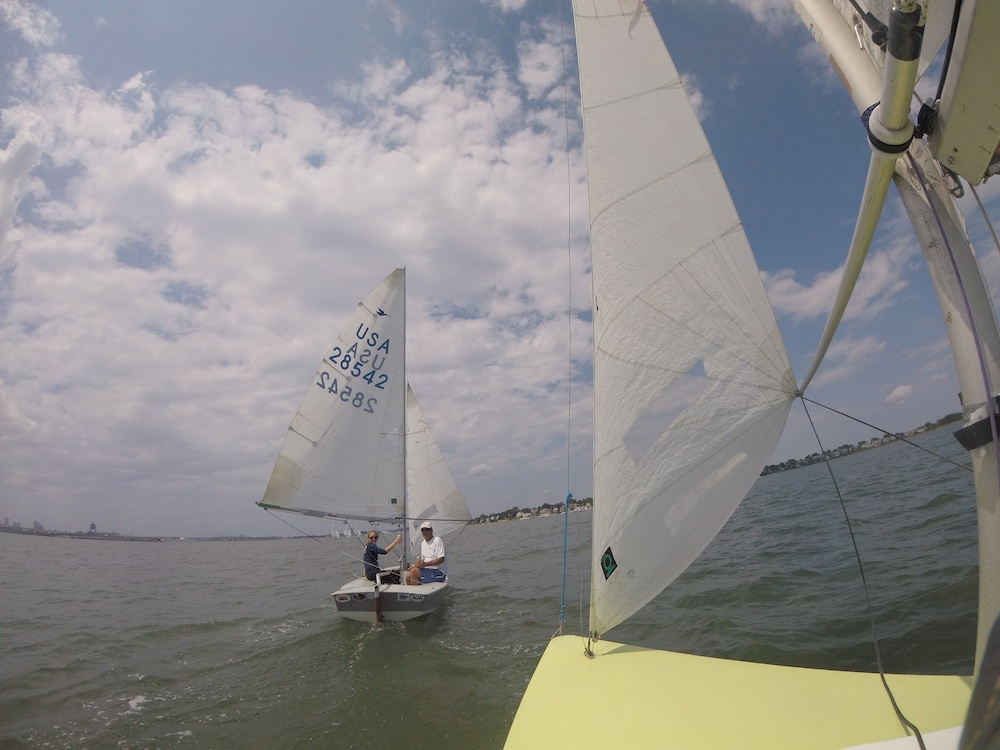 Cottage Park, Boston, MA, August 4, 2019
Report by Ted Keenan
Nine Snipe teams joined over a 100 Junior, PHRF, and Rhodes 19 sailors for the 25th annual Make a Wish Regatta hosted by Cottage Park Yacht Club, who will be hosting the 2020 Western Hemisphere and Orient Championship.  Boston area sailors were joined by Marvin Beckman from Texas with super crew Nikki Bruno of New Jersey and Nathan Cunningham and Gregory McGinnis came down from New Hampshire.
Saturday started with overcast skies and potential thunderstorms forecast for later in the day. Fortunately, the rain held off and four races were held in South to South-West wind that was mainly 6-8 with some higher gusts and some lulls. Jim Bowers and Julia Marsh mastered tricky shifts and mysterious current to record 4 bullets.
The best wind of the day was reserved for the ride in. The festivities began with a Bacardi pier party, followed by a capacity crowd for the charity dinner which included raffles, and a silent auction in support of the Make a Wish foundation.
Sunday dawned bright and sunny, which unsurprisingly led to a short postponement until a sea breeze filled in at 11:30. Four races followed in a shifty east-southeast breeze. Sharp eyes were key to success on Sunday. Jim and Julia continued their streak of bullets in the first race. But Marvin and Nikki showed that they were figuring it out with a win in the second race. Followed by races in which Bob and Jackie and Andrew and Michelle put together the right combination of speed and finding windshifts.
The fleet successfully rendezvoused with the beer boat on Sunday, having missed it in their rush to get to the Bacardi party on Saturday's sail in.
A good time was had by all at a successful event both for sailing and charity.
Final snipe results.
1 Jim Bowers/Julia Marsh 1 -1 – 1 – 1 – 1 – [3] – 2 – 2  – Total 9
2 Bob Coyle/Jackie Farnsworh [6} – 3 – 2 – 4 – 2 – 2 – 1 – 5 – Total 19
3 Andrew Klein/Michelle Morphew 3 – 4 – [8] – 2 -5 – 5 – 4 – 1 – Total 24
4 Marvin Beckman/Nikki Bruno 5 – [8] – 5 – 6 – 4 -1 – 3 – 3 – Total 27
5 Ted Keenan/Alison Keenan [7] – 7 – 3 – 5 – 3 – 4 – 6 – 4 – Total 32
6 Cam Fraser/Liz Glivinski 2 – 2 – 4 – 3 [DNC] – DNC – DNC – DNC – Total 41
7 Venkat Chalasani/Michael Cunniff [8] – 6 – 7 -8 – 6 – 6 – 5 – 6 – Total 44
8 John Mac Rae/Myrna MacRae 4 – 5 – 6 – 7 – [DNC] – DNC – DNC – DNC – Total 52
9 Nathan Cunningham/Gregory McGinnis 9 – 9 – 9 -9 [DNC] – DNC – DNC – DNC – Total 66