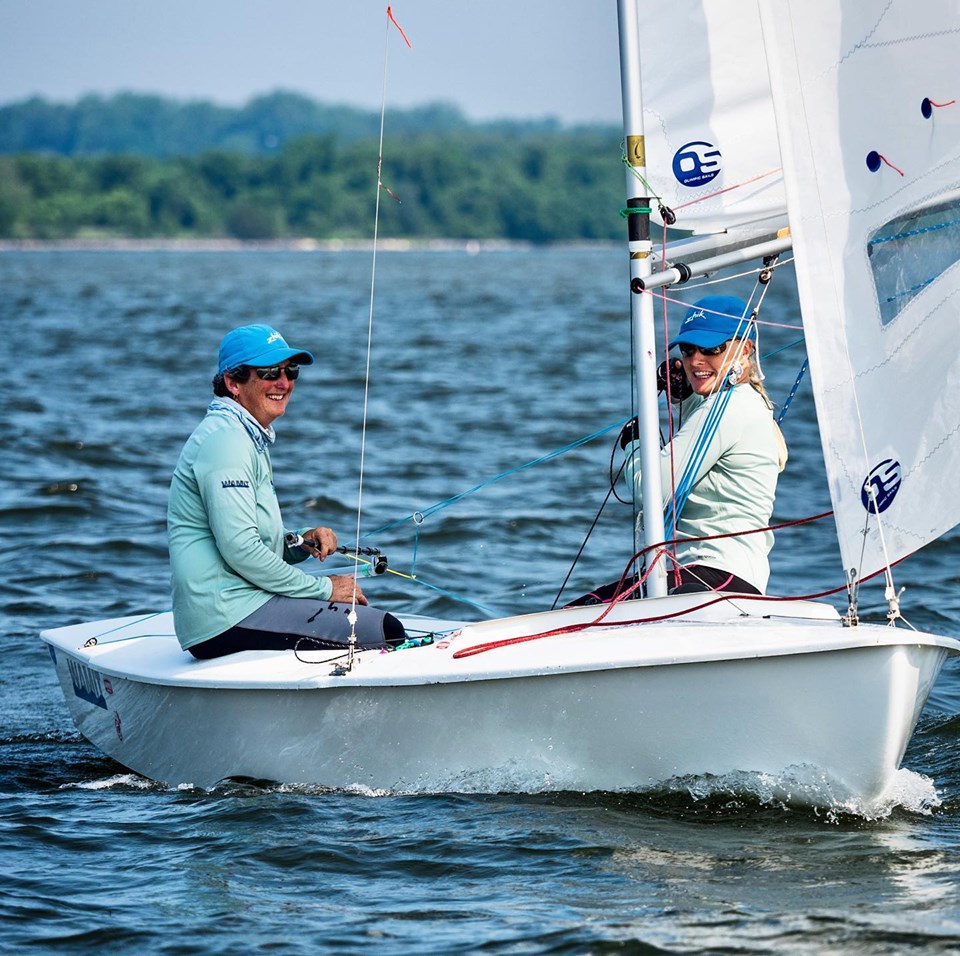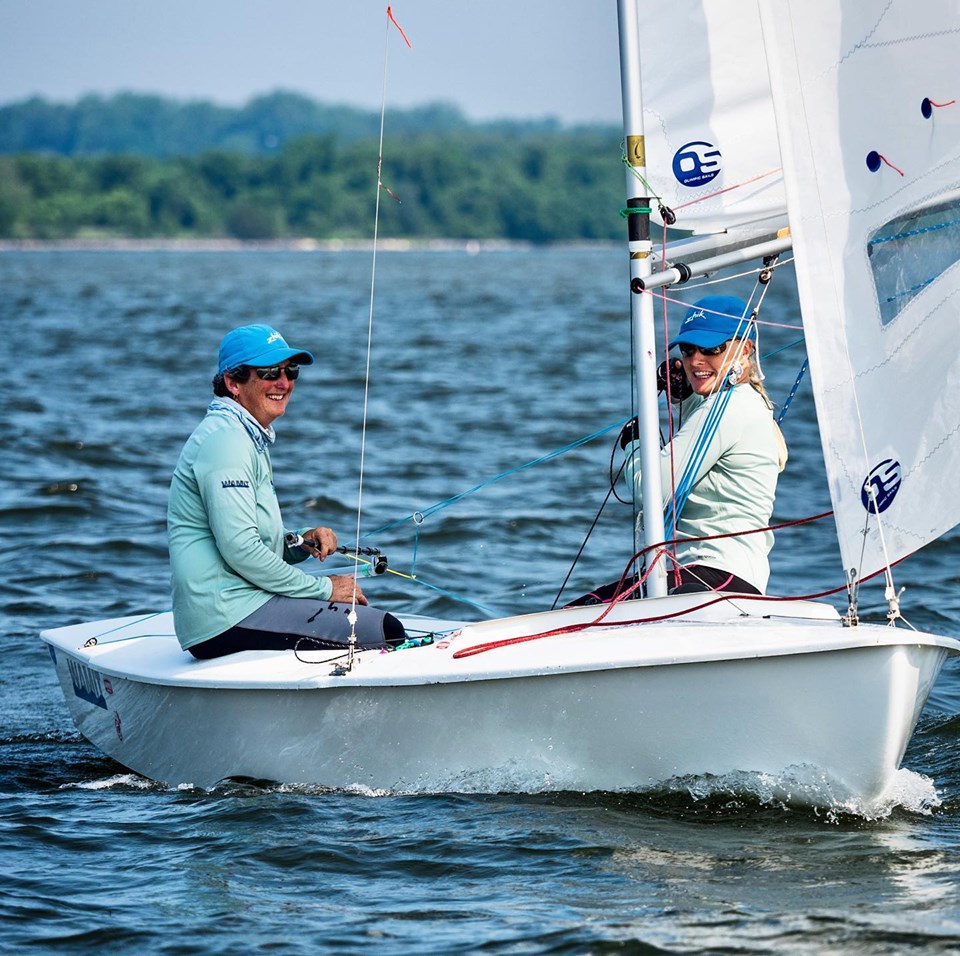 Annapolis, MD, USA, June 2, 2019.
Report by Alex Pline
Annapolis served up a smorgasbord from light to hiking for the the 2019 Colonial Cup. The weekend started early on Friday with a clinic organized by Kim Couranz and run by the SSA Junior Director Travis Carlisle that featured college style drills that benefited participants of all skill levels in light to medium breeze that was perfect for a clinic and drills. In the evening after the clinic, regatta chairs Gavin and Holly O'Hare hosted a pre-regatta get together at their house. It was a beautiful spring /summer evening to socialize before the regatta.
The forecast for the weekend was really atypical for Annapolis this time of year with the procession of weak cold fronts over the Mid-Atlantic. After heading out to the course on Saturday in a light north easterly and a slight postponement to wait for all of the competitors to make it to the line, the first race of the weekend was off with 5 knots from the northeast. While light it was not too lumpy (the Annapolis washing machine was on the gentle cycle) but the ebbing current was running downwind at a knot plus. About half the competitors made it to the finish in time, but unfortunately the wind died quickly to nearly zero after the first 10 boats finished, leaving another 12 with a TLE. We bobbed around for another hour and a half with a few head fakes for breeze, but it wasn't to be so PRO Steve Podlich called an end for racing for the day.
The forecast for Sunday was much better with 5-10 from the SW which is a good direction to be augmented with a thermal given the temperatures in the upper 80s and the still cool water. However, it turned out to be quite atypical due to an approaching weak cold front. The breeze went to the west for the first race, but was a good light air race. After several postponed starts and an abandoned race with a one tack beat, the breeze sort of settled down in a SE/S direction for 3 more races. As the breeze built, the Annapolis washing machine turned on and keeping boat speed in the slop with still shifty conditions was paramount. The top five Augie Diaz/Margaux Bacro, Carol Cronin/Kim Couranz, Arthur Blodgett/Charlie Bess, Ernesto Rodriguez/Kathleen Tocke and junior sailors Tyler Mowry/Izzy Fadullon were fighting it out in the last start. Rodriguez/Tocke had the most consistent scores, but he and Carol were OCS. Carol restarted and worked back to 10 in the 10-12 knot Annapolis lump which was enough to stay in front of Blodget/Bess by one point as Rodriquez/Tocke did not restart properly. Consistency was really difficult at this event given the range of breeze, but every point ended up counting.
Final results after 5 races:
Carol Cronin & Kim Couranz, 22
Arthir Blodgett & Charlie Bess, 23
Augie Diaz & Margaux Bacro, 25
Tyler Mowry & Izzy Fadullon, 25
Ernesto Rodriguez, 35
Pos
Sail
Skipper
Crew
1
2
3
4
5
Total
Points
Pos
1
31295
Carol Cronin
Kim Couranz
3
6
2
1
10
22.00
1
2
30473
Arthur Blodgett
Charlie Bess
2
5
5
10
1
23.00
2
3
30288
Agustin Diaz
Margaux Bacro
1
3
10
9
2
25.00
3
4
30928
Tyler Mowry
Izzy Fadullon
5
2
9
2
7
25.00
4
5
31337
Ernesto Rodriguez
Kathleen Tocke
4
1
3
3
24/OCS
35.00
5
6
29966
Evan Hoffmann
Chloe Constants
8
15
13
6
4
46.00
6
7
30552
Henry Filter
Sandy Westphal
13/TLE
13
8
11
3
48.00
7
8
30629
Gavin OHare
Erika Seamon/ Holly OHare
12
14
4
12
6
48.00
8
9
31313
Alex Pline
Lisa Pline
10
4
7
18
9
48.00
9
10
38473
Edgar Diminich
Sophie Taylor
11
16
6
4
13
50.00
10
11
31391
Brett Davis
Bryan Stout
6
11
17
5
11
50.00
11
12
29782
Zachery Kelchner
Katherine Bennett
9
7
16
13
5
50.00
12
13
30301
Chris Ryan
Nicole Ryan
13/TLE
12
12
7
14
58.00
13
14
30500
Brian Hetherington
Marley Hillman
13/TLE
8
15
8
15
59.00
14
15
31304
Lee Griffith
Bruno Nikki
13/TLE
18
1
14
17
63.00
15
16
31357
Eric Reinke
Jessica Bennett
7
9
18
17
12
63.00
16
17
29572
Charlie Bustamante
Michele Bustamante
13/TLE
24/DNS
14
15
8
74.00
17
18
29044
Lucus Masceillo
Shalom Fadullon
24/DNC
10
11
20
18
83.00
18
19
31322
Todd Johnson
Bianca Mesa
13/TLE
19
19
16
16
83.00
19
20
31061
Rich McVeigh
Carol McVeigh
13/TLE
17
20
21
19
90.00
20
21
29964
Robert Panza
Adina Manu
13/TLE
20
21
19
21
94.00
21
22
30385
Trey Shipp
Ben Shipp
13/TLE
21
22
22
20
98.00
22
23
30280
Ernesto Bergeron
Elena rise bergeron
24/DNC
24/DNC
24/DNC
24/DNC
24/DNC
120.00
23
Notes
| | |
| --- | --- |
| (1) | Scoring System is ISAF Low Point 2013-2016 |
| (2) | Time limit expired (TLE) penalty is: Finishers plus 1 |