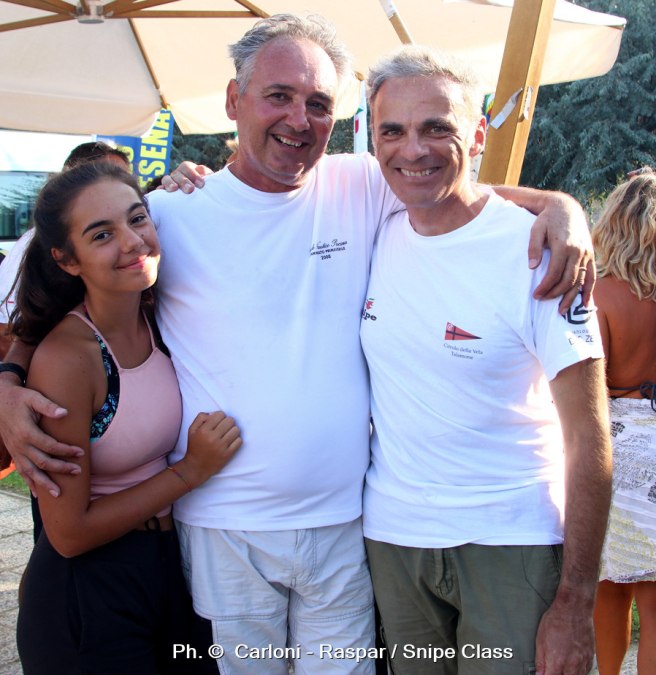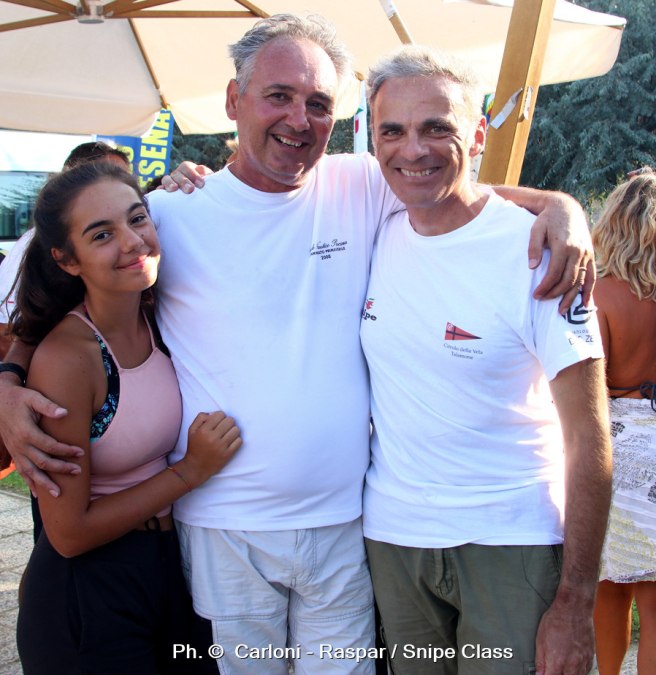 Pescara, Italy, September 29, 2019. Final results of the Campionato Zona Abruzzo after 3 regattas:
D'Ambrosio & De Felice
D'Orazio & Orlandi-Galli
Borghese & Borghese
Pos.
N. velico
Timoniere
Prodiere
Circolo
L.N.I.ORTONA 01/06/19
SVAGAMENTE

28/09/19

SVAGAMENTE

29/09/19 

Finale ranking zonale
1
29053
D'AMBROSIO M
DE FELICE C
La Scuffia
1
1
1
150
2
30303
D'ORAZIO G
ORLANDI-GALLI
La Scuffia
2
2
3
146
3
30066
BORGHESE G
BORGHESE A
La Scuffia
3
4
3
143
4
28946
PISELLI G
MARVELLI-PREZIOSO
L.N.I.. Pescara
4
3
4
142
Pescara 28 e 29 settembre – Regate 2 e 3 del campionato zonale
Ultimo week-end di settembre, autunno iniziato ma tempo decisamente estivo a Pescara, presso il circolo Svagamente, dove si sono disputate le ultime due regate del campionato zonale Snipe IX zona.
Entrambe le giornate sono state caratterizzate da vento leggero, sui 6-8 nodi, ma che è rimasto tale solo per delle finestre temporali limitate, prima di calare del tutto.
Ciò ha inciso maggiormente sulla giornata di sabato, giorno di scuola per i giovanissimi dei Feva e dei Dragoon, per cui il segnale di avviso era previsto per le 14:30. L'ottimo comitato di regata è riuscito a dare puntuale le partenze a tutte le classi, poco più di un'ora per disputare una prova, poi il vento è sceso del tutto e non ha consentito di effettuarne una seconda.
Nella classe Snipe acceso duello fra D'Ambrosio-Galli e D'Orazio-Orlandi, questi ultimi si avvantaggiano subito con un'ottima partenza e riescono a girare la boa di bolina con almeno 4 lunghezze sugli inseguitori. Il lato di poppa è una graduale erosione della distanza fra i due, ma la boa di poppa vede ancora in testa D'Orazio. Seconda bolina ancora con un duello di virate e proprio in boa, all'ultimo bordo D'Orazio non riesce a fare lee-bow a D'Ambrosio che scivola via in testa. La poppa successiva vede un altro duello di strambate in cui D'Ambrosio-Galli consolidano il vantaggio e chiudono primi. Terzi Piselli-Prezioso e quarti, un po' distaccati Borghese-Borghese, che poi a terra si accorgevano di avere portato un rake troppo basso per le condizioni.
Nella giornata di domenica il vento offre una replica quasi esatta del giorno prima, però non è giorno di scuola e si può cercare di iniziare a giocare prima. Il comitato fissa l'orario per il segnale di avviso alle 11:30 ma oggi è domenica anche per il vento, che quindi decide di alzarsi un po' più tardi di quanto aveva fatto sabato. Infatti vista la calma piatta fino alle 12:30 circa, sul battello comitato già si cominciava a parlare di rimandarci in spiaggia ad attendere, quando ecco che finalmente si stende un Grecale sui 7 nodi. Sequenza di partenze (catamarani prima, Snipe e Feva come seconde e poi i Dragoon) e D'Ambrosio-Galli partono subito in testa, terminando la regata in controllo su Piselli-Prezioso, che a tratti si erano avvicinati e resi pericolosi. Terzi D'Orazio-Orlandi, quarti Borghese-Borghese.
La seconda regata rivede un duello per la testa fra D'Ambrosio-Galli e D'Orazio-Orlandi, risolto al termine della prima poppa con il passaggio in boa che vedeva D'Ambrosio interno. Sui lati successivi D'Ambrosio-Galli allungano il vantaggio. In coda Borghese riesce ad avere la meglio su Piselli, chiudendo terzo.
Nella terza regata il vento comincia a calare poco dopo la partenza. La bolina è quasi asfittica e i cambi al vertice sono abbastanza frequenti. Borghese ingrana la marcia giusta, mentre gli altri annaspano lui procede senza fermarsi e gira primo la boa, seguito a 3 lunghezze da D'Ambrosio-Galli. Il lato di poppa è ancora più sofferto, il comitato alza la sierra alla boa di poppa. L'arrivo potrebbe essere di quelli da definirsi al foto-finish, ma la velocità è talmente poca che non serve fare una foto o rivedere la moviola: Borghese-Borghese taglia primo, avanti di un palmo o poco più su D'Ambrosio-Galli. Con questo colpo di reni finale Pino e Alessia conquistano la seconda posizione della regata lasciando alle spalle D'Orazio-Orlandi, proprio grazie a quest'ultima prova vinta e Piselli-Prezioso, che a tratti erano sembrati avvantaggiarsi di un salto destro ma che poi sono rimasti anche loro impantanati nel calo generale di vento.
Ottima la condotta del comitato che è riuscito a far disputare tutte le prove che si potevano ragionevolmente desiderare di fare. Eccellente il circolo Svagamente, capitanato dal valentissimo Mauro Di Feliciantonio che con il supporto di tanti validissimi volontari e volontarie, e ovviamente con la solita maestria logistica riesce a permettere tutto ciò, consentendo anche un'ottima cena sulla spiaggia il sabato, a base di pasta fredda e degli immancabili squisiti arrosticini nostrani, ed un rinfresco anche la domenica, con pasta fredda e cocomero. Bravissimi e alla prossima!