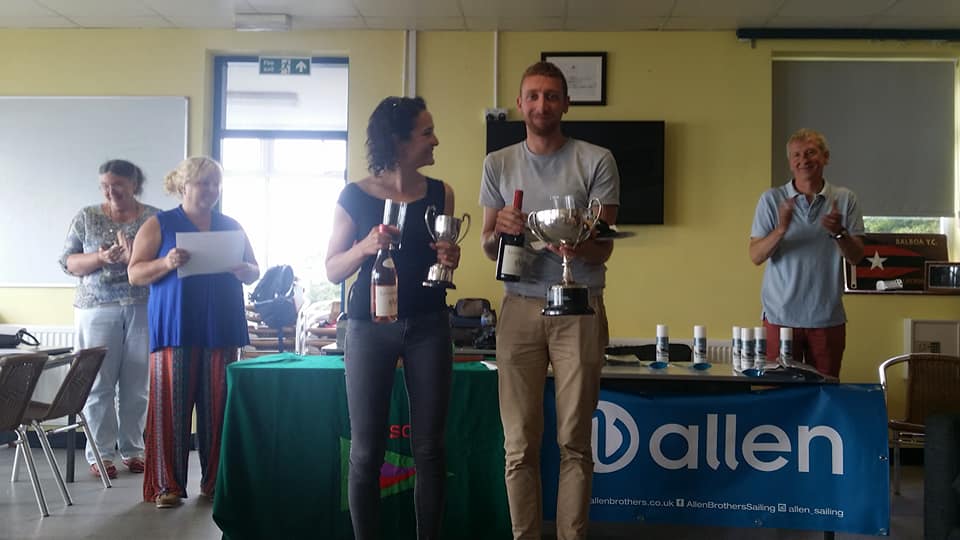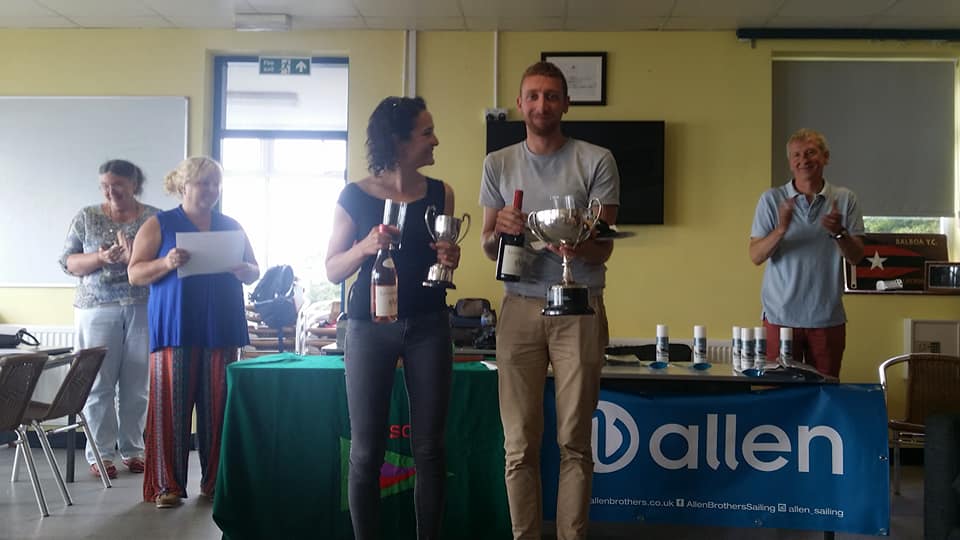 Bough Beech, UK, July 7, 2019. RTesults after 8 races (2 dtscards):
FRA Thibault Vandrot & Nadia El Ghozi, 10
GBR Peter Wolstenhome & Callum Sarfield, 17
GBR Matthew Wolstenholme & Patrick Sarfield, 23
GBR Richard Lambert & Nick Lambert, 30
GBR Alan Williams & Liz Pike, 30
Report by Matheew Wolstenholme
Bough Beech Sailing Club hosted the Snipe Class on the 8th & 9th of June for the Annual Open Meeting and the third & final Leg of the Yves Le Bour Trophy, a competion between Belgium, France and Britain, sponsored by Allen & Selden. 17 Boats entered the event, Senne & André Deboeure and Thibault Vandrot & Nadia El Ghozi coming from Belgium and France respectively.
On Saturday morning the wind was looking quite promising but by the time racing got underway just after lunch it had died right of. The first race started opportunistically in a gust which unfortunately died halfway round, Thibault drifted across the line ahead of John & Liz Reed, who had led most of the race after a good start at the pin end, to take the first win of the day. By the second race the wind had started to fill in a little but was still only a force 1, Ian Gregory & Mike Ker took the second race after getting past Mark Antonelli & Lloyd Roberts on the last run.
By the start of race three the wind was back up again to perfect sailing conditions with both crew able to hike but very few boats having to de-power at all. Matthew Wolstenholme & Patrick Sarsfield won race 3 and 4 with Peter Wolstenholme & Callum Sarsfield and then Alan Williams & Liz Pike both achieving a second place. The decision was made to sail two more races because of a disappointing forecast for Sunday. Thibault and Richard & Nicki Lambert dominated these last two, Thibault beating Richard in the 5th race with Richard reversing that result for Race 6.
In the evening we had a fish and chip van come with strawberries after, with a couple of barrels of beer a really good evening was had by everyone with some having a very late night.
Sunday was, as predicted, rather lacking in wind but we managed to get in two races. Thibault sailed off to take the first win followed by Peter. The second race was more closely contested with Pete Tipler & Dan Pearson leading the whole race until on the beat into the finish a gust came on the wrong side of the course for them allowing Peter to sneak through to win with Thibault also getting past.
Thibault & Nadia deservedly won the event after being the only boat consistently at the front of the fleet over the whole weekend. This along with their second in the French Leg, won them the Yves Le Bour Trophy too with first prize being a voucher for one of Selden's two new mast sections they are developing for snipes, who along with Allen were very generous with all competitors of the British leg going home with lots of goodies.
Huge thank you to our race officer Mark Stone and all his team who did a very good job in sometimes tricky conditions, to Sylvie Le Bour for coming all the way from Paris to present the trophy in honour of her farther, and also a special thank you to Selden and Allen for their sponsorship. We hope to see more of you next year, not just for Bough Beech but for the Belgium and French legs of the Yves Le Bour as well.