Annual Mystic Lake Open – New England Championship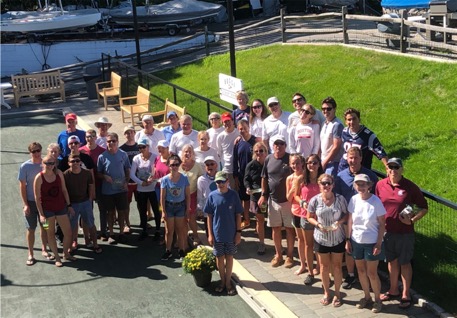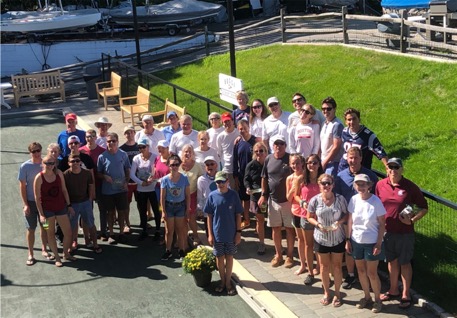 Mystic Lake, MA
Medford Boat Club –  September 14-15, 2019
Report by Martin Fraser
Another fun weekend on the Mystic! Great weather and equally great sailors made this, the 45thannual Mystic Lake Open a weekend to remember. 23 boats were treated to winds in the mid teens with gusts to keep them on their toes on Saturday. The Southerly is a great direction for this compact venue, affording them a ½ mile beat and Race committee gave them every bit of that. Wind strength dictated triangle courses and 2 races were run with the team of Jim Bowers and Julia Rabin and team Rousmaniere swapping the 1stand 3rdpositions with second taken by Mariel Marchand/Linda Epstein in one and by Team Macrae in the other. After that workout the snipers got a welcome lunch break on shore. The club dock is about 150 yds from the finish and hungry sailors were promptly greeted with a fine sandwich bar, and some darkening clouds! The last of the crew had just made their lunch when a front deluged the lake. Lasting only 30 min or, the sudden squall didn't put a damper on spirits – it was over quickly and the RC blew a gun and we all headed out – the southerly wind returned, only slightly abated, post storm and 2 more races (W/L this time) were run. Bowers took BOTH 3 and 4 with recent Star champion Steve Braverman and Crew Audrey Hetherington second in one and team Macrae in the other.
After derigging for the evening, a feast of appetizers and a cold flowing keg occupied the sailors while they swapped stories about the day's experience, and waited for the Thai food dinner. Following the great meal, we all turned out to the Bocci courts for the traditional Kill-the-Keg Bocci tournament. This hard fought event is always a highlight, and the victor, besting 17 other teams, was the team of Kelly Rousmaniere and Andrew Goldfarb, Nice rolling!
Day 2 and brilliant sunshine, 80 degrees and winds of 8-10 – PERFECT ;). Sundays wind was a westerly, however, very challenging owing to the short course and hills to our west – read: shifty with very 'interesting' mark roundings! The first race was the craziest with huge shifts which mixed the fleet up considerably. Snipe rookie Bobby Martin with Liz Glivinski figured it out and won, with old friends, team Levinson in second. (6 months sailing the western Atlantic earlier this year on their Beneteau 43 hasn't dulled their tactical skills!). The next 2 races were no easier and fleet positions were exchanged liberally on every leg.
Going into the last race, there was a tie between Bowers/Rabin and Art/Jen R – not coincidentally the top 2 finishers at Nationals, held on this venue in '17! Team Macrae was just 3 back and all in the hunt, but in the last race, as he has over a dozen times in this event, Jim Bowers pulled it out with a bullet. The Macrae's were 3rd, to cap off a remarkably consistent series – they discarded a 4th!
Many thanks were offered to RC Ed Toomey and crew for officiating under tough conditions, and especially to Suzette Fraser who saw to every detail and made the event a rousing success. Here's to 45 more!
Martin Fraser
2019 Mystic Lake Open / New England Championship
| | | | | | | | | | | | |
| --- | --- | --- | --- | --- | --- | --- | --- | --- | --- | --- | --- |
| Skipper | Crew | Sail | Race 1 | Race 2 | Race 3 | Race 4 | Race 5 | Race 6 | Race 7 | Total | Place |
| Jim Bowers | Julia Rabin | 31171 | 1 | 3 | 1 | 1 | 7 | (12) | 1 | 14 | 1 |
| Art Rousmaniere | Jenn Rousmaniere | 29498 | 3 | 1 | 3 | (7) | 5 | 1 | 5 | 18 | 2 |
| John Macrae | Myrna Macrae | 29727 | 4 | 2 | 4 | 2 | 4 | (4) | 3 | 19 | 3 |
| Mariel Marchand | Linda Epstein | 30526 | 2 | 5 | 7 | (14) | 9 | 3 | 4 | 30 | 4 |
| Steve Braverman | Audrey Hetherington | 304221 | 5 | 8 | 2 | 9 | (11) | 5 | 2 | 31 | 5 |
| Bobby Martin | Liz Glivinski | 30903 | 9 | 10 | (10) | 6 | 1 | 6 | 9 | 41 | 6 |
| Joel Zackin | Ben Zackin | 31566 | 7 | 4 | 9 | 13 | 3 | (15) | 6 | 42 | 7 |
| Harry Levinson | Sarah Levinson | 29842 | 12 | 6 | 6 | 10 | 2 | 13 | (16) | 49 | 8 |
| Patrick | Dorothy Waskow | 27733 | 10 | (15) | 8 | 11 | 6 | 2 | 12 | 49 | 9 |
| John Tagliamonte | Ann Walt Tagliamonte | 31013 | 11 | 14 | 5 | 3 | 10 | (17) | 7 | 50 | 10 |
| Cam Fraser | Charles Nutter | 30003 | (14) | 9 | 12 | 5 | 8 | 7 | 10 | 51 | 11 |
| Bob Coyle | Jackie Farnsworth | 28542 | 6 | 7 | 11 | 8 | 13 | (18) | 14 | 59 | 12 |
| Ted Keenan | Devin Hart | 29955 | 8 | 13 | 17 | 4 | (20) | 9 | 13 | 64 | 13 |
| Sue Lodico | Jan Tabor | 28442 | 15 | 12 | 13 | 15 | 16 | 11 | (19) | 82 | 14 |
| Martin Fraser | Nathan Manzione | 30999 | 13 | 11 | 14 | 12 | 18 | (21) | 17 | 85 | 15 |
| Ray Schmidt | Margaret Lawrence | 31204 | 21 | 16 | 15 | 19 | 15 | 14 | (21) | 100 | 16 |
| Kelly Rousmaniere | Andrew Golfarb | 29499 | 16 | 17 | 18 | 16 | 22 | (22) | 15 | 104 | 17 |
| Venkat Chalasini | Adrian Chalasini | 29008 | (21) | 20 | 16 | 17 | 14 | 19 | 18 | 104 | 18 |
| David Reynolds | | 28050 | 24 | 24 | 24 | (24) | 12 | 10 | 11 | 105 | 19 |
| Ben Braverman | Kelly Buban | 30422 | 18 | 19 | 20 | 20 | 21 | 8 | (23) | 106 | 20 |
| Nathan Cunningham | Greg McGinnis | 25412 | 17 | 18 | 19 | 18 | 19 | 20 | (20) | 111 | 21 |
| Art Cunningham | Nadine | 27999 | 24 | 24 | 24 | (24) | 17 | 16 | 8 | 113 | 22 |
| Peter Bronk | | 29972 | 24 | 24 | 24 | (24) | 23 | 23 | 22 | 140 | 23 |