Snipe Documentary Project Needs Our Help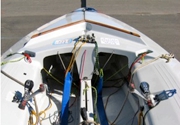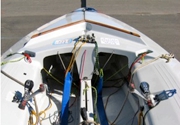 Vince Casalaina has been at work for the past three years, building Serious Sailing, Serious Fun: Traditions Build Winners, a documentary about the Snipe class. He's filmed at regattas and gathered stories from young and old Snipe sailors alike. Last year he raised over $13,000 and created a rough edit from the raw video, then toured around the United States getting input on the high definition project.
But in order to finish the project and get it ready for distribution, Vince needs to raise more money. Fortunately, he's just received the donation of a used Snipe to help fund the project: a 1995 Persson #28857.
"I've known this boat since it arrived in the US," Vince explains. "It's a sistership to my Persson that I owned for more than 10 years and I know just how well the owner kept it – always covered and only sailed competitively during the first three years he owned it."
Vince hopes to sell the boat for $4,500. It comes ready to sail with a galvanized trailer, two good sets of sails and top and bottom covers. And then he'll use the proceeds toward finishing the documentary.
If you're looking for a good used Snipe, this is a great way to support the project AND buy a great boat. Contact Vince directly: [email protected]
And if you just want to support the project (and maybe win a new Snipe), visit Vince's Kickstarter site.
You can also view a short segment of Vince's Snipe documentary on YouTube.
[iframe width="300″ height="250″ src="http://www.youtube.com/embed/VK-14fPY7Is" frameborder="0″ allowfullscreen ]
VinceSail