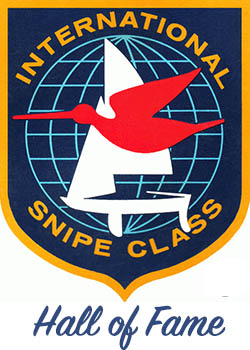 William F. Crosby
Bill Crosby is the "father" of the Snipe class. He was a naval architect and took over as Editor of The Rudder magazine in 1928, after the founder and original Editor of that monthly magazine passed away. Issues of The Rudder often featured boat designs by Crosby, but the most popular design was the Snipe one-design racing sailboat which was published in the July 1931 issue of The Rudder.
Crosby had Snipe #3 "Snipe" built for his own use at the famous Minneford Yacht Yard in New York City. He raced that boat on Long Island Sound and helped many Snipe fleets develop in that area, In 1939, He ordered a new Snipe #4000 "Also" built by Dunphy Boat Co. in Oshkosh Wisconsin to the latest specifications for a fast boat at the time.
During this time, Crosby authored a monthly column in The Rudder magazine for the Snipe class, as well as acting as Executive Secretary of the Snipe Class International Racing Association (SCIRA) from its official formation in late 1932. Crosby, with the help of other influential Snipe enthusiasts including Hub Isaacks, George McGown, Harry Lund, John T. Hayward and Ted Wells, developed over the years the original Snipe scoring system for racing, the SCIRA Measurement Data Sheet (MDS) and updates approved by the Board of Governors and Technical Committees, the annual Snipe Rule Book, and many Snipe trophy Deeds of Gift. In 1940, Crosby authored a book "Racing Small Boats" which described Snipe sailing experiences in detail during the 1939 racing season on Long island Sound, and presented analysis of racing tactics to educate Snipe sailors old and new to improve their sailing skills.
In 1941, Crosby left as Editor of The Rudder magazine and also as Executive Secretary of the Snipe class, taking a position as naval architect for a boat building company in Florida as part of the war effort to help the US Navy. Others in the Snipe class handled organization matters during these years.
After WW II, Crosby again returned to his favorite Snipe class activities in 1945, and started a new sailing publication "Jib Sheet" as Editor, as well as taking up his position again as Executive Secretary of SCIRA. He continued in these activities during the next eight years, including starting the popular "Snipe Bulletin" in mid-1951 as Editor. During these years, he also served as Editor for another national boating magazine. All Snipe correspondence, nationally and internationally, was handled by typed letters, telegrams and telephone calls by Crosby himself – no computers or internet connections or spread sheets. All hull registrations were hand-documented on individual owner cards and MDS forms which are now maintained in the archives of the SCIRA headquarter office.
Crosby passed away unexpectedly in August 1953 at the age of 62. SCIRA reserved Snipe hull registration #10,000 "SCIRA" as a tribute to Crosby and had a Snipe half model hull wall plaque made, bearing that number and presented to Crosby's long-time wife Edna Crosby, in his memory. Edna Crosby continued to honor her husband's work and the Snipe class until her passing in 1986 at age 95.