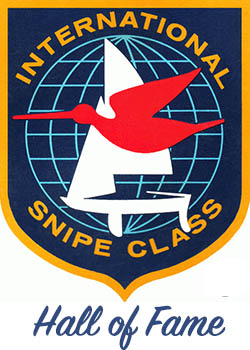 Theodore A. Wells
Ted Wells was well-known to Snipe sailors in the USA. He began sailing Snipes in 1938 in Wichita Kansas, after early beginnings of racing airplanes around pilons in competition – which his wife Marjorie (Marge) considered too dangerous for him to continue. By that time, Wells was chief engineer and co-founder of Beech Aircraft Company in Wichita. Wells designed several of the top models of airplanes marketed by Beech and before that by another aircraft company.
Because of his technical and college background as an aircraft engineer and pilot, he approached the world of Snipe sailing with a calculated mind to be competitive at the highest level. He started with wooden Snipes and after WW II, he bought a new Snipe #6025 "Good News III" from a top west coast Snipe builder and won many championships, regional and national with that boat [which is now in the collection of the Mystic Seaport at Mystic Connecticut]. Wells victories include the 1947, 1949 and 1952 Snipe US National Championships, the 1947 and 1949 Snipe Worlds Championships, and six-time winner of the Snipe Midwinter Championship in Florida between 1948-1957. Over the years. Wells owned 10 Snipes, all named "Good News" (from I to X), and all with hull numbers ending with "025."
Wells was consultant along with Harold Gilreath, John Rix, and Francis Lofland to build the molds for the first production fiberglass Snipes in 1954 by Lofland in Wichita Kansas.
Wells was SCIRA Commodore in 1954 and for years was Chairman of the SCIRA Rules Committee. He was a regular contributor to a column "Wells Wanderings" in the monthly Snipe Bulletin, and authored a book "Scientific Sailboat Racing" in 1950 which guided many Snipe owners on the latest technical advancements of the time to make a Snipe competitive, as well as a detailed discourse on racing tactics to improve sailor's competitive skills.
In 1952, Wells donated an annual SCIRA trophy for the winner of the "consolation" Wells Division when the fleet became too large to fairly compete in one large group. Typically the Wells Division was used when the competitor fleet was more than about 50 boats.
Wells final Snipe racing competition was at the age of 79, when he competed in the 1986 Snipe Worlds Master Championship. As a final gesture of his love for racing Snipes and generosity to SCIRA, he donated his last Snipe #25025 to the SCIRA Perpetual Fund to be used as a fund raiser for the class.
Wells passed away in Florida in 1991, at the age of 84. A complete and detailed biography of Wells life, both in the aviation field and in sailboat racing, is published in a soft cover book "Master of the Sky and Sea – The Story of Ted Wells", authored by Wichita Snipe sailor and historian James Rix.