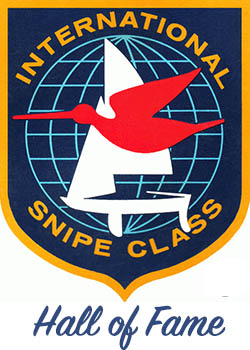 Santiago Lange
Santiago "Santi" Lange was born in 1961 in San Isidro, Argentina. He started sailing at age 6, and in his teenage years began winning championships including a national championship (Optimist Pram) in 1976 at age 15.
Santi's winning international Snipe competition began at the 1983 Pan American Games, where he finished in 2nd place for a Silver Medal.
In 1984, after Santi returned to Argentina from university studies in the UK (naval architecture), he bought a 1957 wooden Snipe #10863 that was built in Brazil, and fixed it up for racing. He must have done a very good job in updating and restoring the 27 year old wooden Snipe, because at age 23, he won the 1985 Snipe World Championship with that boat, and also won the 1985 South American Championship. After that, Santi won the Western Hemisphere and Orient Championship in 1986, and was a four time winner of the Argentina National Championship (1985, 1986, 1988 and 1996).
Santi competed in the Pan American Games in the Snipe in 1987, finished second place for a silver medal.
He also raced in three more Snipe World Championships, finishing 2nd in 1987 and winning the title twice in 1993 and 1995, thus becoming only the second Snipe sailor ever to win the Snipe World Championship three times (the Schmidt brothers from Brazil also won three times, in 1961, 1963 and 1965), records that still stand.
His exceptional sailing successes have extended to many other classes and international events as well, including Olympic sailing competition six times representing Argentina with Bronze Medals (3rd place) in Tornado catamarans (2004, 2008) and a memorable Gold Medal (1st place) in Nacra 17 catamarans (2016). Santi also won the Tornado World Championship (2004) and a Silver Medal (2nd place) in the 1995 Pan American Games (Laser, 1995). To top it off, he has twice raced in the Volvo Ocean Race (2001-02 and 2008-09); and on two entries representing Sweden in the Louis Vuitton Cup preliminary qualification series for the America's Cup (2007, 2013).
If that is not enough, he has also worked as a naval architect for renowned yacht designer German Frers (ARG) and in 1992 he started building new fiberglass Snipes in Chile, in a cooperative venture with Persson.
As SCIRA Commodore Luis Soubie stated (Snipe Bulletin, Winter 2017 issue), "Santi made his legend bigger, winning the first Olympic Games Gold Medal in sailing for Argentina, in 2016. As an Argentinian and a Snipe sailor, I cannot be prouder. He deserves it." Santi noted when informed of his Snipe Hall of Fame induction, "The Snipe is a class that will be forever in my heart and where I did my first steps into international sailing."