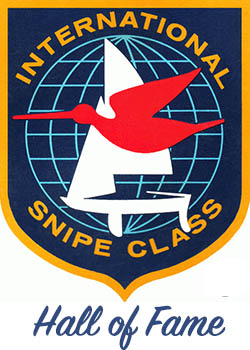 Torben Grael
Torben Grael was born in Sao Paulo, Brazil in 1960, and over the years since 1978 has established his championship performances in many sailboat racing classes all over the world.
In Snipes, Torben followed the example set by two Brazilian Snipe sailors who had previously won the Snipe World Championship four times (1961, 1963, 1965 and 1977). Torben raced for the Snipe World Championship for the first time in 1981 (3rd place), and then won the Snipe World Championship two times (1983 and 1987), and was runner-up in 1989. Torben's 1983 victory was special since he was sailing a 1960 wooden Brazilian-built Snipe #12296 which was the oldest Snipe in the fleet; it was the same Snipe that he had raced in the previous 1981 event. Torben (with his brother Lars Grael as crew) was the first Snipe Junior World Champion (1978) to win the senior title. By 1987, he had been building Snipes in Brazil and raced one of his own boats to win the 1987 Snipe World Championship.
Torben is remembered for introducing a launching whisker pole system to the Snipe in the 1981 Snipe World Championship, and noted that even two years later he was the only sailor using the new whisker pole system in the 1983 Snipe World Championship; but after that, "everyone" was using this method. The system was adapted from a similar launching whisker pole system used by Flying Dutchman and Fireball sailboat classes. (Ref: Spring 2007 issue of US Snipe Sailor).
Torben also has many other international sailboat racing successes in Soling and Star boat regattas and championships. He also has competed in the Olympics ((1984 Soling; 1988, 1996 and 2004 Star), and Pan American Games (1983, 1987 Soling). He has won five medals in Olympic Games sailing competition. More recently he was skipper of the Brazil entry in the 2005-06 Volvo Ocean Race (3rd place), and skipper of the Sweden entry in the 2008-09 Volvo Ocean Race (1st place), setting an average speed record of almost 25 knots/hour during a 24 hour period. Torben also sailed in two qualification series for the America's Cup (2000 and 2007). Torben is another champion Snipe sailor who has achieved an outstanding sailing and racing performance over the past 40 plus years. Welcome to the 2020 SCIRA Hall of Fame!