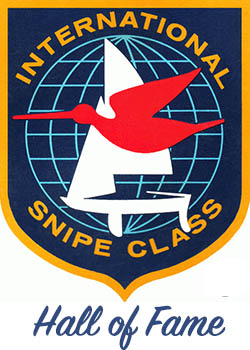 Paul Bert Elvstrom
Sailing – Contributor 1928-2016
Paul Elvstrøm was one of the most titled, eclectic and long-lived competitors in the history of sailing. He won gold medals at four consecutive Olympic Games and 13 world titles in different classes, including the Snipe Class in 1959. We are honored to induct him into the 2021 Snipe Class Hall of Fame.
Elvstrøm was born in Hellerup, near Copenhagen, and began sailing in the Oresund as a child. Sailing quickly became his obsession.
In his famous book, "Elvstrøm Speaks on Yacht Racing" he wrote: "The only interest I had was in sailing fast."
After winning a few local regattas, Paul was selected for the 1948 London Olympics in the singlehanded Firefly. After some initial difficulties in early races, he won his first gold medal: he was 20 years old. He won three more gold medals in the Finn Class (Helsinki 1952, Melbourne 1956 and Rome 1960).
Elvstrøm was probably the first professional sailor who devoted himself full time to the sport. He was well-known as an innovator in training and for meticulous preparation of the boat.
He founded the Elvstrøm company, which became famous for its sails, gear and clothing for dinghies. He also invented the famous Elvstrøm self-bailer, now common on all dinghies and still in production under the Andersen brand.
He also designed and built many racing sailboats. In 1961 he and Peer Bruun built one of the first fiberglass Snipes for Jan Persson (a 2019 Snipe Class Hall of Fame inductee), who sailed with Elvstrøm in the Soling.
Elvstrøm and the Snipe Class
"The Snipe is the largest class of boats in the world," Elvstrøm wrote in his book, "with excellent regattas sailed everywhere. Therefore I had always wanted to win this world championship which is held every two years."
Elvstrøm finished fifth with Eric "Strit" Johansen at the 1955 Snipe Worlds in Santander, won by Mario Capio and Lorenzo Podestà. "I really wanted to win in this Class!" he said afterward. That sparked his preparation for the 1959 World Championship, which included winning the Cannes ski-yachting regatta and the thirty-boat Danish selections, with Ib Anderson as crew.
The 1959 Snipe Worlds were in Porto Alegre, Brazil, and some members of the Danish Sports Federation argued that it was not worth sending Paul Elvstrøm and Strit Johansen that far. "I felt that I had to win because everyone expected me to do it and I was terrified of losing even a small race."
During the World Championship, he was so nervous that he made incomprehensible mistakes. In the third race, he jibed onto port and luffed up the Duque de Arion (Spain), who was on starboard. Of course he was disqualified: "At the protest hearing I could not say anything else, other than that I was very sorry."
Elvstrøm used a boat built by Lineburger called "Denmark" (hull #12000). Training before the Worlds, he broke the mast; the replacement was more flexible, and very fast.
Although they could not throw out the disqualification, Elvstrøm and Johansen won the 1959 Worlds with three first places and a second place! Gonzalo Diaz (2019 Snipe Hall of Fame inductee) and his brother Saul finished second.
Elvstrøm also won world championships in the Finn, 505, Flying Dutchman, 5.5Metre, Star, Soling and Half Ton Cup. A complete sailor, he truly deserves his 2021 entry into the Snipe Class Hall of Fame.