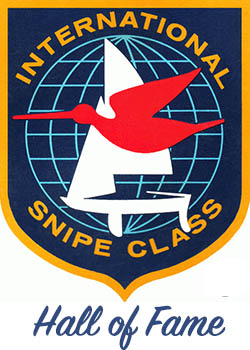 Augie Diaz
Agustin (Augie) Diaz was born in 1954 at Havana, Cuba and started sailing in 1966 at age 12. His father Gonzalo Diaz is a well-known and successful Snipe racer and promoter of the class (Havana and Miami FL) and was inducted into the SCIRA Hall of Fame in 2019 for his achievements over the past 75 years. You can assume that Augie received a lot of great coaching and inspiration from his father (and Mother Carmen too!).
Augie received awards for Collegiate All-American Sailor (1973-75) and College Sailor of the Year in 1974.
Augie first won Snipe honors at an international level at age 17, finishing 2nd place/Silver Medal in the 1971 Pan American Games. In two other Snipe competitions at the Pan American Games, he finished 2nd place/Silver Medal again in 2011, and 3rd place/Bronze Medal in 2015.
Over a 49-year period (1969-2018), Augie starred in 25 Snipe US National Championships, winning eleven times and finishing 2nd or 3rd fourteen times! He participated in the North American Snipe Championship seven times over a 13-year period (2004-17), winning five times and finishing 2nd place two times. In the Western Hemisphere and Orient Championship (1973-2010), he won twice (1973 and 2002), and finished 2nd three times (1974, 1980 and 2010). Augie won the Snipe World Masters Championship four times (2002, 2004, 2006 and 2012). At the top, he won the Snipe World Championship twice (2003 and 2005) and finished 2nd place in 1975.
But his sailing successes also extend to other classes too (Laser, Flying Dutchman, 505 and particularly Star boats). In the Star class, Augie has won: Winter Series Championship (2013), International Masters Championship (2014), Eastern Hemisphere Championship (2016 and 2019), North American Championship (2017 and 2019), European Championship (2018), Zagarino Masters Cup (five times, 2007-17), and World Championship (2016, plus 2nd in 2019 and 4th in 1986).
Augie also received the award for US Sailing Rolex Yachtsman of the Year (2003). Now at age 64, Augie is an inspiration to us all – a fine gentleman and sportsman and mentor. We look forward to his many fine performances and contributions In future years.
So, it is most fitting that Augie was selected as a SCIRA Hall of Fame inductee for 2020.