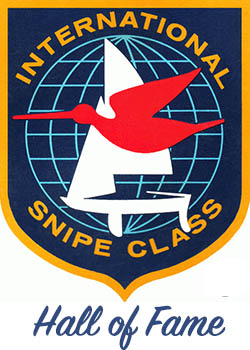 Gonzalo Diaz
Gonzalo "Old Man" Diaz, Sr., was born in Havana, Cuba, in 1930. In 1945, his father bought him his first Snipe (Rosi II, #3686), and three years later he stepped up to El Almirante #4835, which was also built in Cuba. It was 1952 when he first took ownership of Jupiter, #10111, a US-built Snipe, which he later managed to "squeeze out of Cuba" when the family left in 1964. (The story of sailing his family to Florida on this Snipe is just one of many not-quite-true legends about Old Man.)
From his new home in Clearwater, Florida, he and the Diaz clan joined the local Snipe fleet and rarely missed a regatta. The family eventually settled in Miami, and all three kids grew up sailing Snipes and crewing for the Old Man. His long-time nickname is much more respectful in its original Spanish, "Viejo," but that respect carries over to its usage by his many English-speaking friends.
He is justifiably proud of finishing fifth at the 1952 Midwinters against a cast of Snipe class legends, and he almost won the 1959 Worlds in Puerto Alegre, Brazil; instead the wind died and a race he was winning was cancelled, returning Paul Elvstrom to the top spot. (He and his crew/brother Saul Diaz finished second.) In 1975 Old Man finished second yet again (and won the last race), but this time as a crew for his son Augie. The two had decided to team up, and who would steer was determined by the better finish at that year's Midwinters. It is a favorite tale of both men to this day.
Old Man thinks Augie also might have played a part in a 1954 victory of La regata de la Luna, a full-moon race in Havana, which Old Man sailed with his wife Carmen (who was pregnant with Augie). When a third generation of Diaz sailors began sailing Snipes, it made for a great story at the 1993 US Nationals: Lucas Diaz, then 13, was narrowly beaten by his grandfather for 12th place in the championship fleet.
Old Man has sailed more than 70 US National championships, owned countless Snipes, and—most importantly—inspired generations of sailors to join the class. He's still taking people out on Biscayne Bay to show off his favorite class and sailing venue, and today he takes his rightful place in the Snipe Hall of Fame.