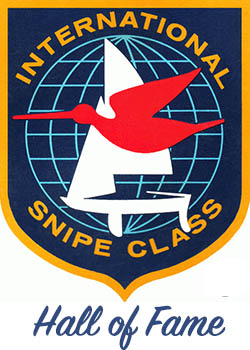 Birger Jansen
Birger was the greatest sailor of all times in Norway! Not only to us, as "Bigga" was Mr Snipe in Norway – but literally, he was the King of Norwegian Championship medals. Birger holds no less than 48 of them, conquered over 45 years, in five different classes; Snipe (36 pcs), Finn, Int.Folkboat (IF) and Star. The most-winning male sailor ever. He first is from 1971 – as a Snipe crew for Brynjulf "Skiva" Romslo, and his last is from 2016 – gold in both Snipe and Snipe Master. Birger even raced 470, Melges, Soling, A- and OK dinghy, but Snipe was forever his boat.
Internationally, Birger sailed numerous Snipe regattas around the world. He won a number of medals ex. x2 gold, x3 silver, x6 bronze in Nordics, gold in the Europeans (2000), x3 gold in Worlds Masters (1996), gold in US Masters, and bronze in the Worlds (1991).
Birger Jansen was born 7/1-1948 in Bærum, Norway, and started sailing as crew in Snipe races at age 14 (1962), with Brynjulf. Birger later educated as a bricklayer, and established his own company. After years, this turned out in profitable real estate investments. Snipe sailing was important to Birger. It was not only a hobby, but sailing was also his (way of) life. No wonder his girlfriends ended up being top Snipe crews ;o) It distinguishes Birger´s career, that most of his medals he have won with female crew – his girlfriends, friends, and daughters Jeanette and Filippa.
Bigga´s unique way of including everyone, calling around to get everyone to participate, his weekly mails, his efforts to mix crew & helmsmen to increase the number of boats, and his everyday presence at the Club, made his local club Vestfjordens host 60 active snipes at the most. Birger made Norway well-known to the Snipe family international, and he facilitated and organized Norwegian Snipe sailors to travel all around the world for Europeans, Worlds and Master/Junior Worlds. Birger is also the reason why Norway have hosted international regattas like the Worlds in 1991, Woman Worlds in 2004, and the Europeans in 2000 and 2010. We didn't have the facilities, not much at all – but everything was possible for Birger, and so he created – and delegated – regattas to be remembered.
Birger Jansen was SCIRA National Secretary for Norway for 35 years (!), and led promotion of the class and international sailing competition until his passing in 2016. Birger also was SCIRA Commodore in 2002.
A competitor and sportsman he was, indeed. Birger also competed at the highest level in ice hockey in his younger years. He was part of the Norwegian national team, and participated in the Winter Olympics in 1972. He played 150 national team matches, of which 56 was at the Olympics/Worlds. He received "Kongepokalen", the Kings trophy, in 1979. The hockey stayed in his heart forever, and today Jar Ice skating Arena, which is partly built on Birger's donations, host his player nr 12-flag to his honor in the roof.
During his Snipe racing days, Birger made many friends worldwide through competing in regattas and enjoying socializing afterward. He had the greatest enthusiasm, and he gave enormous/provided the joy of sailing to so many people. He was a highly appreciated driving force, and high on life itself he created "Happy Days" for everyone around him!
Birger is remembered for his contributions of support and education to the Snipe sailing community, and his friendship with many through sailing. We greet him like he always did: "Vi sees på havet!" (see you on the ocean)