How to Get Your Boat Compliant with the Rules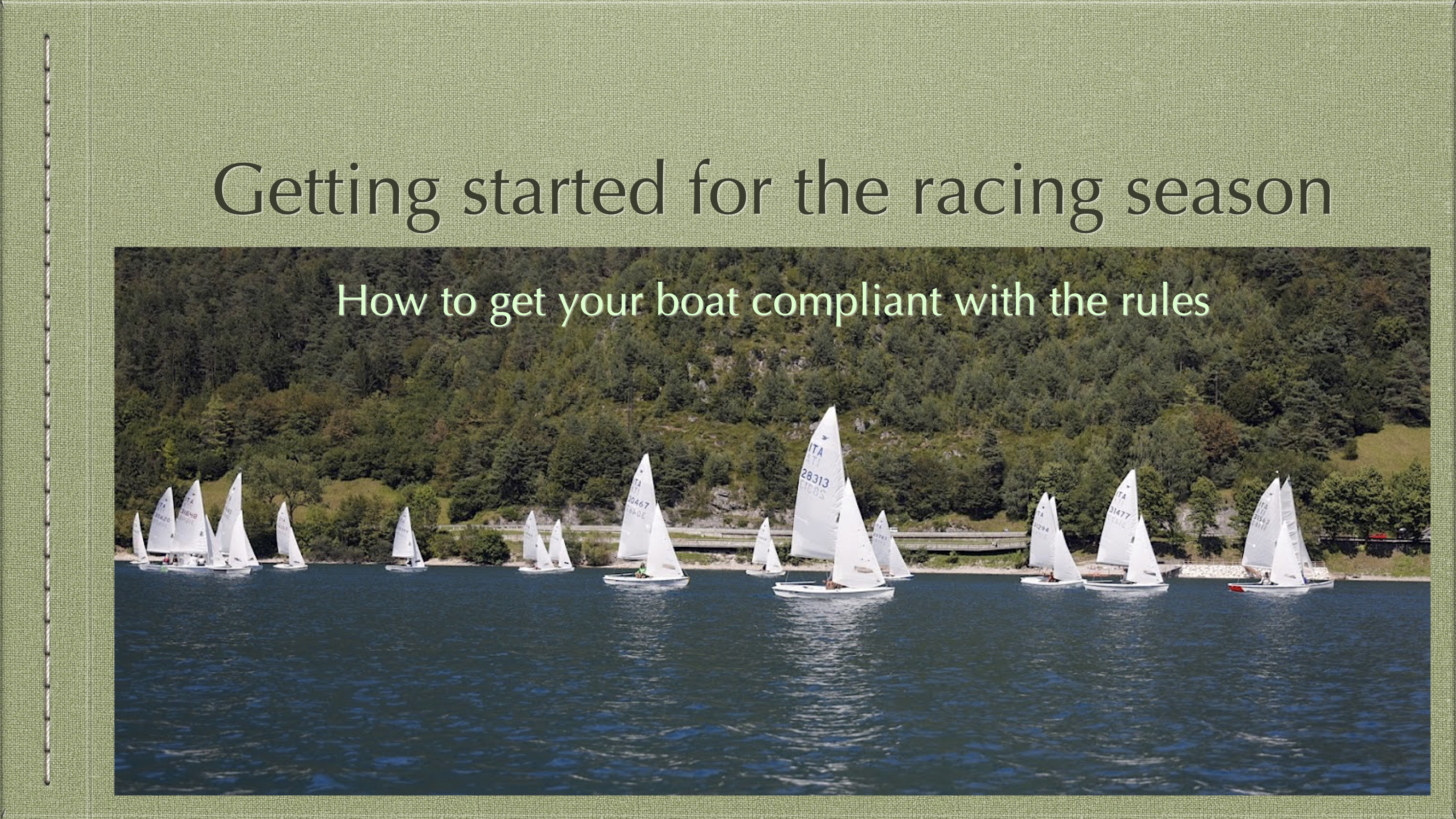 by Antonio Bari – Chairman Rules Committee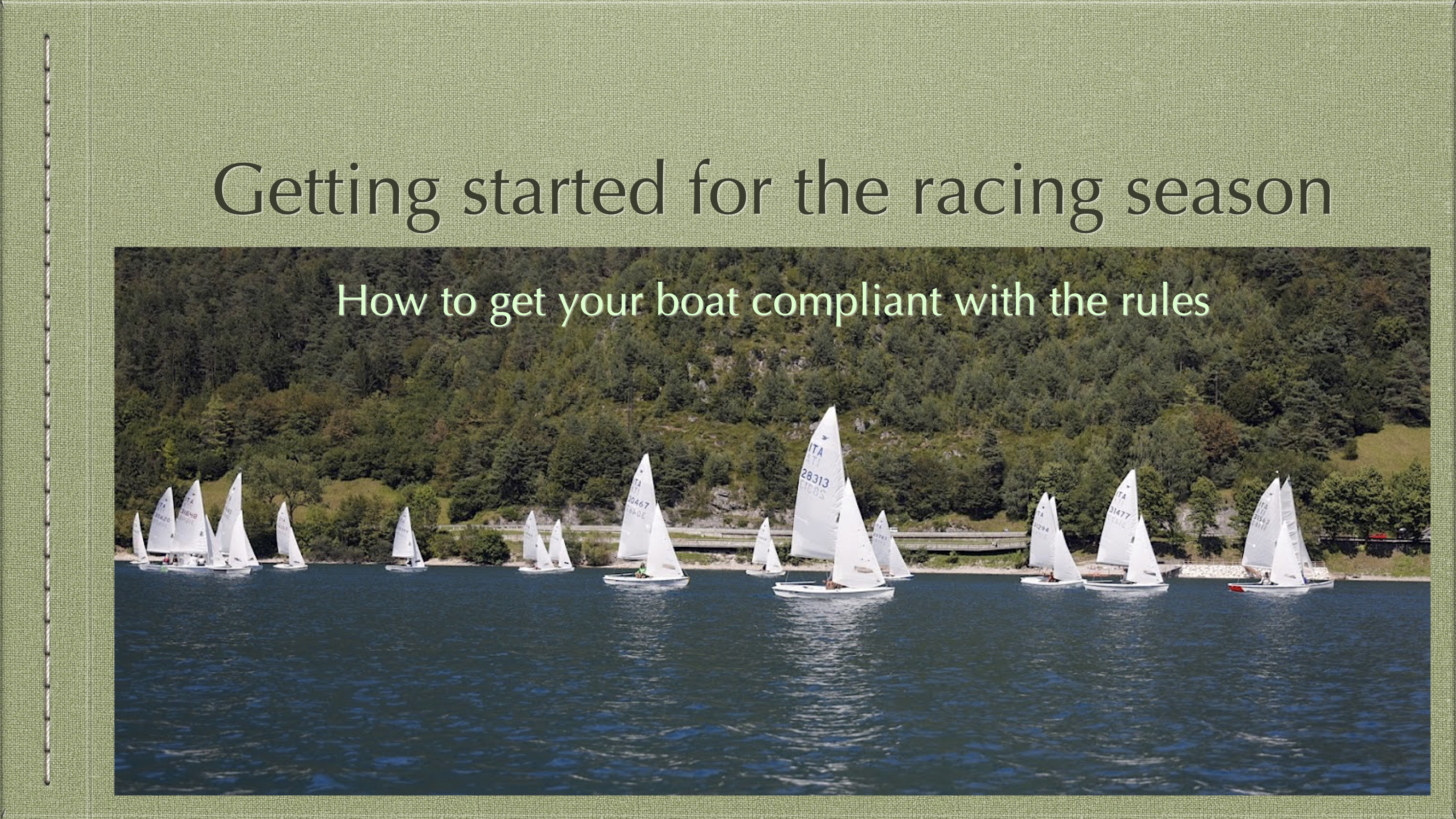 Membership
To enter any race, you MUST be SCIRA member and display the sticker on the starboard side of the hull. You can join directly with SCIRA or, in some countries, through the National Secretary.
Measurement Certificate
Your boat must have a valid Measurement Certificate to be presented to the regatta organizers.
Boat weight
The minimum weight is 172.8kg Weight includes
Mast with standing rigging and fittings
Boom
Whiskerpole
Rudder, tiller, extension
Main and jib sheets
Compass
Running rigging and fittings
Corrector weights
Weight does not include tow line, paddle, buoyancy aids
Corrector weights
Corrector weights must be fixed and visible wherever placed
Max amount 15kg
Position to comply with the MOI and marked on the Measurement Certificate
Jib tack
The pin hole shall be max 6mm dia. The center of the pin shall be
Max 279mm from the Hull Datum Point
Max 45mm above the sheer
Mast partner
Minimum distance from the HDP is 1494mm
Mast step
The position is free
Only one transverse pin is allowed
Sliding steps must be blocked with a screw or bolt and nut Not adjustable while racing
Shrouds adjusters
Any system is allowed
Not adjustable while racing
Daggerboard
The stripe must be 350mm long and 25mm wide
When the stripe is even with the top of the deck, the board must extend out the bottom max 350mm
The retaining system shall be either a tablet and/or a hook
The retaining line shall be max 610mm long, from the top of the daggerboard case to the inner part of the shackle or carabiner
The shackle or carabiner shall be metal
Rudder
Min weight 2.72kg including fittings Correctors weight allowed up to
• 250gr if after 1.1.2015
• 450gr if before 1.1.2015
If the boat was built before 26.2.2018, any allowed rudder design can be used
If the boat is built from 26.2.2018, the design approved in 2015 can only be used
Boom and pole
Check the stopper at the boom end
The vang must be attached to the boom and the mast under the gooseneck and can only pull the boom down. The whiskerpole shall be max 2642mm long
Mast
Check the stopper at the top (not requested if the halyard stopper at the top is used)
Spreaders cannot be adjusted while racing
The pole launcher block shall not extend from the forward side of the mast
Minimum weight 9.1kg, including rigging and fittings Corrector weights allowed up to 100gr, to comply with CG
Sails
Must be measured and stamped before racing
Shall display the SCIRA royalty
Max two suits can be measured at an event Nationality to be the one where the boat is registered Numbers shall be of a registered boat
Letters and numbers of the same color Digital or universal numbers not allowed
Use of carbon
Carbon is allowed in the following equipment • Running rigging
• Fittings
• Compass support
• Tiller ExtensionPolisS