Snipe Spreader Pins: What the Experts Do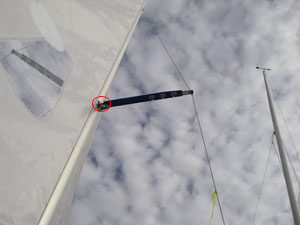 We experienced some epic sailing for the US Pan Am Trials in the ocean off Fort Lauderdale, including four great days of practice ahead of the three day regatta. One of the many expert discussions after sailing was about when to install spreader pins, and what they actually accomplish.
First: what spreader pins are, and what they do
Spreader pins are any sort of clevis pin that can be dropped into the aft-most hole in a mast's spreader bracket. Without pins, Snipe spreaders are able to swing forward of 90 degrees, so that the mast can be intentionally inverted for a faster mainsail shape when sailing downwind.

The pins prevent the spreaders from going forward of 90 degrees, which keeps a rig from inverting unintentionally. (That can quickly end a day of sailing, and it might also result in a significant ding to the checkbook.) Pins should be installed before leaving the dock whenever the forecast calls for breeze above ten knots.
At least that's what we tell Snipe newbies.
3 experts, 3 answers
Like many beginner rules in the Snipe, this one is broken by most top sailors. In fact, asking three veteran skippers (Augie Diaz, Ernesto Rodriguez, and Peter Commette) when they install spreader pins resulted in three different answers—all backed up by valid reasoning.
A few years ago, Augie told me that he "never" pins his spreaders, but when pressed for more specific detail he qualified that statement. "I don't use the pins until it's 18 [knots]," he says. "When in doubt, I'll put them in [before leaving the dock] because it's easier to take them out than put them in when it's blowing hard."
Ernesto's approach is quite different. "Basically anything over 11-12 knots, I put the pins on. I like to bring the mast back [downwind], and anything over 12, the mast can invert from the spreader up. When I do that, I lose a lot of pressure on the leech of the sail. So I either have to push the mast forward a little bit or tighten the vang a little bit. Most likely what I'll do is push the mast forward, like a quarter inch from the back of the mast partners. That's the way that I do it if I go out with no pins and I get caught up in 12 knots. I end up pushing the mast forward just a little bit from where I would like to have it if I have the pins on."
Even though Peter Commette is not normally known for his Goldilocks moderation, he is halfway in between these two. adding pins when the breeze builds above 14 knots.
Adding/removing spreader pins on the water: Experts only
While it is possible to add or remove pins underway by stepping on the boom and reaching up or climbing the mast, it is definitely a varsity maneuver. The skipper must maintain as much stability as possible, even as the crew's weight halfway up the mast makes it harder to maintain a constant angle of heel. To learn Team Commette's technique, read How To Install/Remove Spreader Pins on the Water.
Workarounds
All three veteran skippers agree that there are times they get caught without pins; they all pull the mast forward at the deck, though exact amounts vary. "When I get hit by a puff," Ernesto says, "and I feel like the mast is going over from the spreader up, I definitely move it forward a little bit. I don't like to have that sensation that I'm losing pressure because the mast inverted. Some people like it, to go low; I'd rather have it more powered up, and use the waves to go low after I get speed."
If caught without pins in big breeze, Augie locks his mast at neutral downwind. "I have a really good trick," he says. "I have a mark on the forward puller that allows the mast to come back to neutral. Then I pull on the aft puller against that to lock it in. The danger with that is that sometimes [the forward puller] comes out of the cleat, and I've had that happen, and then the mast inverts."
Another point these three all agree on is what to do if the mast does invert. "You'll feel it in the mainsheet," Augie says. "Head down, and pull the main in. Then you can support the mast and bring it back."
Conclusion: It's personal
For anyone who hasn't sailed Snipes enough to develop this amount of feel, "pin your spreaders above 10 knots before you leave the dock" is still the best rule. Augie, Ernesto, and Peter all agree that pins are crucial when trying to keep the mast from inverting; the only disagreement is at what wind speed that becomes a concern.
If the conversation lags at your next regatta party, spreader pins could be a great topic… especially if you're trying to master the Commette installation method.