Jack Wirt and Snipe #6715 "Tiger"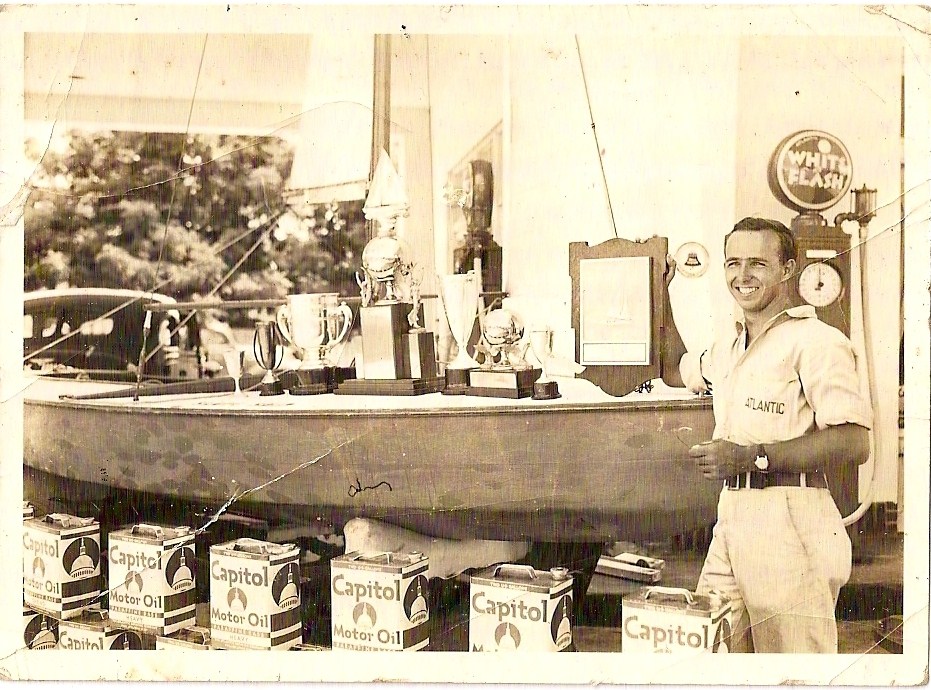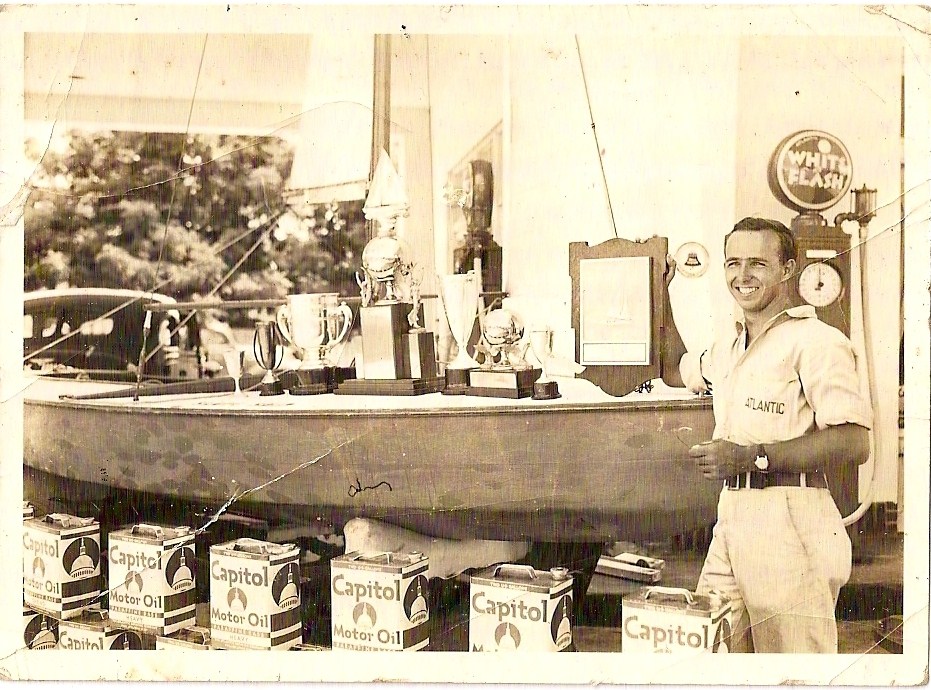 by John Rose
The boat photos show Jack with many trophies and and old Snipe he had, maybe back in the early 1940s or 1930s (he started sailing Snipes in the mid-1930s, and won the  1938Midwinter Snipe Championship in Clearwater.  The second photo was taken on a lake in Grand Rapids MI about the mid-1950s, I got the owner then to buy the Snipe from a sailor down in SW MI who had won the 1950 Michigan Snipe Championship with that boat when it was "hot."  I was about age 19 or 20 at the time.  It was then that I decided that if I ever had a chance to buy that boat, then that would be life's boat (bought it in 2004).  The last photo is when #6715 "Tiger" was almost new, taken at the 1948 Snipe Midwinter Championship in Clearwater.  It would have won (finished all races third or better, except dsq in one race by Ted Wells for barging at the start so it didn't win.
When I got Tiger in 2004, I restored it structurally and had a pro wooden boat builder/restorer do the finish work on it – in perfect high class furniture type workmanship. (see photos after restoration).  It is my beloved Snipe now, it is stored in my garage after restoration, all pretty and nice.  I couldn't redo the boat in its original all varnished hull and deck appearance because some wood repairs had been done which did not match other original wood, so I had it painted instead in a color that imitated varnished wood appearance (hull) and painted deck of a nice cream color.  The original shark's mouth design was re-created by an aircraft historian and commercial pilot, to exact design used in the P40 fighter planes of WW II vintage.  It is all rigged up to date for racing, but has not been in the water since 1977 (in Grand Rapids) – 43 years!  At age 84 now, I'm not sure I will ever get to sail this Snipe again, but maybe…
Note from Gonzalo "Old Man" Diaz
I sailed against Jack Wirt on Tiger in Cuba in 1947.  He left us a mile behind.  After he  left there was a big move in our Miramar Yacht Club to make our boats lighter and open the decks to lower the center of gravity down in our boats.  He surprised us by changing masts depending on the wind.  We had only one mast!  He changed masts with the boat on the water in our small Club basin.  He used a thinner and lighter mast for light air. He was ahead of us in time and aerodynamics.  Ted Wells caught up with him! His visit to Cuba was extraordinary and you can see the results in the 50's of the Cuban teams in the Worlds and in WH&O championships.