14 Questions to … John Rose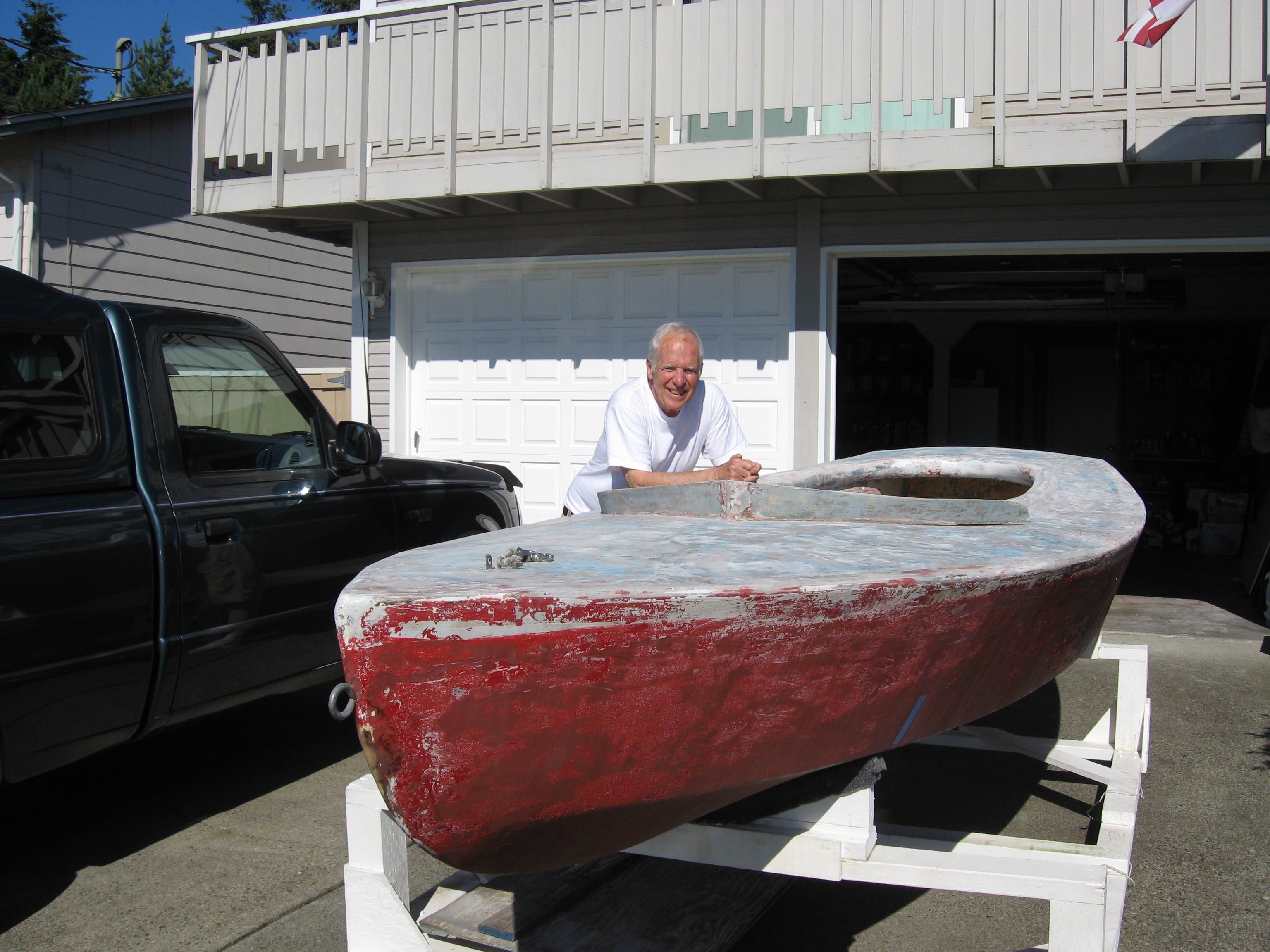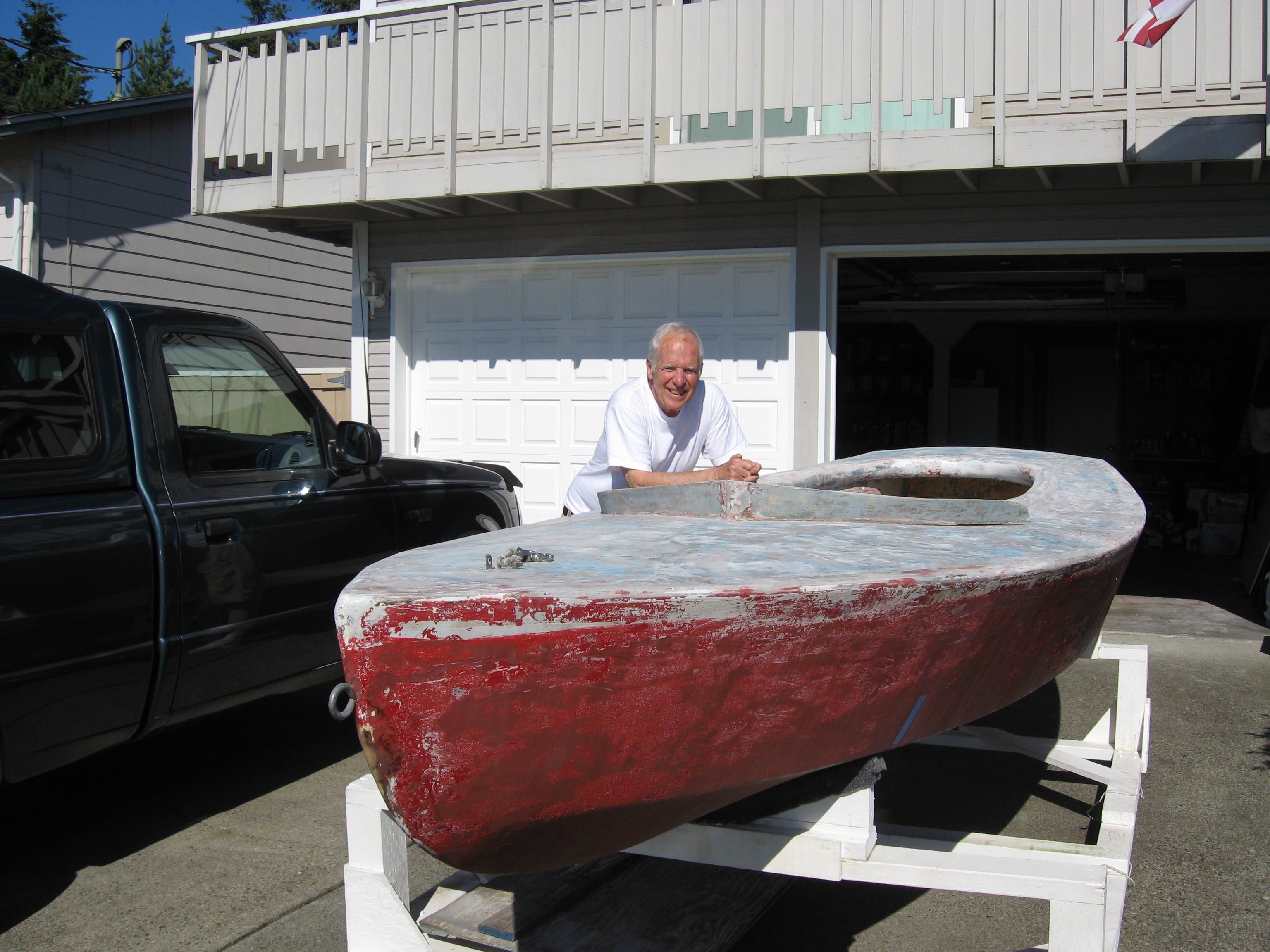 John Rose, from Tacoma, WA, USA, is our Class history expert. He has owned 18 Snipes since 1948. And the last acquisition was in March!
"With the "new" acquistion, my four-Snipe collection will consist of a boat from the 1940s, 50s. 60s and 70s – my most active years in Snipes.   I did not plan it that way, but oh well.
1940s – #6715 "Tiger" wooden Russell's Boat Works Miami FL
1950s – #8999 "X-9" fibergass (first one)  Dr. Hub Isaacks Fort Worth TX
1960s – #14652 "Nostalgia" fiberglass Lofland Sail Craft Wichita KS
1970s – #23586 "Memories 19"  fiberglass Phoenix Boat Co.  Long Beach CA
Overall, I think I've owned 19 Snipes over the years since 1948.  The oldest one was #4287 (1941) and the newest one was #24775 (1981).  One (#4287) almost won the 1942 Snipe International Championship (one bad race prevented that) and another (#7876) was two-time winner of the Snipe USA National Championship (1950 and 1956)."
– 1) Your first time on a sailing boat? 
In 1948, when I was 12 years old. I joined the local yacht club in Michigan and started to learn how to sail from a sailing instructor from Denmark at the club.
– 2) Your first time on a Snipe? 
Also in 1948, my father bought me a 1941 "entry level" Snipe for $200, which was my first sailboat, and led to joining the yacht club (see 1).
– 3) The most bizarre thing that happened in a regatta? 
We won a Michigan State Snipe Championship in 1954, but never finished higher than 4th place in any of the three-race series. But we finished (6-5-4), while other top sailors did well by finishing higher in two races, but "tanked" in one race, so we were the only boat that was consistent.
– 4) What is the thing that most angers you in a race/regatta? 
Unsportsmanlike conduct, especially when a competitor tries to "tag you out" in a foul just to make sure that you didn't do well in a race.  I was once competing in a large fleet of small one person racing dinghies on a small lake in Seattle Washington, and trying to do well in the races, but the competition was close and "cutthroat" so several sailors were determined to get you to foul.  I dropped out of the regatta because it was no longer fun to sail with that group of sailors.
– 5) Which is the race/regatta that you remember with the most pleasure? 
In the 1957 Snipe US National Championship at Peoria Illinois, we had a very good qualifying series and moved into the championship series.  Our first three races were 4-1-1, but the last of these races was tossed out because of a wind shift on the first windward leg, that we took advantage of while nobody else saw the shift.  At the time, we were leading the regatta and famous California sailor Fred Schenck came up to me and asked if I had my passport yet to go to the Snipe Worlds Championship in Portugal.  That kind of exploded my mind, and we did not do so well in the following three races, but did manage a top-ten finish in two of the three remaining races and wound up in  6th place overall. That was my best ever finish in a national competition.
– 6) And the race/regatta you would like to forget?   
In one  Snipe club race on the small lake in my home yacht club in Michigan, we were leading the race on the second leg (downwind).  I felt a "drag" on the rudder and knew there was a weed caught on the rudder.  So I thought I could just lift the rudder out of the pintles and lose the weed, then pop the rudder right back in.  Wrong.  I couldn't steer the boat and it swung from side to side and I couldn't get the rudder placed back in position.  We sailed downwind past the mark, and continued for several minutes until I finally got the rudder back in place. By that time, the whole fleet had rounded the mark and was heading upwind to the next windward mark, and we were in last place.  When we got back to shore, all the other sailors were laughing at me.
– 7) Your "dream in the peak"? (Your sailing dream?) 
I would like to have the Snipe sailors in several countries establish a Snipe history storage barn or museum where Classic Snipes (wooden and fiberglass) could be exhibitied and restored.  It would be even better if countries agreed to designate a retirement community where Snipe sailors could move to and have a social environment for sharing their retirement activities and experiences. If there was a lake or venue close by where sailing could be continued, so much the better.
– 8) Sailing goals for 2020, and beyond? 
At age 84 now, I'm not sure what goals there are left or are practical. I do love to be active in tracing the historical records of Classic Snipes for owners, and help them with technical advice on repairs and historical facts about their boats, and help the SCIRA headquarters office in maintaining up to date information on old boats for the SCIRA Boat Database.  Over the past 72 years, I have seen and owned and raced against a lot of Snipes, both wooden and fiberglass.  You might agree when I say that I have a "graduate degree" in Snipe history, a few have been around longer (like Gonzalo Diaz, who started sailing Snipes in 1945) but I am in the "older group."
– 9) The most important people for you in sailing and in the Snipe? 
The most important people are the champion sailors in all the countries, and the officers of the Snipe class who lead and organize the class activities which make the "Snipe family" a success.  The recent regattas in European countries where over 100 competitors race in regattas were fantastic, and shows what leadership and enthusiasm can do for the class. The Snipe builders and sailmakers in the various countries contribute new ideas and make availablility of the boats feasible at a more or less reasonable cost.  (In the "old days", new Snipes were a lot less expensive compared to living costs, there were also many more Snipe builders – at least in the USA – and therefore many more fleets and local racing activities). The Snipe family I know is a most wonderful group, many well-known sailors and organizers, many with years of successful family Snipe sailing backgrounds – I count them as my most favorite friends.
– 10) Why the Snipe?  
I do enjoy restoring and "loving on" Snipes, and have acquired four Snipes over the past 16 years for my small "collection." I have owned 18 Snipes since 1948, and each was special in some regard.  Snipe was my first boat, and I have always had a soft spot in my heart for this design.  In the early years, we corresponded with Snipe designer Bill Crosby, and later with Birney Mills and now Jerelyn Biehl who does an excellent job as Executive Secretary.  She has a history education so we get along famously as we both share an interest in the boat history and old-time Snipe sailors in the Snipe family.  For a few years from 1980-2000 I owned some larger sailing boats up to 26 feet  (7.9 m) but racing them on handicap basis with other boats large and small was not as enjoyable as one-design sailing, and the need for larger number of experienced crew members required was a significant challenge.
– 11) Your perfect sailing venue and your perfect sailing conditions? 
I am a lake sailor, and "out of my league" in open ocean or large lake sailing conditions.  In the USA, there are many lakes that offer very choice sailing conditons, but most are not utilized for Snipe sailing.  I also see reports on SnipeToday and Snipe Bulletin of many beautiful large lakes in several European countries, most specifically in Switzerland and northern Italy and in Austria, that would be ideal for Snipe sailing.
– 12) Besides sailing which other sport do you practice? 
In younger days, skiing was a winter activity.  Back in the 1950s in Michigan, we used to sail iceboats which was a thrilling sport because of the speeds reached, even in relatively light wind conditions (the boats are so fast that they generate their own winds as they speed up).
– 13) Are you superstitious? 
Not really superstitious at all.  Maybe if you consider that the boat you have has special speed because of proven past performance, you can be a little superstitious that you might be invinceable on the race course, or at least have every chance to win – but you have to be a  good enough sailor to prove it.
– 14) Your perfect holiday? 
I would love to spend a week at the SCIRA headquarters office in San Diego California, going through past records (if Jerelyn Biehl would let me do that! ha ha).  And then going for some Snipe sailing races on Mission Bay in San Diego.  The competition there is tough, with many very good Snipe sailors.  I would probably be at the bottom of the fleet now, just like when I first started racing Snipes in Michigan in 1948.