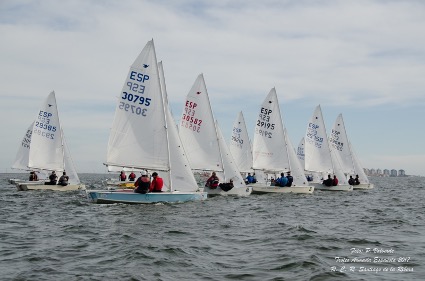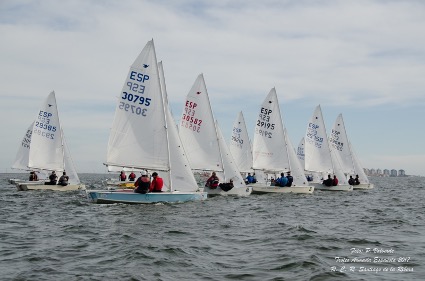 SNIPE FLEET 686 (81 DOMESTIC SPANISH NUMBER)
by Pepe Pérez
The Snipe Fleet at Club Náutico Los Nietos was established in the 1960s, and since the beginnings two junior sailors, José Sánchez ("Miliki") and Jorge Haenelt, stood out at national and European level, obtaining José the 1972 Spanish and European Junior Championships and Jorge the 1972 Spanish Junior Cup.
Later on, José Sánchez dropped sailing, but Jorge Haenelt moved to Málaga, where he sailed side by side with Félix Gancedo, beating him in several Spanish Championships and in three Europeans (1982, 1984 and 1988).
By the end of the 1980s, two more juniors achieved national success, Domingo Espejo and Javier Pérez, but dropped sailing before getting international honors.
Since then, many good Snipe sailors have been part of the fleet… but have not excelled outside the region, until a few years ago, when a larger fleet with higher technical skills has been growing, although just local racing is taking place.
Our future looks bright, with numerous sailors showing a very competitive level that we look forward will start showing results at the Spanish Cup that will take place at our club next October 2021.
---
Fleets: Let us know the Story and the Activity of your Fleet
The heart of the Snipe Class is the local fleet. Fleet activity boosts regional, national and international activity. It is also a "family" where the sailors can spend their time sailing, chatting, drinking, eating and dancing. Where they can experience the true essence of the Snipe: Serious sailing and serious fun.
Let us know the story and the activity of your Fleet. So please send your contributions to [email protected]
Topics:
History of the fleet: When the fleet was founded? Most important sailors and fleet captains
Where is it located? Where do you sail (Racing area)?
How many boats and sailors? Who are they?
Which regattas has the fleet held in the past? Are there annual regattas or events?
Social events: does the fleet organize parties, dinners, clinics, promotional events etc.? Do you have a site, a mailing list or a FB page?
Programs or ideas for the next future
Also, please send photos
Pietro Fantoni, ST Editor