Snipe Fleet of the Year – Updates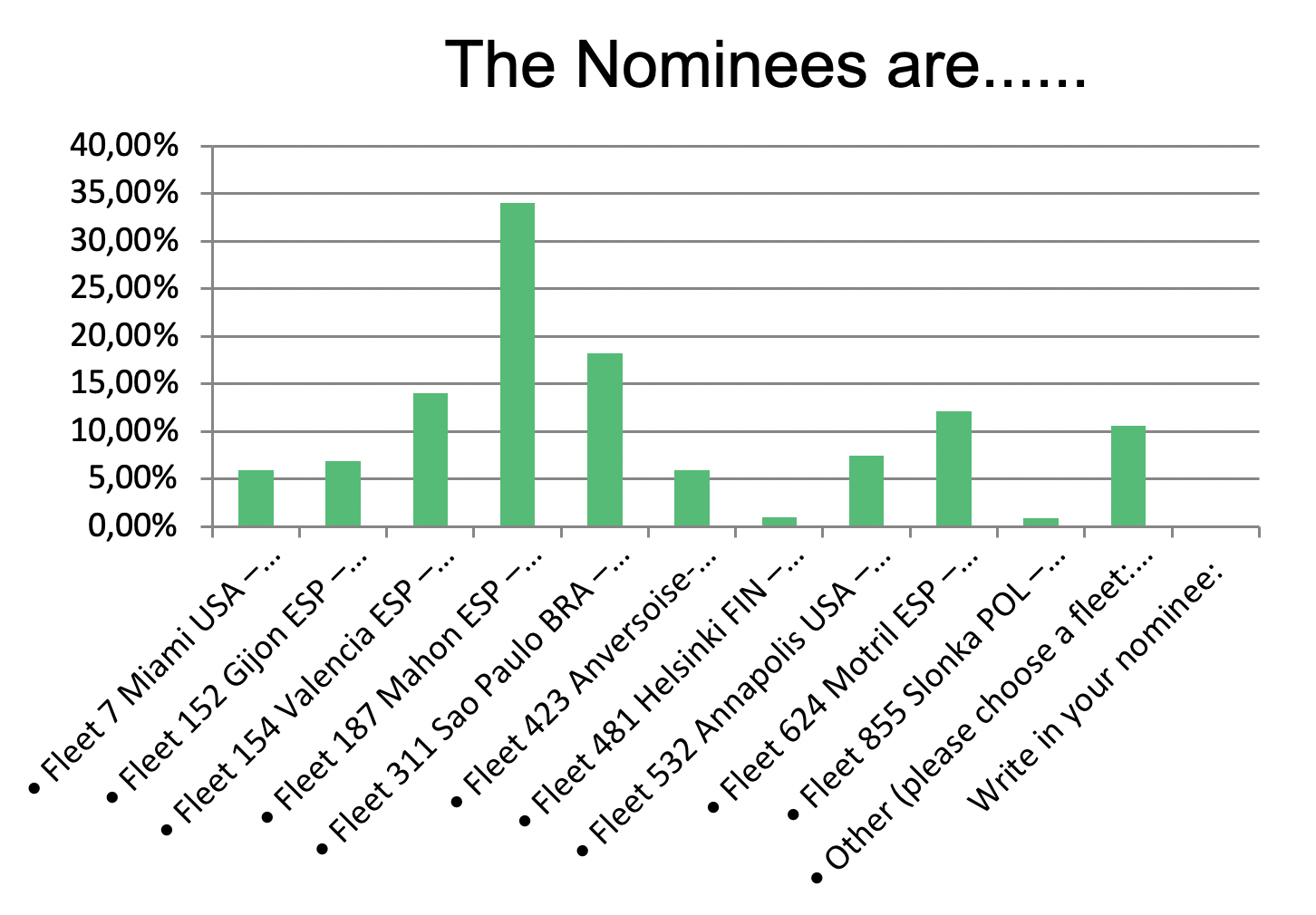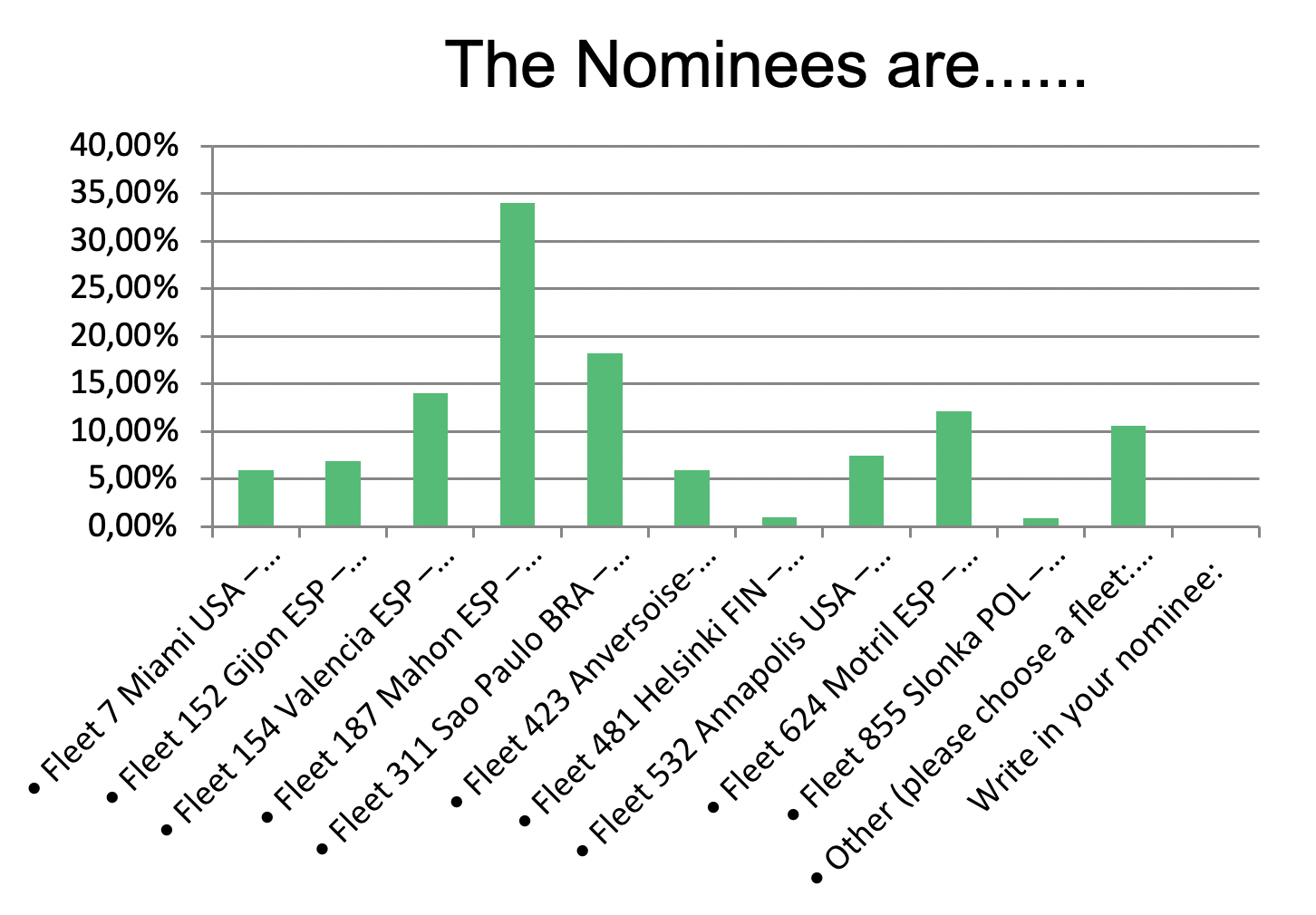 Vote the Snipe Fleet of the Year!
Updates – December, 19, 2020, 19:00 CET:
Fleet 187 Mahon ESP 34,06%
Fleet 311 Sao Paulo BRA 18,21%
Fleet 154 Valencia ESP 14,00%
This year the "Snipe Sailor of the Year" poll has reached its tenth edition.
However, 2020 was a strange and totally different year from the previous ones. All major international regattas have been canceled (Master Worlds, Women's Worlds, Junior and Senior Europeans, Western Hemisphere & Orient Championship, North Americans, South Americans, South Europeans, Nordics …).
Some countries have not been able to hold their Nationals or any other traditional regattas. Despite the pandemic, however, organizers have managed to host regattas in many countries around the Snipe world.
And not only regattas! Snipe fleets, around the world, have worked hard to organize promotional initiatives such as training, clinics, web seminars, parties and meetings. In short, there has been a rediscovery of local activity which, in many cases, has given excellent results in terms of participation and enthusiasm.
For this reason, the 2020 "Snipe sailors of the Year" will reward not the best sailor, but the fleet that has distinguished themselves this year in promoting the Class at a local, national or international level: organizing regattas, events, meetings, clinics or initiatives useful for sailors and the Snipe Class.
The Editors
Please check your email inbox. You got an email from [email protected] via Clubspot. You can follow the instructions and vote.
You can vote for as many fleets as you like, but only once. Thank you for participating!
Voting ends on December 31, 24:00 Central European Time
You can click here and vote!
The nominations:
Fleet 7 Miami USA – organizer of many clinics and training session for beginners and newcomers, promoter of women's sailing
Fleet 152 Gijon ESP – organizer of many local events and fleet activities
Fleet 154 Valencia ESP – organizer of international events, trainings, clinics and winter regattas
Fleet 187 Mahon ESP – organizer of very well attended winter series, guardian of the history of the Class in Menorca
Fleet 311 Sao Paulo BRA – organizer of many regattas in Guarapiranga with great number of boats, promoter of women's sailing
Fleet 423 Anversoise-Antwerp BEL – organizer of many local regatta on the lake Galgenweel, promoter of clinics for advanced sailors and newcomers, promoter of women's sailing and organizer of the Women's Europeans
Fleet 481 Helsinki FIN – organizer of clinics for beginners, newcomers and advanced sailors, always at the Helsinki Boat Show for presenting the Snipe Class
Fleet 532 Annapolis USA – organizer of many events and regattas for juniors, under 30, women's; very active on the social media channels with tips and advices for Snipe Fleet Building
Fleet 624 Motril ESP – organizer of the famous Oseberg Challenge with many boats from many countries – a clear example of serious sailing serious fun regatta
Fleet 855 Slonka POL – organizer of many nationals and international regattas on the lake Kiekrz and promoter of junior events
Other … Complete list of fleets: https://www.snipe.org/authorities/fleets
---
Snipe Sailors of the Year:
Previous winners:
2011 Alexandre Tinoco and Gabriel Borges
2012 Raul de Valenzuela and Alejandre de Ona Antolin
2013 Tiago Roquette and Tiago Morais
2014 Manu Hens with crews Victor Perez Campos, Maj Kristin Hansen Borgen, Enrico Michel and Alexandre Tinoco
2015 Raul Rios with crews Fernando Monllor, Andre Guaragna and Kara Voss
2016 Birger Jansen & Janett Krefting
2017 Raul Rios and Mac Agnese
2018 Damian Borras Camps & Jordi Triay
2019 Damian Borras Camps, Sara Franceschi, Alexandra Wang, Jordi Triay