Snipe Midwinters
Key Largo, FL, USA, February 12, 2023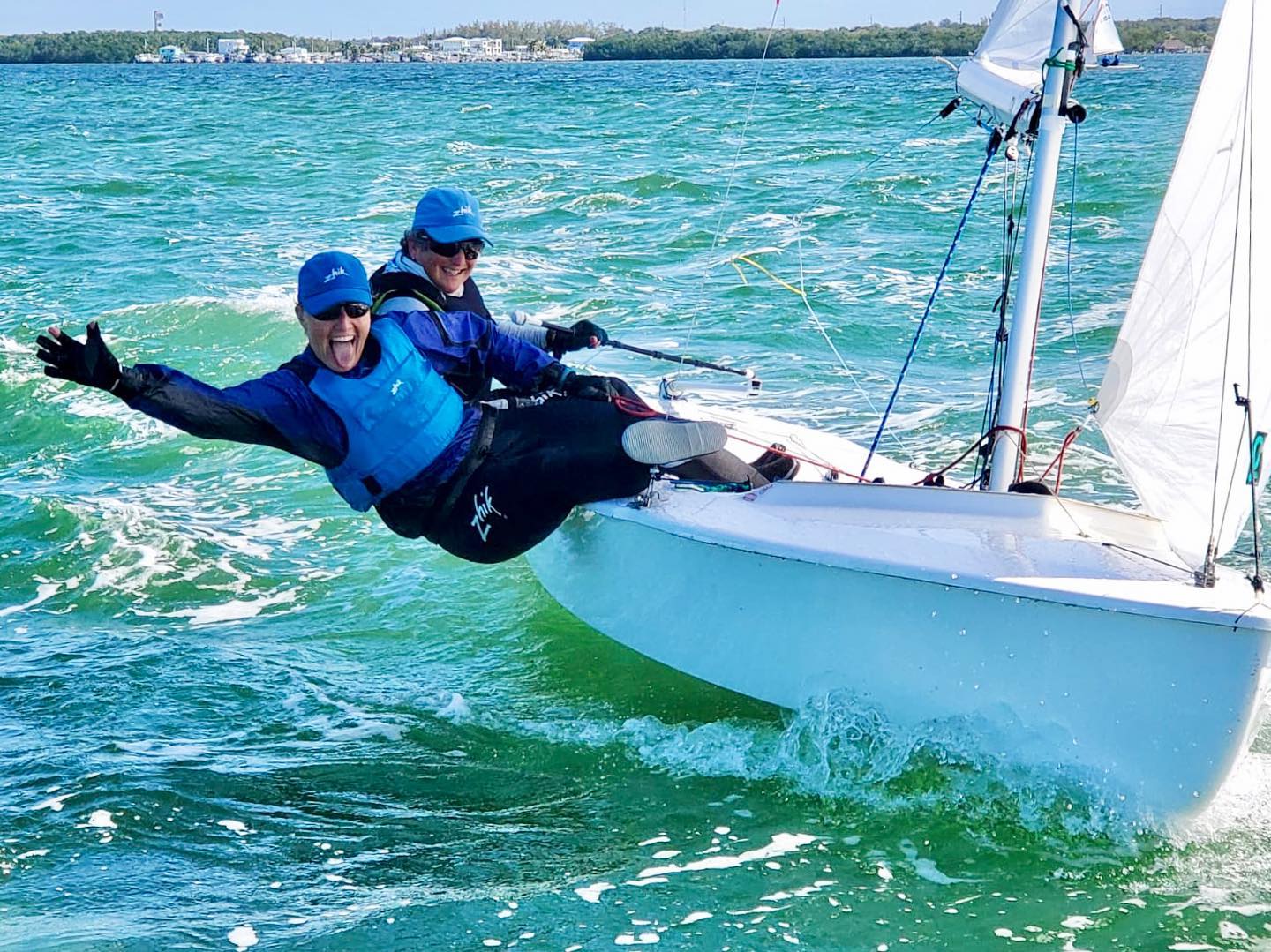 Key Largo, FL, USA, February 12, 2023. Final results after 6 races (1 discard):
Ernesto Rodriguez & BB Bellacosa, 7
Raul Rios & Lexi Pline, 17
Enrique Quintero & Charlie Bess, 19
Trevor Bornath & Kathryn Bornath, 26
Felipe Canela & Alfredo Rovere, 28
80th Snipe Midwinters: New Venue, Old Friends
by Carol Cronin
After four years without a Midwinter championship, the Snipe Class leaped at an offer from the Upper Keys Sailing Club on Key Largo to host a weekend regatta immediately following the Comodoro Rasco in Miami. And after six races over two fantastic but quite different sailing days, I think all of the 28 teams appreciated the well-honed balance of Serious Sailing, Serious Fun found on Buttonwood Sound. A large bay on the "inside" of the Keys, depths of around six feet keep powerboat traffic to a minimum (even on a chamber of commerce Saturday). Onshore, UKSC Commodore Mike Austin led a large welcoming group of volunteers who organized trailer dropoff and storage, keeping traffic calm and flowing through the tight parking area. And there was pizza after rigging!
Commodore Mike was also our PRO, and his RC team fit in four races Saturday in a warm and gentle 8-12 knot southerly. Ernesto Rodriguez/BB Bellacosa had three bullets; Enrique Quintero/Charlie Bess also started off strong with a 2,1, but a pair of eighths left them tied with Raul Rios/Lexi Pline overnight.
After racing, UKSC offered up their friendly bar service as well as a great Cuban dinner. Dessert? That was a gorgeous sunset easily viewed from the dock and beach, surrounded by Snipe friends new and old. An excellent opportunity to chat with Commodore Mike about how to make this our new Midwinters home…
A cold front went through Saturday night, and we arrived on Sunday to see whitecaps kicked up by a 15-17 knot westerly, with breaking waves on the launching beach. With the breeze forecast to increase as the day went on, a few boats chose to pack up. Everyone else managed to launch safely and head out for a planned three races.
The course was a two lap double triangle with the start/finish line in the middle, appropriate for the 15-18 knot breeze that built to the low 20s by the finish of race six. Reaches were fairly deep, so staying low always paid off. When Rodriguez/Bellacosa capsized on the second beat of the first race in a tack, the door opened for Rios/Pline to take the regatta (and also gave Trevor and Katie Bornarth a race win). But Rodriguez/Bellacosa came from behind to win the sixth race, and when the race committee decided the breeze had built too much and sent the fleet home, they took the regatta by 10 points over Rios/Pline.
Getting back ashore required a lot of cooperation and skillful boathandling, but soon we were all packing up—fueled by both an active bar and the burgers/hot dogs cooked up by regatta supporters. At the awards, when Commodore Mike offered to host the regatta again next year, there was a rousing cheer from the fleet. Dare I suggest that a new Midwinter tradition has been created?
SAILORS
SAIL NUMBER
BOAT NAME
CLUB/ORG
NET
TOTAL
R1
R2
R3
R4
R5
R6
1
Ernesto Rodriguez
BB Bellacosa
31337
None
Royal Hialeah Yacht Club
7
17
1
3
1
1
[10]
1
2
Raul Rios
Lexi Pline
29841
Chico
FVPR/CNSJ/SSA
17
24
5
[7]
3
4
3
2
3
Enrique Quintero
Charlie Bess
31144
MAQ
Coral Reef Yacht Club
19
27
2
1
[8]
8
5
3
4
Trevor Bornarth
Kathryn Bornarth
30321
Black Jack
Usscmc
26
34
6
[8]
6
5
1
8
5
Felipe Caneppa
Alfredo Rovere
31111
Black Belt
Flamengo
28
46
8
4
[18]
6
4
6
6
Trevor Davis
Diego Escobar
29940
Bad Panda Racing
Severn Sailing Association
30
42
9
[12]
5
3
2
11
7
Ava Anderson
Watt Duffy
31300
Geaux Fast
Ocean Beach Yacht Club
34
51
4
[17]
4
12
7
7
8
Asher Zittrer
Noah Zittrer
1300
None
Tulane / CofC / Lakewood Yacht Club
38
53
11
11
[15]
2
9
5
9
Carol Cronin
Kim Couranz
31295
None
Severn Sailing Association
41
57
[16]
10
7
14
6
4
10
Charles Green
31776
None
US Sailing Center
41
41
–
–
–
–
21
20
11
Marina Cano
Martin Hermida
29511
None
NYYC
47
72
7
[25]
2
9
15
14
12
Evan Hoffmann
Shira Golub
31770
Pickle Rick
San Diego Yacht Club
48
67
3
6
10
[19]
14
15
13
Alex Pline
Lisa Pline
31313
Old Folks Boogie
Severn Sailing Association
51
65
12
9
[14]
10
11
9
14
Peter Commette
Ana Smith
31442
Ana & the King
Lauderdale YC/Mantoloking YC
57
77
19
2
12
[20]
12
12
15
Tyler Mowry
Marissa Milliken
30928
TBD
Severn Sailing Association
61
83
15
15
[22]
13
8
10
16
Gavin McKinney
Nikki Bruno
30202
None
Nassau yacht club
65
87
10
[22]
11
15
16
13
17
Andre Guaragna
Logan Brickhouse
30023
None
Fleet 007 – Miami
67
86
14
5
[19]
18
13
17
18
James Lowe
David Weir
BAH30511
None
Nassau Yacht Club
82
111
24
18
13
7
20
[DNC – 29]
19
Roberto Guaragna
Isabel Guaragna
30743
Echo
Miami #7
88
117
13
19
16
11
[DNC – 29]
DNC – 29
20
Devon Feusahrens
Jill Bennett
30860
Her Fault
Severn Sailing Association
92
115
21
[23]
17
17
18
19
21
Greg Virgin
Chloe Constants
31805
None
Severn Sailing Association
94
117
18
20
21
[23]
17
18
22
Luis Borba
Sarah Smith
31104
None
Yacht Club Paulista
96
121
17
24
20
[25]
19
16
23
Amanda Kremer
Ryan Schubert
31790
None
Fleet 210 – Rocky Mountain
97
126
23
14
9
22
[DNS – 29]
DNC – 29
24
Charles Green
31776
Forever Young
US Sailing Center Miami
105
105
25
RET – 29
25
26
–
–
25
Rafael Jarauta
Katrina Washburn
28812
RealtyWonders.com
US Sailing
110
139
20
13
24
24
[DNC – 29]
DNC – 29
26
Roberto Lizano
Lorena Fundora
30888
None
Jaimanitaclub
114
143
22
16
26
21
[DNC – 29]
DNC – 29
27
Corinne Sackett
Maddy Mcsweeney
30687
None
Edgewater Yacht Club
115
144
26
21
23
16
[RET – 29]
DNC – 29
28
Sarah Alexander
31635
None
Severn Sailing Association
145
174
[DNS – 29]
DNS – 29
DNS – 29
DNS – 29
DNC – 29
DNC – 29