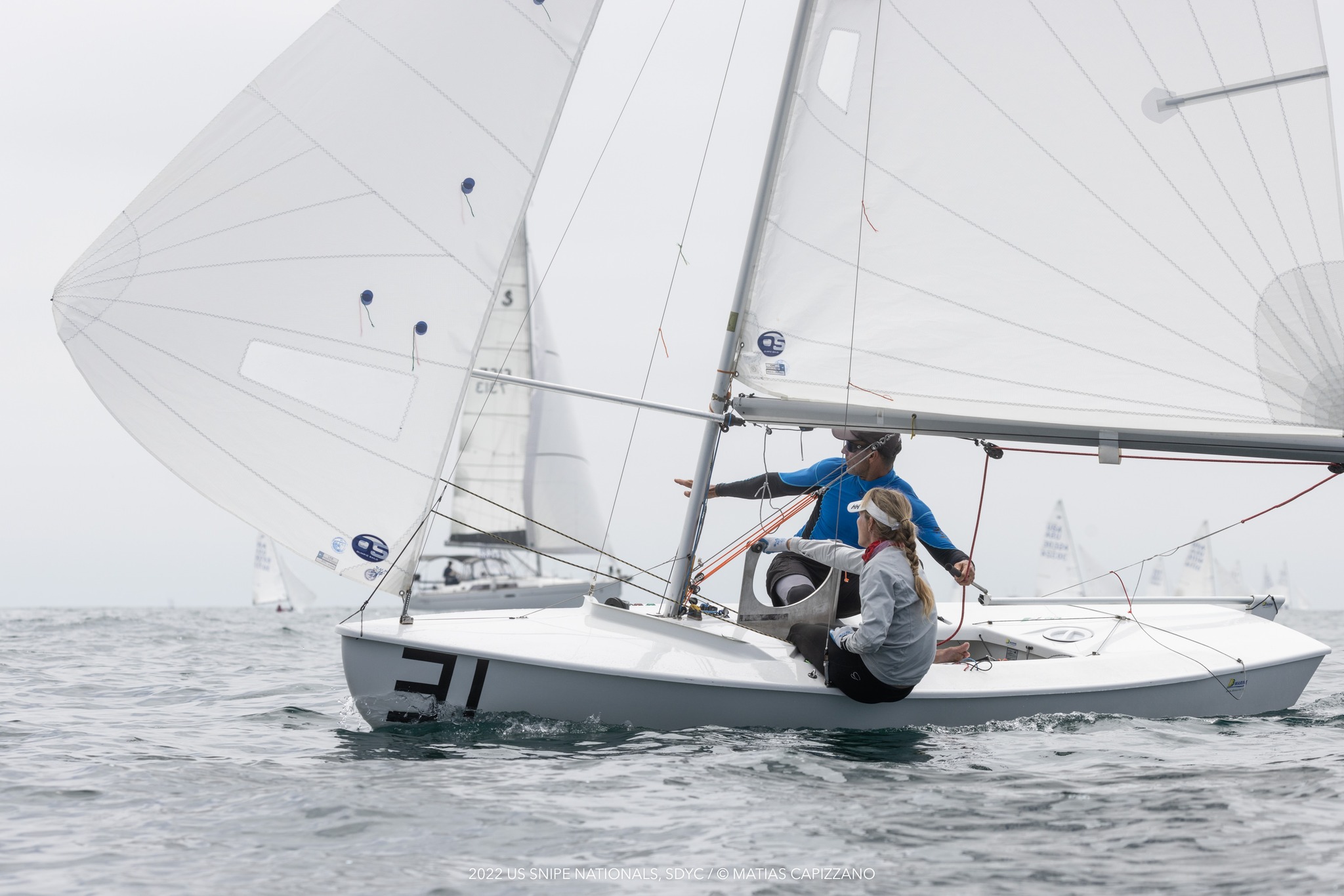 San Diego, CA, USA, July 16, 2022. Ernesto Rodriguez and Kathleen Tocke won the US Nationals. Justin Callahan & Aiden Hoogland won the Junior division.
Final results after 8 races (1 discard):
Ernesto Rodriguez & Kathleen Tocke, 19
Augie Diaz & Christine De Silva, 22
Arthur Blodgett & Grace Howie, 40
Enrique Quintero & Charlie Bess, 45
Evan Hoffmann & Shira Golub, 61
San Diego, CA (July 15, 2022) Ernesto Rodriguez and Kathleen Tocke are officially the winners of the 2022 Snipe US National Championship! Over the past four days, this duo has proved themselves worthy of the champion title. Rodriguez and Tocke placed in the top three in six out of the eight races of the regatta. They're not deemed the SSL Snipe World Ranked no. 1 team for nothing.
Rodriguez and Tocke concluded the regatta with a total of 19 points, only 3 points ahead of overall second place finishers Augie Diaz and Christine De Silva. Third place overall was earned by Arthur Blodgett and Grace Howie with 40 points.
It was not with ease that Rodriguez and Tocke won the regatta. The competition was tight, especially with Diaz and De Silva on their ankles. Rodriguez commented, "It was a tough regatta with tough conditions. We were fortunate today to have a really good first race. We were going into the last day with Augie a couple of points behind us. We ended up using our drop on the second race and that was good enough to win the regatta. But, I felt like Augie sailed better than us. In fact, I realized that in eight races, we only beat him in three. That's how tough sailing is. It could have went either way."
Up next for Rodriguez and Tocke is the 2022 Snipe World Championship this August. Several boats sailing this week will be joining the team back on the water for another round of competition. See the Entry List here.
The final day of the Snipe US National Championship got off to late start, with a delay due to winds at a mere 3 knots. At 5 knots, SDYC's Race Committee set the course and race seven was underway. Mary Baker and Trisha Kelly had a great run and finished race seven in first place. Baker and Kelly were the also the top placing all female team for the regatta! Rodriguez and Tocke followed in second place and Enrique Quintero and Charlie bess in third.
The last race, race eight, was the final chance for competitors to work their way up the scoresheet, and it was another slow and steady race. It took the fleet nearly 20 minutes to make it to the weather mark. Augie Diaz and Christine De Silva beat the fleet to the finish line, with Randy Lake and Maddy McGrath in second and David and Paige Tillson in third. Rodriguez and Tocke finished 11th in the race, but thankfully for the allotted throw out, it did not get in the way of their overall success.
There was no shortage of talented sailors on the water this week. Juniors and seniors alike came to San Diego Yacht Club ready to compete in four days of intense sailing among the best. But, this week of sailing was more than that. It was an opportunity for juniors to race against their mentors, for newbies to get experience in the fleet, and for families to experience racing together. In the fleet of 50, you could find several boats of couples, even more of parent and children duos, and even a sibling team. These teams are proof of the Snipes fleet greatest qualities: competitive, inclusive, and fun.
The junior sailors on the course did especially well competing against long-time fleet members. The final overall Junior scores place Justin Callahan and Aiden Hoogland in first place. Trevor Davis and Ale Torres had a great regatta with three bullets to come in second. Peter Busch and Cam Spriggs also placed consistently well over the four days to finish in third. Five of the eight junior teams competing finished in the top half of the fleet.
"I don't think the Juniors here are the future, I think they're the present. They were giving us a hard time at every rounding mark. I've heard comments from a few juniors telling me how they didn't realize how good the Snipe is and how tough the fleet is. I think they're going to be here for a while!" stated Rodriguez.
After the racing, competitors and their families were invited to the Awards Ceremony to relish in their accomplishments. Winners received an array of awards, some provided by Sailing Supply. All enjoyed snacks provided by Geaux Fast Sailing, cocktails by Old Harbor Distilling, and cold beer from Bay City Brewing.
(Source: San Diego Yacht Club)
SAILORS
SAIL NUMBER
BOAT NAME
CLUB/ORG
DIVISION
NET
TOTAL
R1
R2
R3
R4
R5
R6
R7
R8
1
Ernesto Rodriguez
Kathleen Tocke
USA 3133731
None
Miami Snipe Fleet
19
30
3
2
2
1
6
3
2
[11]
2
Augie Diaz
Christine De Silva
USA 3028809
Danilu
Coconut Grove SC
22
40
1
1
8
6
4
1
[18]
1
3
Arthur Blodgett
Grace Howie
USA 3047318
La Flama Blanca
SSA/Larchmont YC
40
56
9
[16]
3
3
2
4
10
9
4
Enrique Quintero
Charlie Bess
USA 3114439
MAQ
CRYC/ Chase Performance
45
80
13
4
7
9
1
8
3
[35]
5
Evan Hoffmann
Shira Golub
USA 3177001
Pickle Rick
San Diego YC
61
86
8
11
1
11
7
19
[25]
4
6
Randy Lake
Maddy McGrath
USA 3129822
None
San Diego YC
71
122
10
8
5
8
18
[OCS – 51]
20
2
7
Justin Callahan
Aiden Hoogland
USA 1313004
None
Biscayne Bay YC
Juniors
75
105
25
6
10
2
13
11
8
[30]
8
Gavin O'Hare
Holly OHare
USA 3062946
Unfinished Work
OBYC
85
122
4
13
34
[37]
10
7
4
13
9
George Szabo
Diana Waterbury
USA 3144134
None
San Diego YC
89
114
18
5
15
13
23
10
5
[25]
10
Carter Cameron
Harrison Strom
USA 3033740
Burrito Time
Carolina YC
89
115
7
20
17
[26]
11
22
6
6
11
Robert Ramirez
Kate Sheahan Herron
USA 3163843
None
New York YC
94
124
17
7
6
[30]
21
27
9
7
12
Trevor Davis
Ale Torres
USA 2994037
Bad Panda Racing
Severn Sailing Association
Juniors
97
135
[38]
3
36
20
5
2
21
10
13
David Tillson
Paige Tillson
USA 3010913
None
Mission Bay YC
100
127
12
22
[27]
19
12
16
16
3
14
Mary Baker
Trisha Kelly
USA 2915103
El slammo
Mission Bay YC
103
142
11
10
[39]
15
28
21
1
17
15
Bradley Adam
Nikki Bruno
USA 2904442
None
Severn Sailing Association
107
138
2
25
20
[31]
20
13
13
14
16
Stephen Momeier
Watt Duffy
USA 3130047
Geaux Fast
OBYC/GeauxFastSailing
None
108
144
6
12
22
16
22
6
24
[36]
17
Andrew Pimental
Megan Place
USA 3179026
None
Sail Newport, Inc
116
167
28
18
13
4
9
15
29
[DNS – 51]
18
Eric Heim
Lorelei Heim
USA 2885814
Penny Benjamin
San Diego YC
122
162
19
17
35
[40]
3
20
12
16
19
Trevor Long
Kaila Pfrang
USA 3032430
Impact Warning
Eastern YC
128
179
23
23
21
12
26
12
11
[OCS – 51]
20
Carol Cronin
Kim Couranz
USA 3129506
None
Severn Sailing Association
130
166
16
[36]
4
27
17
17
22
27
21
Peter Busch
Cam Spriggs
USA 1286824
None
San Diego YC
Juniors
131
164
30
15
11
14
15
[33]
14
32
22
Devon Owen
Ben Conroy
USA 2990710
None
San Diego YC
Juniors
135
171
[36]
32
12
5
30
23
7
26
23
Gene Ratliffe
Ryan Ratliffe
USA 2943948
None
Mission Bay YC
135
167
21
9
9
18
24
[32]
23
31
24
Diego Escobar
Ximena Escobar
USA 2895507
Red Stripe
Fleet 495
Juniors
137
167
15
29
25
29
29
5
[30]
5
25
Alex Pline
Lisa Pline
USA 3131308
Old Folks Boogie
Severn Sailing Association
139
175
26
26
24
7
16
25
[36]
15
26
Rick Arneson
Nick Dorn
USA 3080002
Green Flash
San Diego YC
152
190
14
19
14
28
[38]
34
35
8
27
Aine Fretwell
Carlin Fretwell
USA 2924841
Maurice
Mission Bay YC
153
195
5
33
29
32
14
14
26
[42]
28
Tarasa Davis
Gus Wirth
USA 2967112
T-Time
Fleet 330 – Atlanta
159
198
20
21
28
[39]
8
9
39
34
29
Packy Davis
Julie Calvert
USA 3073327
In the way
St Francis YC
159
201
27
24
30
[42]
27
18
15
18
30
Ken Redler
Kenyon Redler
USA 2931521
The Rock
Mission Bay YC
175
214
35
14
26
17
31
[39]
28
24
31
Don Bedford
Ava North
USA 3111420
Old and In The Way
Mission Bay YC
177
228
22
27
41
[OCS – 51]
34
24
17
12
32
Owen Fretwell
Efe Derman
USA 2885711
None
Mission Bay YC
Juniors
187
222
31
[35]
16
35
25
30
27
23
33
Seth Siegler
Cragan Smith
USA 2868736
Street Fighter (fka)
Mission Bay YC
189
229
37
34
23
10
[40]
29
34
22
34
Eric Reinke
Stacey Szabo
USA 3135732
None
Severn Sailing Association
191
236
24
39
18
[45]
19
26
32
33
35
Robert Bowden
Brian Fitzsimmons
USA 3143944
Liquid Rodeo
Mission Bay YC
206
240
[34]
30
32
33
33
28
31
19
36
Marianna Shand
Blake Buckner
USA 2822535
None
Mission Bay YC
Juniors
209
253
32
28
[44]
22
41
38
19
29
37
Aimee Heim
Amy Benner
USA 2964628
None
San Diego YC
217
260
[43]
31
33
23
36
36
37
21
38
Shea McGrath
Sean Ross
USA 3011305
None
Mission Bay YC
Juniors
246
291
33
38
[45]
36
42
37
40
20
39
Stuart Robertson
Alex Fisher
USA 2910929
Lia Hona
Mission Bay YC
252
295
41
37
[43]
43
35
35
33
28
40
Sean Adams
Evan Charles
USA 3055049
None
Mission Bay YC
260
306
39
42
31
25
[46]
42
42
39
41
Charles Lindsay
Jett Miller
USA 2867950
None
MIT
263
314
48
[DNF – 51]
19
21
39
OCS – 51
41
44
42
Ryan Schubert
Amanda Kremer
USA 3061825
None
Fleet 210 – Rocky Mountain
271
318
46
40
37
38
32
40
[47]
38
43
Steve Moses
Ellen Wesley
USA 3074338
AARP Xpress
California YC
272
323
29
41
[DNS – 51]
44
43
31
44
40
44
Connor Chung
Abigail Lee
USA 2935645
None
Other | Non – JSA
285
336
42
46
42
24
37
43
[DNC – 51]
DNC – 51
45
Lynsi Gibbons
Alice Maestri
USA 2885416
None
Fleet 495
289
336
40
43
46
34
[47]
46
43
37
46
Charles Green
Sarah Smith
USA 3177619
Forever Young
US Sailing Center Miami
296
344
45
45
38
41
45
41
[48]
41
47
Dick Davidson
Ben Davidson
USA 3001723
Soup Kitchen
Mission Bay YC
306
354
47
47
40
46
[48]
45
38
43
48
Stephan Irgens
Monica Irgens
USA 2847015
Red Boat
CCSA
318
369
44
44
[DNS – 51]
DNC – 51
44
44
46
45
49
Andy Meyerpeter
Nick Newman
USA 3065217
Eileen
Fleet 12
339
390
49
48
[DNC – 51]
DNC – 51
49
47
49
46
50
Brian Smith
Brittany Smith
USA 2504633
None
Union Sailing Club
351
402
[DNS – 51]
DNC – 51
DNC – 51
DNC – 51
DNC – 51
DNC – 51
45
DNC – 51
US Junior Nationals:
Justin Callahan & Aiden Hoogland, 13
Trevor Davis & Ale Torres, 20
Peter Busch & Cam Spriggs, 23
Diego Escobar & Ximena Escobar, 25
Devon Owen & Ben Conroy, 27
SAILORS
SAIL NUMBER
BOAT NAME
CLUB/ORG
DIVISION
NET
TOTAL
R1
R2
R3
R4
R5
R6
R7
R8
1
Justin Callahan
Aiden Hoogland
USA 1313004
None
Biscayne Bay YC
Juniors
13
20
2
2
1
1
2
3
2
[7]
2
Trevor Davis
Ale Torres
USA 2994037
Bad Panda Racing
Severn Sailing Association
Juniors
20
28
[8]
1
6
4
1
1
5
2
3
Peter Busch
Cam Spriggs
USA 1286824
None
San Diego YC
Juniors
23
31
3
3
2
3
3
6
3
[8]
4
Diego Escobar
Ximena Escobar
USA 2895507
Red Stripe
Fleet 495
Juniors
25
32
1
5
5
6
5
2
[7]
1
5
Devon Owen
Ben Conroy
USA 2990710
None
San Diego YC
Juniors
27
34
[7]
6
3
2
6
4
1
5
6
Owen Fretwell
Efe Derman
USA 2885711
None
Mission Bay YC
Juniors
34
41
4
[7]
4
7
4
5
6
4
7
Marianna Shand
Blake Buckner
USA 2822535
None
Mission Bay YC
Juniors
38
46
5
4
7
5
7
[8]
4
6
8
Shea McGrath
Sean Ross
USA 3011305
None
Mission Bay YC
Juniors
48
56
6
[8]
8
8
8
7
8
3