Board of Governors Regatta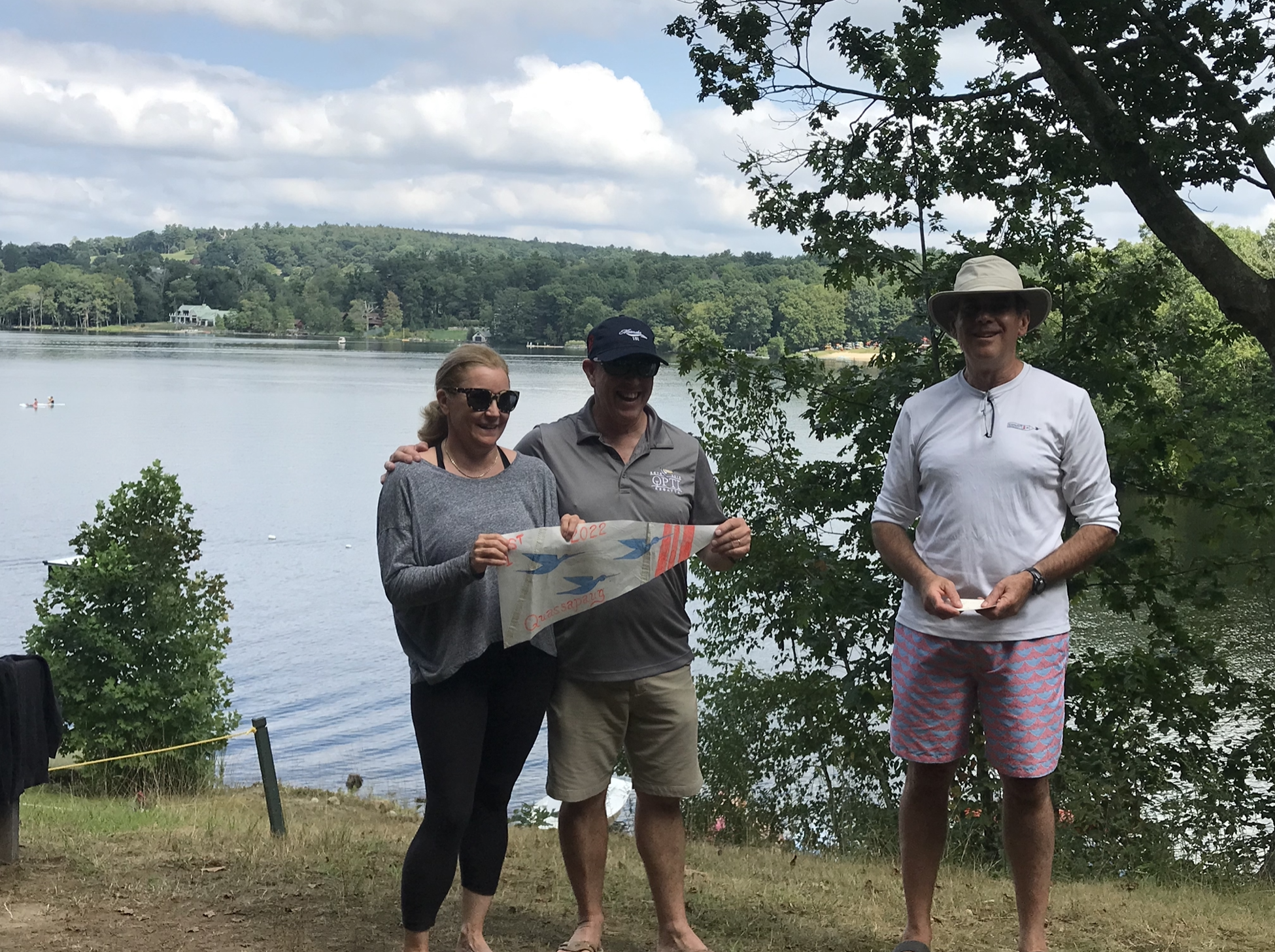 Lake Quassapaug, CT, USA,  August 28, 2022
The Wind God was angry at us for unknown reasons. Was it that no boat was carrying a Frisbee, tennis ball, or water gun for 'other games'? The end result was that Lake Quassapaug lived up to her reputation for light wind.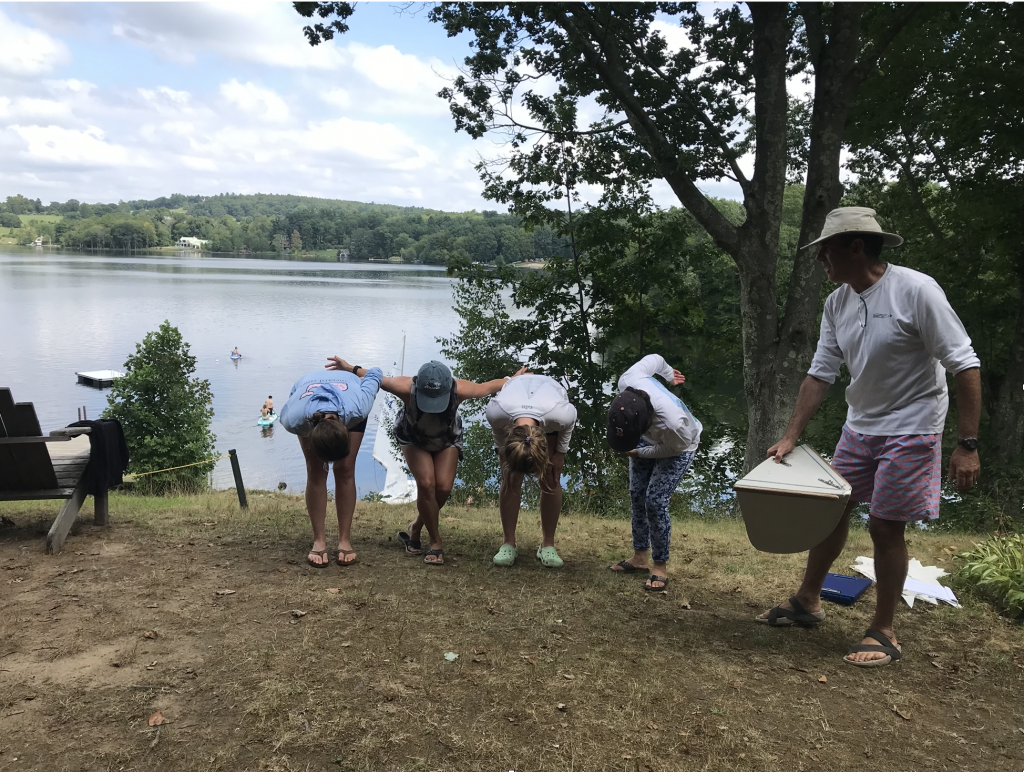 Twenty One Snipe Teams attended the 2022 Board of Governors Regatta. Saturday's forecast was for 3-6 knots from the North. What we received was 0-5 knots from the North, East, West and everything in between. Lake sailing at its best (or some might say, worst)!
Confidence was running high at the competitors meeting as Quassapaug's weird signaling of reverse courses, starboard roundings, was explained to the very large crew of Quassapaug rookies. During questions, no one, including Lee Griffith, played the roll of Lee Griffith.
The fleet consisted of 20 Fiberglass boats and one wood boat. Thirteen of the 21 boats racing we crewed by family teams. Eight of them, married couples sailing together, including the newlyweds Kevin Hetherington and Janet Liu! Medford Boat Club beat the Winchester Boat Club for participation 3 to 2!!! Kind of lame for the WBC Sailors, so much for the powerhouse Snipe club of New England. Meanwhile the Quassapaug Sailing Center fielded 5 boats.
After lunch three races were run, and much of the fleet learned and relearned the "stay out of the middle of the beat" lesson. Of course, none of the legs were beats or runs, but contained all direction of sailing, just for the enjoyment of the competitors. Lee Griffith and Nikki Bruno showed the fleet how to sail on a lake by winning the first two races.
The third race contained a run with a 180 degree shift turning it into a beat. How exciting. The racing was very close and there were many lead changes. Julia Fuller and Alex Tong won this race
The Fleet retired for dinner and drinks.
Andrew Keane did the scoring to show the top four, Alex and Lisa Pline, Bob and Stephanie Adam, Cam and Liz Fraser, and Lee and Nikki all within 3 points of each other. The next three teams, Joel & Juliana, John and Geri, and newlyweds Kevin and Janet were within three points of each other. A very very tight regatta!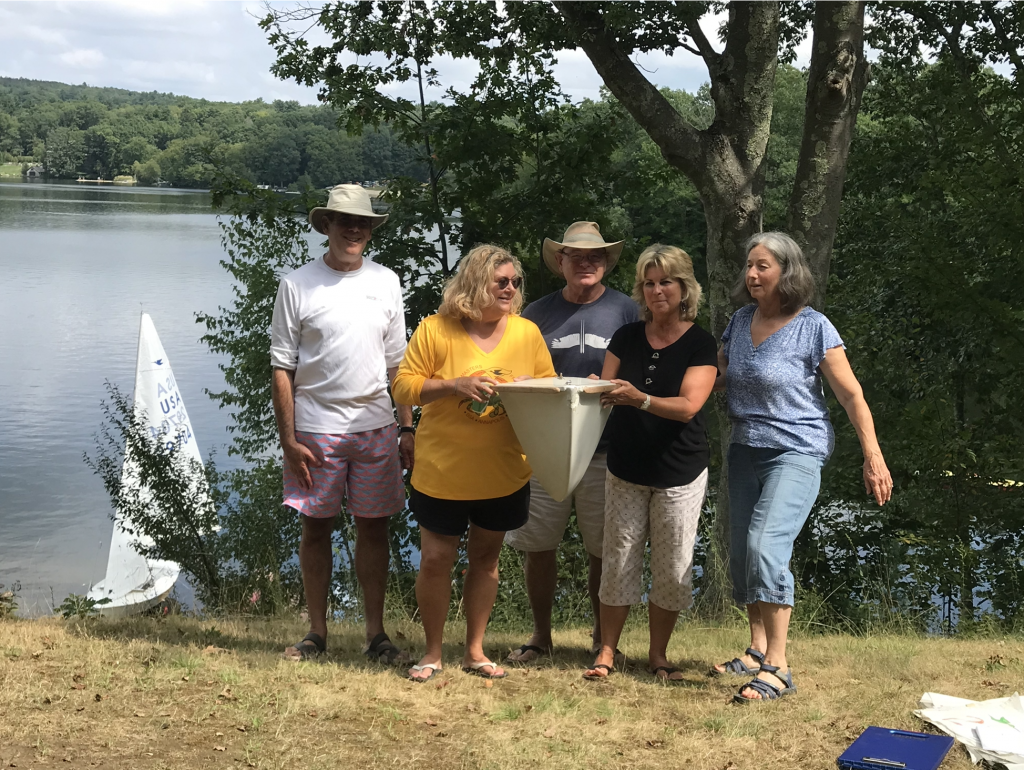 Dinner was fun with Lobsters, mussels, clams, corn, steaks, and chicken. Washed down with wine and plenty of IPA, Lager, Pilsner, Ale, and Octoberfest from Connecticut breweries. After dinner we danced to a DJ for hours! Julia, Fuller, Nikki Bruno, Liz Fraser and MacKenzie Fraser danced every dance of the evening and were awarded the coveted "Take a Bow" Award for their courageous action.
Sunday met us with clouds and a very light easterly breeze. The shifts were very large, but the breeze never went completely away. A long race was held. After many lead changes, John and Geri Crookston showed the fleet how to win a race. After which the easterly totally died.
Thanks to the Race Committee lead by Peter Zackin, and assisted by Suzette Fraser, Carol Tomassetti, Joel Zackin, Juliana Ruggieri, and Josh Lovett for running races in challenging conditions. The entire RC was awarded the "Take a Bow" Award for their great work.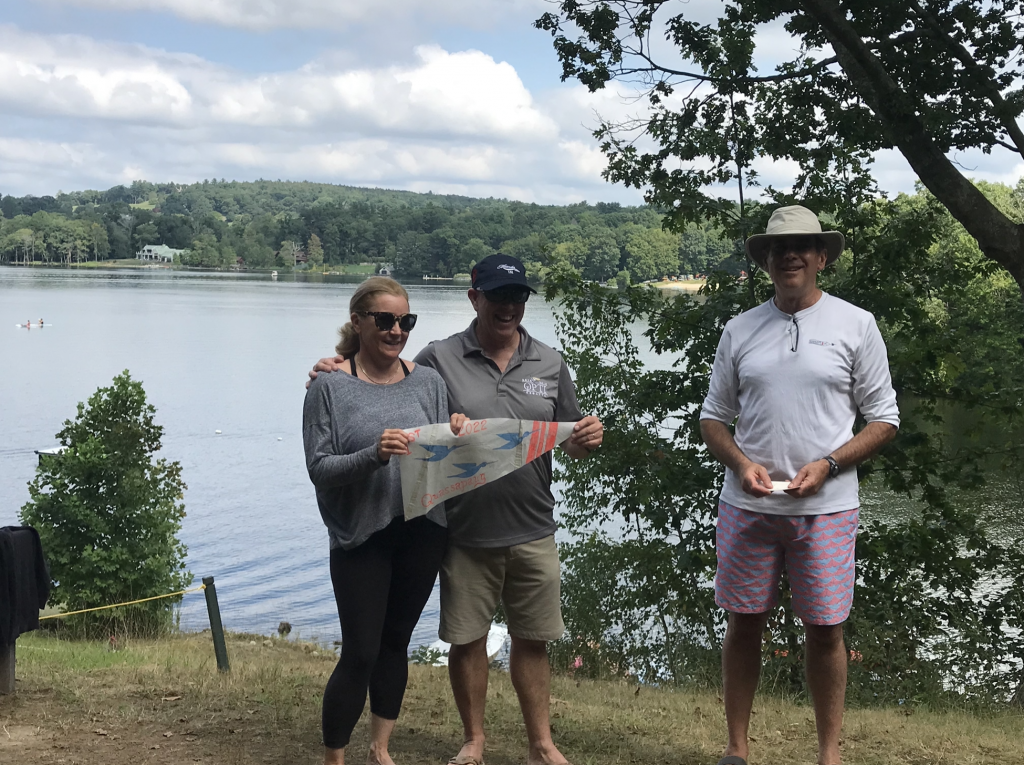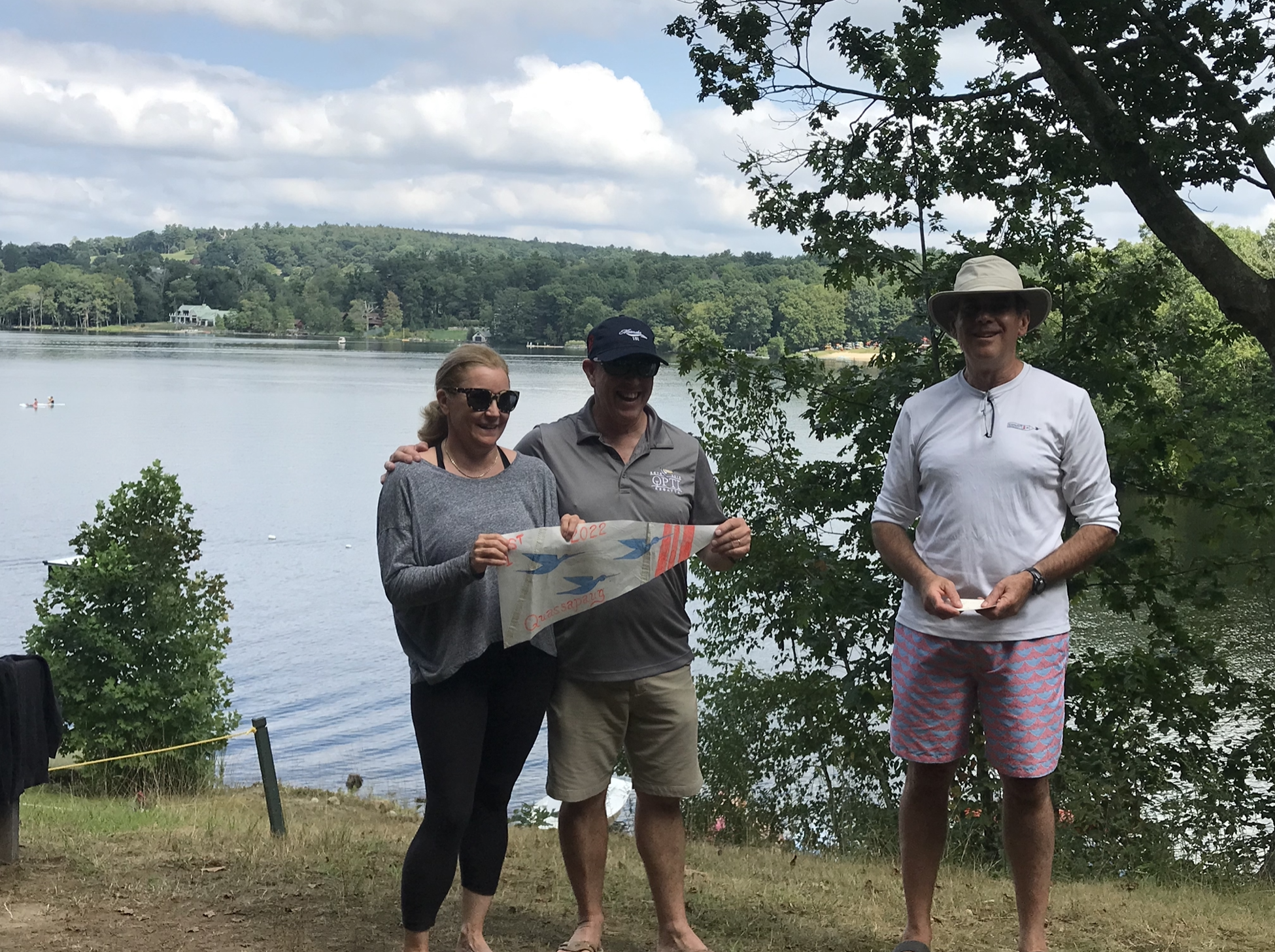 Thanks to Dave and Laurie Rogers, and Jane Panza for orchestrating dinner and Sunday breakfast and lunch. Suzette Fraser for making sure registration was complete. Bob Panza for Marks, and everyone else who helped make the regatta a success.
Come to Quassy!!
Joel Zackin
"Queen Celeste" 31566
2022 Board of Governors Regatta, Lake Quassapaug, Middlebury Connecticut.
| | | | | | | | | | | |
| --- | --- | --- | --- | --- | --- | --- | --- | --- | --- | --- |
| | Sail | Manufacturer | Sailors | Club | R1 | R2 | R3 | R4 | total | Awards |
| 1 | 30302 | JibeTech | Bob and Stephanie Adam | Sail Newport | 2 | 2 | 8 | 6 | 18 | 1st Married Couple |
| 2 | 31304 | DB Marine | Lee Griffith and Nikki Bruno | SCYC | 1 | 1 | 13 | 9 | 24 | |
| 3 | 25863 | Mueller | John and Geri Crookston | | 11 | 10 | 2 | 1 | 24 | 2nd Married Couple 2nd Oldest boat |
| 4 | 30903 | JibeTech | Cam and Liz Fraser | MBC | 3 | 7 | 3 | 12 | 25 | 3rd Married Couple |
| 5 | 31313 | JibeTech | Alex And Lisa Pline | SSA | 5 | 3 | 4 | 15 | 27 | 4th Married Couple |
| 6 | 29955 | JibeTech | Ted and Alison Keanan | WBC | 4 | 8 | 14 | 7 | 33 | 1st Father/Daughter team |
| 7 | 27861 | JibeTech | Dan And Liz Perkins | | 6 | 5 | 9 | 13 | 33 | 5th married Couple |
| 8 | 29727 | JibeTech | Julia Fuller and Alex Tong | CPYC | 16 | 12 | 1 | 8 | 37 | 1st Woman Skipper |
| 9 | 29704 | Skipper | Kevin Hetherington & Janet Liu | CPYC | 9 | 6 | 5 | 17 | 37 | 6th Married Couple |
| 10 | 27011 | Mueller | Andrew Keane & Nicole Jabanoski | QSC | 13 | 15 | 7 | 3 | 38 | 1st Sailing In-laws |
| 11 | 31309 | JibeTech | Andy Klein /Corrine Patras/Michelle | WBC | 14 | 20 | 6 | 4 | 44 | |
| 12 | 28452 | Persson | Bob Coyle & Nathan Manzione | MBC | 7 | 11 | 16 | 11 | 45 | |
| 13 | 31001 | JibeTech | Jim Tomassetti & Amy Cahill | HRM | 8 | 19 | 20 | 2 | 47 | |
| 14 | 30999 | JibeTech | Martin & MacKenzie Fraser | MBC | 19 | 9 | 17 | 5 | 45 | 2nd Father/Daughter team |
| 15 | 30236 | JibeTech | Ken and Kay Voss | CRYC | 10 | 17 | 10 | 14 | 51 | 7th Married Couple 2nd Woman Skipper |
| 16 | 31566 | JibeTech | Joel Zackin & Juliana Ruggieri | QSC | 18 | 4 | 12 | 21 | 54 | |
| 17 | 25991 | McLaughlin | Preaton Anderson & Sabina VanMall | SSA | 15 | 18 | 18 | 10 | 61 | 3rd oldest boat |
| 18 | 29964 | Persson | Bob & Jane Panza | QSC | 12 | 16 | 19 | 16 | 63 | 8th Married Couple |
| 19 | 9106 | Wood | Art Margolis & Bob Brandad | | 20 | 14 | 11 | 19 | 64 | 1st Oldest Boat 1st Wood Boat |
| 20 | 29867 | Persson | Mike & Kevin Elser | QSC | 17 | 13 | 15 | 21 | | 1st Father/Son Team |
| 21 | 30606 | JibeTech | Jurgen & Minna Hollock | QSC | 21 | 21 | 21 | 18 | 81 | 3rd Father/Daughter Team |