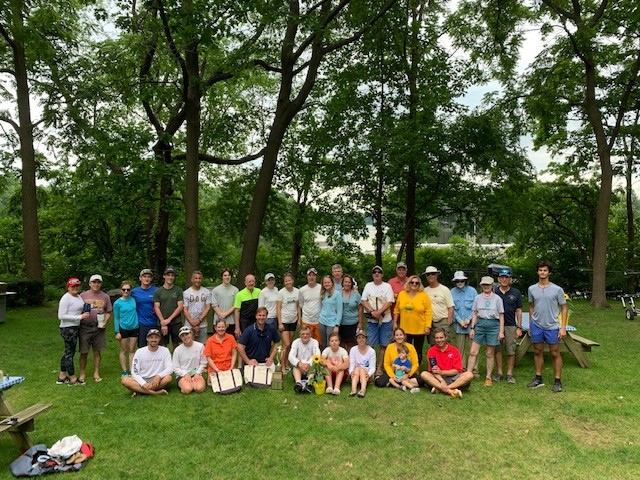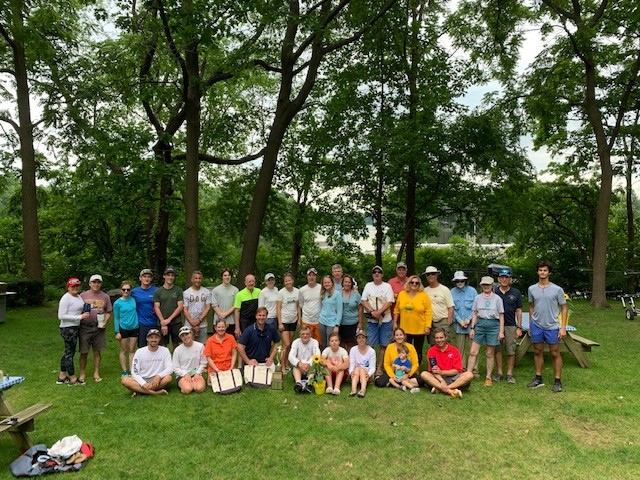 Winchester, MA, USA, July 11, 2021. Report by John and Myrna MacRae
With Tropical Storm Edna paying Massachusetts a quick visit last Friday, conditions improved dramatically over the weekend for the 19 Snipes that convened at the Winchester Boat Club for the 65th Annual Snipe Winchester Invitational.
The Upper Mystic Lake – which, despite its small size, is home to one of the largest Snipe fleets in the US and was the site of the 2017 US Nationals – rewarded sailors with amazingly steady (for the small lake) breezes and close racing all around.  Six races were held on Saturday with a 5-10 knot wind out of the northeast, allowing for some of the longest racing legs that can be attained on the Lake.  After a fantastic BBQ dinner at the Club Saturday night, sailors enjoyed three more races on Sunday after waiting about an hour for the 8-12 knot SW breeze to fill.
While blessed with "marquee" wind conditions for our small venue, our crack race committee – led by principal race officer Kenny Delpapa and supported by Sue Brown and several members of the Cottage Park YC race committee (including Sue and Ernie Hardy, John and Denise Economides, and Tom Robinson) – did a fantastic job of taming the shifts and executing excellent courses.  When it was all over, local superstars Jim Bowers and Julia Marsh Rabin held on once again for the win, followed closely by first-time Winchester visitors Charlie Miller and Lindsey Kloc – fresh from their top-10 finish at the recent US Nationals in Annapolis.  John MacRae & Myrna Chan MacRae, newlyweds (!) Cam and Liz Fraser, and John Tagliamonte with Linda Epstein/Kerry O'Brien rounded out the top-5.
Great events like these take a lot of volunteer help and, most importantly, a supportive host club, for which we are very grateful.  Thank you to all for being a part of this great regatta!
John & Myrna