Southwestern Championship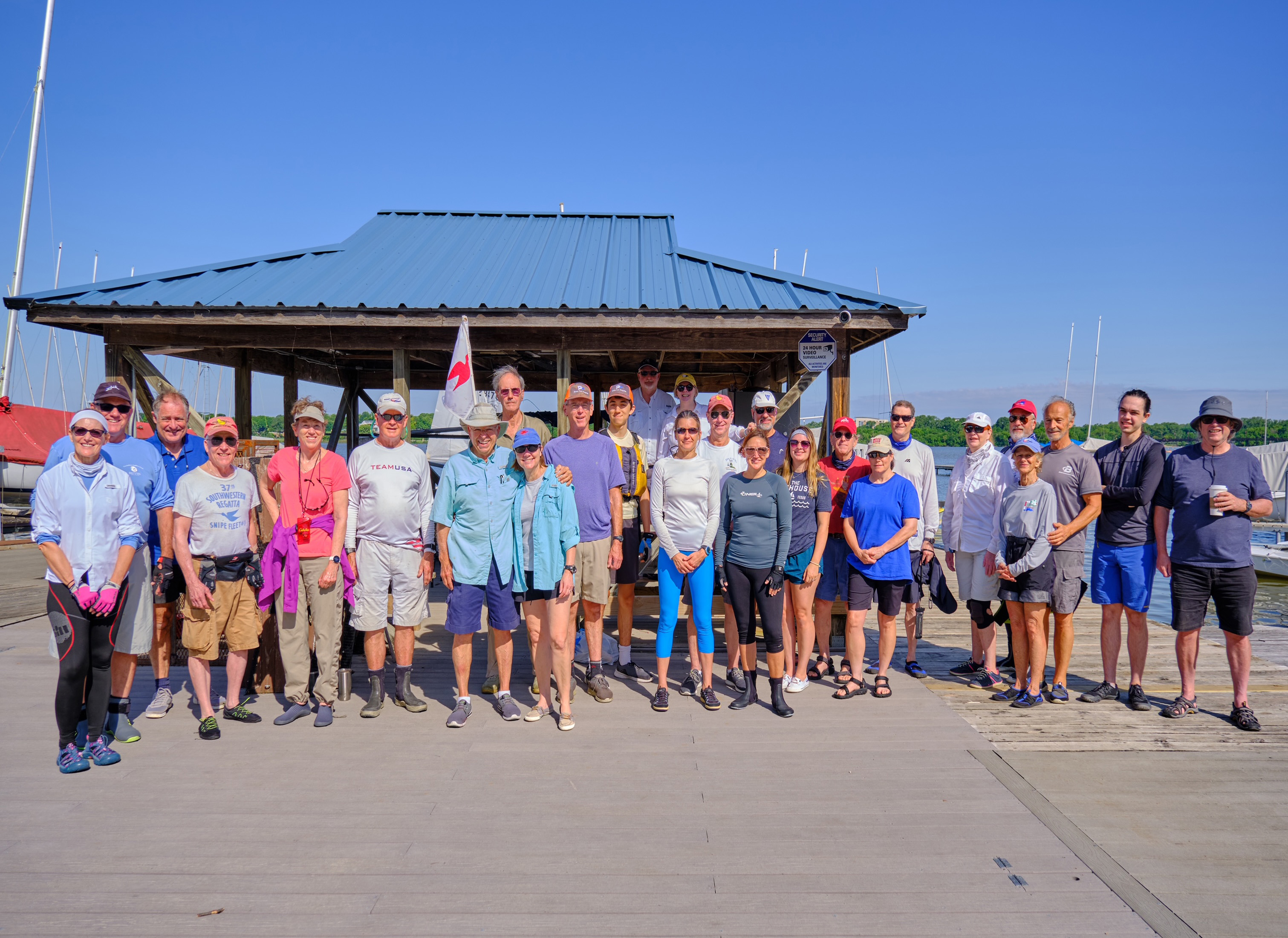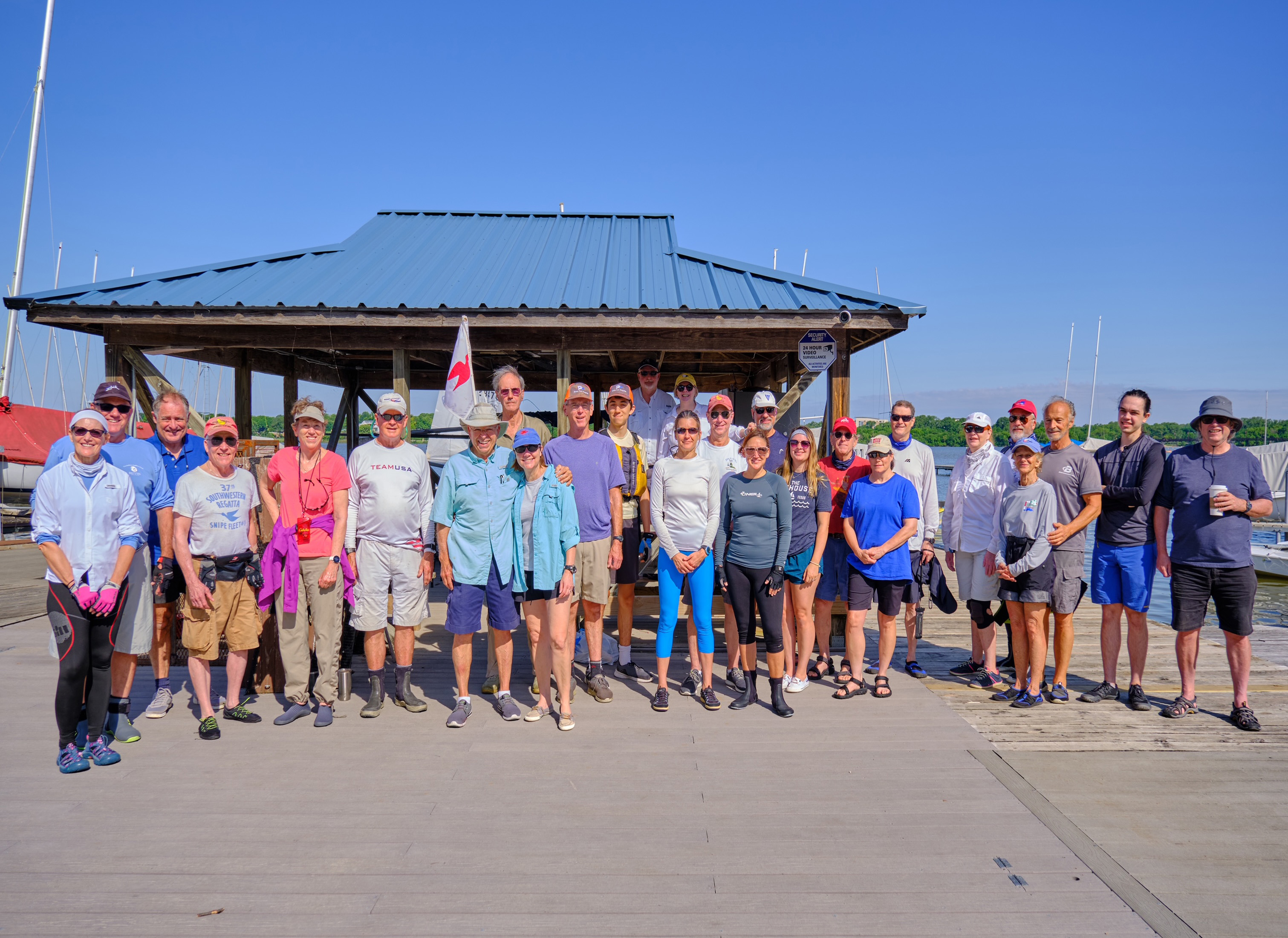 Dallas, TX, USA, May 29-30, 2021
We had shifty winds from the ENE to ESE 5-15 both days and it was quite a challenge.
Final results after 8 races (1 discard):
Gene Solterpo & Laura O'Leary, 7
Taylon Starr & Mark Bebb, 22
Martin Bebb & Emily Gomez, 24
Doug Day & Sara Melling, 28
Stephan Irgens & Monica Irgens, 32


Southwestern Championship Trophy
EMBLEMATIC OF: Southwestern Championship.
DONATED BY: Commodore H. E. Isacks.
REGATTA: To be held on White Rock Lake, Dallas, Texas, under sponsorship of Snipe Fleet No. 1, the White Rock Sailing Club. Time and number or races to be determined by the sponsor.
AWARDED TO: The winning skipper and to be kept by him until the date of the next regatta.
1932 – Merida Ellis, Fort Worth, Texas.

1933 – Lloyd B. Jones, Dallas, Texas.

1934 – Perry R. Bass, Wichita Falls, Texas.

1935 – Perry R. Bass, Wichita Falls, Texas.

1936 – B.J. Horner, San Antonio, Texas.

1937 – Frank Pemberton, Wichita Falls, Texas.

1938 – Cleo Payne, Wichita Falls, Texas.

1939 – Maurice Martin, Jr., Dallas, Texas.

1940 – Gail DeJarnette, Dallas, Texas.

1941 – John T. Hayward, Tulsa, Oklahoma.

1942 – Gail DeJarnette, Dallas, Texas.

1943, 1944, 1945 – No Regattas.

1946 – Ted Wells, Wichita, Kansas.

1947 – Ted Wells, Wichita, Kansas.

1948 – Dr. Hub E. Isaacks, Fort Worth, Texas.

1949 – Ted Wells, Wichita, Kansas.

1950 – Ted Wells, Wichita, Kansas.

1951 – Harold Martin, Dallas, Texas.

1952 – John T. Hayward, Tulsa, Oklahoma.

1953 – John T. Hayward, Tulsa, Oklahoma.

1954 – Jerry Jerome, Tulsa, Oklahoma.

1955 – No Regatta.

1956 – No Regatta.

1957 – Jimmy Zars, San Antonio, Texas.

1958 – Bill Kilpatrick, Oklahoma City, Oklahoma.

1959 – Louis Nelms, Fort Worth, Texas.

1960 – Louis Nelms, Fort Worth, Texas.

1961 – Bill Kilpatrick, Oklahoma City, Oklahoma.

1962 – Bert Thompson, Dallas, Texas.

1963 – Bert Thompson, Dallas, Texas.

1964 – Bert Thompson, Dallas, Texas.

1965 – Bert Thompson, Dallas, Texas.

1966 – Bill Wheeler, Dallas, Texas.

1967 – Louis Nelms, Fort Worth, Texas.

1968 – Ted Wells, Wichita, Kansas.

1969 – Gary Boswell, Dallas, Texas.

1970 – Ted Wells, Wichita, Kansas.

1971 – Ted Wells, Wichita, Kansas.

1972 – Lief Zars, San Antonio, Texas.

1973 – Gary Boswell, Austin, Texas.

1974 – Keith Zars, San Antonio, Texas.

1975 – Bill Buckles, Cleveland, Ohio.

1976 – Brownie Horner, San Antonio, Texas.

1977 – John McGowan, Jackson, Mississippi.

1978 – Gary Boswell, Dallas, Texas

1979 – Gary Boswell, Dallas, Texas

1980 – Pete Fenner, Dallas, Texas

1981 – Pete Fenner, Dallas, Texas

1982 – Kelson Elam, Dallas, Texas

1983 – Greg Gust, Dallas, Texas

1984 – Keith Zars, San Antonio, Texas

1985 – Herb Axelrod, Dallas, Texas

1986 – Steve Sherman, Dallas, Texas

1987 – Steve Sherman, Dallas, Texas

1988 – Bill Jackson, Dallas, Texas

1989 – Greg Gust, Dallas, Texas

1990 – Greg Gust, Dallas, Texas

1991 – Greg Gust, Dallas, Texas

1992 – Greg Gust, Dallas, Texas

1993 – Greg Gust, Dallas, Texas

1994 – Greg Gust, Dallas, Texas

1995 – Andy Towles, Oklahoma City, Oklahoma

1996 – Gene Soltero, Dallas

1997 – Gerard Coleman, Galveston, Texas

1998 – Gary Derrick, Oklahoma City, Oklahoma

1999 – Gerard Coleman, Galveston, Texas

2000 – Steve Tautz, Bowmar, Colorado

2001 – Gene Soltero, Dallas, Texas

2002 – Gene Soltero, Dallas, Texas

2003 – Blaine McCleskey, Denver, Colorado

2004 – Gene Soltero, Dallas, Texas

2005 – Peggy Tautz, Bowmar, Colorado

2006 – Gene Soltero, Dallas, Texas

2007 – Steve Tautz, Bowmar, Colorado

2008 – Gene Soltero, Dallas, Texas

2009 – Gene Soltero, Dallas, Texas

2010 – Laura Stamets, Denver, Colorado

2011 – Hal Gilreath, Jacksonville, Florida

2012 – Max Hardage, Houston, Texas

2013 – Gene Soltero, Dallas, Texas

2014 – Gene Soltero, Dallas, Texas

2015 – Steve Tautz, Bowmar, Colorado

2016 – Gene Soltero, Dallas, Texas

2017 – Andrew Sommer, Dallas, Texas

2018 – Gene Soltero, Dallas, Texas

2019 – Ryan Schubert, Denver, Colorado

2020 – Gene Soltero, Dallas, Texas

2021 – Gene Soltero, Dallas, Texas