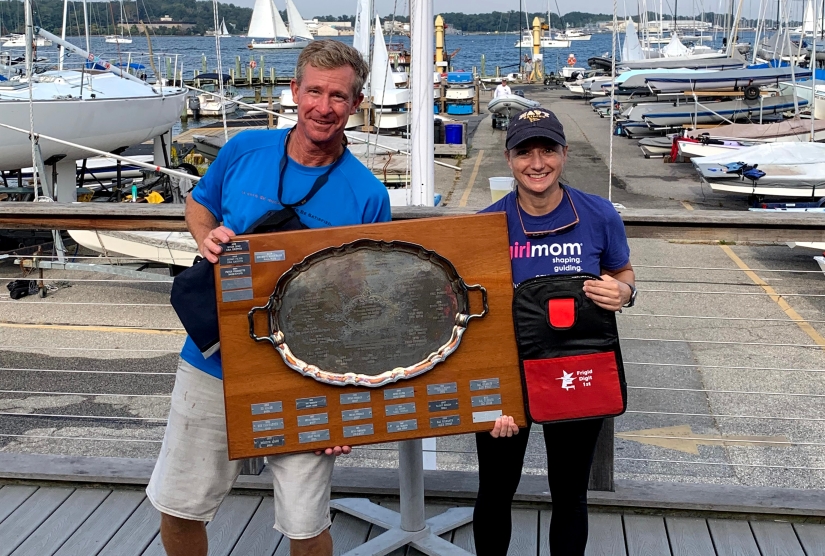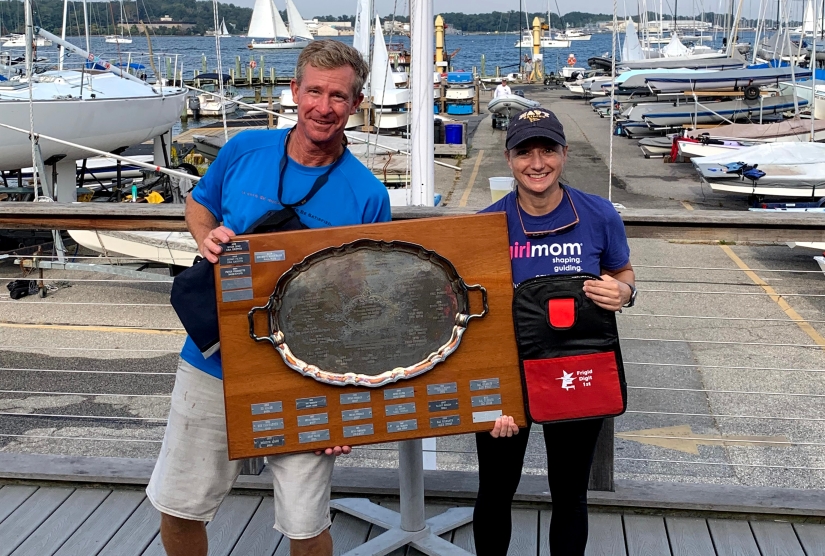 Annapolis, MD, USA, October 3, 2021. Final results after 7 races (1 discard):
Gavin O'Hare & Holly O'Hare, 11
Robert Ramirez & Martin Hermida, 21
Andrew Keane & Kristen Keane, 26
Eric Reinke & Alex Damley-Strand, 27
Alex Pline & Lisa Pline, 33
Report by Alex Pline
The 2021 Frigid Digit came on the heels of a very busy Snipe sailing season with the Colonial Cup in June as a warm up for the Nationals two weeks later followed by the Great Lakes Championships and Womens Nationals in July, a few club regattas and clinics in August and the North Americans and Western Hemisphere/Orient Championships in September. All of these events were well attended by Fleet 532 and other Snipe sailors from the east coast. Given this very busy east coast schedule especially since the two weeks of NAs and Westerns just ended, we did not expect the usual travelers. However, we had a great turnout (19 boats), a testament to the great energy we have in the local fleet. In addition to the fleet regulars, we had some newer Snipers Andrew Bates, sisters Devon and Lauren Feusahrens sailing the loaner boat (who we hope will buy a Snipe soon!) and Matt Lalumiere sailing with Nikki Bruno in new fleet member Paul Greene's boat.
The weekend forecast looked "OK", but with southerly gradient breeze, we had the addition of a few knots of sea breeze both days to make it some primo sailing conditions. Couple that with temperatures in the high 70s/low 80s and low humidity and water temperature still around 70 degrees, it was Annapolis fall sailing paradise. But with such "Chamber of Commerce" conditions and the Annapolis Boat Show yachts in town comes a lot of pleasure boat traffic which cranks the "Annapolis Washing Machine" setting to "mega" that makes it so challenging to sail here.
Saturday started with about 8-10 knots which eventually built to almost 15. We wanted to have a lot of shorter races for this regatta given the longer courses we've had at the Championship events this year and were shooting for 4 races lasting 30-40 minutes. The breeze was perfect for this and we cranked out 4 W/L courses. Hal Gilreath/Trevor Long dominated the day with a 1,1,1,3 followed by Gavin/Holly O'Hare with a 3,2,3,2, Andrew/Kristen Keene from Quassapaug, Robert Ramirez/Martin Hermida, Eric Reinke/Alex Damley-Strnad. Zach Kelchner/Megan Place and Alex/Lisa Pline all with fairly consistent finishes. Even with some restarts and 4 great races we were back on shore with by about 3:30pm in time for a fleet debrief on the deck, lots of socializing and a tour of the relocated Quantum Loft in the old APS building organized and led by Carter Cameron.
Sunday brought another beautiful morning, but iffy breeze early. We had decided to start again at 11am rather than our traditional hour earlier, a good thing because PRO Charlie Krafft postponed ashore for another hour while the southerly breeze filled in. We finally got out for a 12pm start in about 5-8 knots for three more races. Once racing got going the breeze increase several knots to the point where it was possible to make way through the pleasure boat chop. Had it stayed closer to 5 knots it would have been really awful being on the wrong side of where the Snipe "perks up". But thankfully, that wasn't the case and we completed three more races just before our drop dead time of 3pm. Gavin O'Hare sailing with Erica Kraft as Holly was on Soccer duty, was the guy on fire with a 1,2,1. Unfortunately, Hal had to depart Saturday for a work commitment so he dropped down the standings. The rest of the top finishes were distributed between the Keenes, Ramirez/Hermida, Reinke/Damley-Strnad and the Plines. As a result, Gavin ended up winning the event by 10 points followed by Ramirez/Hermida, Andrew/Kristen Keene, Reinke/Damley-Strnad and Alex/Lisa Pline in 5th. Sarah Alexander/Hollis Barth were the top U30 team and Lisa presented them with an SSA burgee to exchange with the host club of the 2021 Snipe Womens World Championships next week in Sao Paulo Brazil. Good luck!!
SAILORS
SAIL NUMBER
BOAT NAME
CLUB/ORG
NET
TOTAL
R1
R2
R3
R4
R5
R6
R7

1

Gavin O'Hare
Holly OHare
Erica Kraft

30629

Severence

Eastport Yacht Club

11

14

[3]

2

3

2

1

2

1

2

Robert Ramirez
Martin Hermida

31638

None

NYYC / SSA

21

26

4

4

[5]

1

5

5

2

3

Andrew Keane
Kristen Keane

30473

None

Quassapaug Sailing Center

26

35

[9]

3

7

6

2

1

7

4

Eric Reinke
Alex Damley-Strnad

31357

None

Severn Sailing Association

27

37

2

8

2

4

[10]

7

4

5

Alex Pline
Lisa Pline

31313

Old Folks Boogie

Severn Sailing Association

33

41

6

7

6

[8]

8

3

3

6

Zack Kelchner
Megan Place

29782

Toasty

Severn Sailing Association

33

43

5

6

4

[10]

4

6

8

7

Bob Adam
Stephanie Adam

29044

None

Sail Newport, Inc

43

56

8

[13]

8

9

9

4

5

8

Hal Gilreath
Trevor Long

28686

None

Florida Yacht Club

46

66

1

1

1

3

[DNC – 20]

DNC – 20

DNC – 20

9

Chris Ryan
Jill Bennet

30301

None

Severn Sailing Association

46

58

10

5

[12]

5

7

8

11

10

Matt Lalumiere
Nikki Bruno

30302

Dad Jokes

SSA/AYC

56

70

13

[14]

9

13

6

9

6

11

Sarah Alexander
Hollis Barth

30928

None

Severn Sailing Association

59

71

7

11

10

11

[12]

11

9

12

Lorie Stout
Sunny Sturmer

29682

Lizzie

Severn Sailing Association

59

71

11

9

11

7

11

[12]

10

13

Brad Milliken
Emma Ferris

26280

None

Severn Sailing Association

64

84

16

10

13

[DNC – 20]

3

10

12

14

Rich McVeigh
Carol McVeigh

31061

None

SSA

81

96

12

[15]

14

14

13

15

13

15

Devon Feusahrens
Lauren Feusahrens

30860

None

ILCA Fleet 10 – Severn Sailing Association

86

103

[17]

17

15

12

14

13

15

16

Andrew Bates
Lydia McPherson
Garrett Mergenthaler

29147

None

Cape Fear Yacht Club

96

116

15

16

16

[RET – 20]

15

14

DNC – 20

17

Flora Cole
Andrew Cole

28142

Flomingo

SSA

98

118

14

12

17

15

[DNC – 20]

DNC – 20

DNC – 20

18

Mark Fuhrmann
LeAnn Myhre

27734

None

Severn Sailing Association

100

119

18

[19]

19

16

17

16

14

19

Chris Adriance
Kristin Mullins

28999

None

Severn Sailing Association

104

124

19

18

18

[DNC – 20]

16

17

16