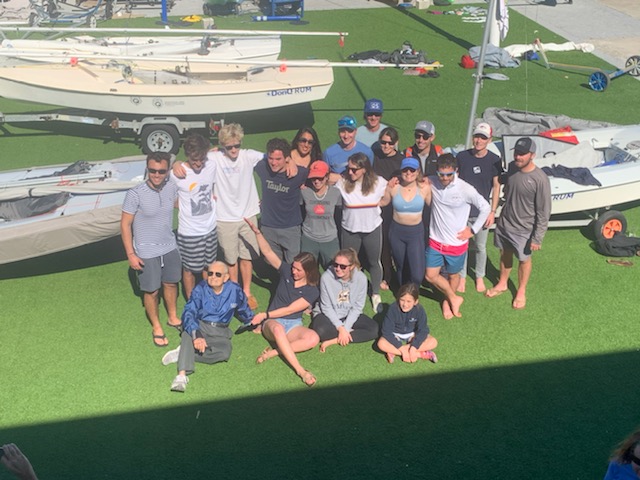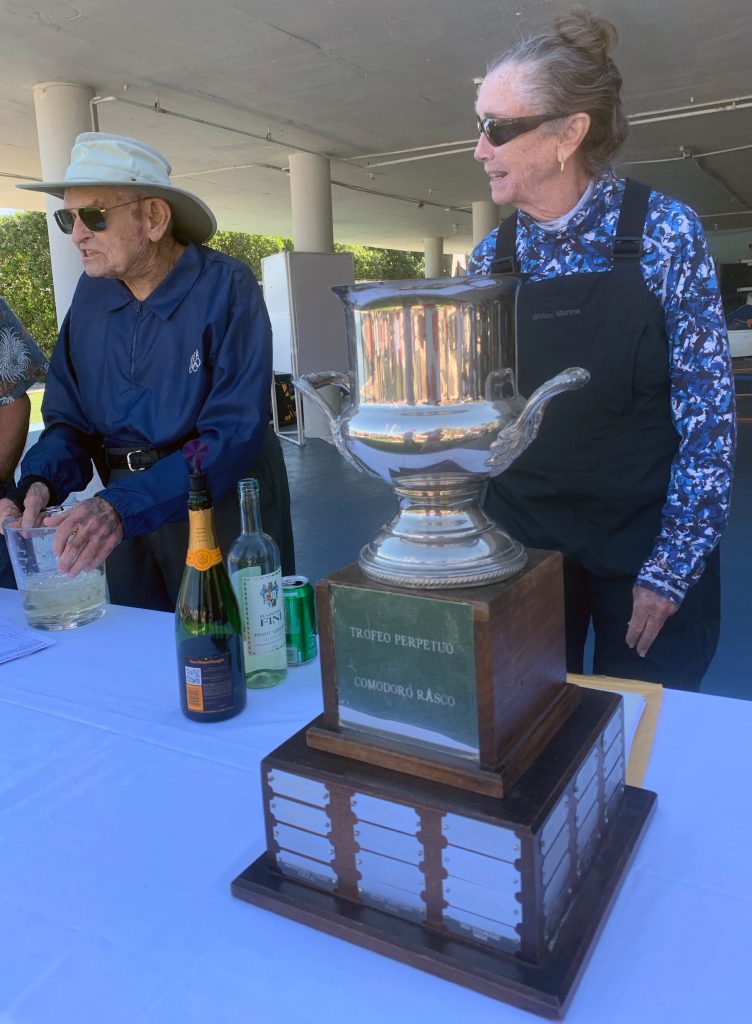 Miami, FL, USA, February 1-2, 2020.
The Comodoro Rasco Regatta Never Disappoints
Even when it's raining (Saturday) and quite chilly (Sunday), Miami's Biscayne Bay is a fantastic place to sail Snipes. 25 boats registered for what's become the start of the winter circuit, and Augie Diaz/Lexi Pline won the five race series. Lexi's first Rasco win, a fitting reward for all the friends she's brought with her the last several years!
Saturday's three races were all fit in before the thunder and lightning arrived, thanks to a persistent race committee. Race one started in about 8 knots of southwesterly with a long port tack toward the weather mark. Augie/Lexi completed the first lap in first, closely followed by Evan Hoffman/Marissa Golison and Carol Cronin/Kim Couranz. A slight left shift gave Cronin/Couranz the lead for the second lap, and they held on down the run to take the gun ahead of Diaz/Pline and Hoffman/Golison.
At the end of the race, the breeze stepped up very quickly to about fourteen knots, but under gray skies and looming storms it felt more like twenty. After finishing twelfth, Gonzalo "Old Man" Diaz and Bruno Mello planed in (probably the best sailing of the day). It seemed like racing might be over for everyone, but the race committee stayed put and reset the pin end of the starting line, so we all tightened our rigs and got ready for the next race. Again we raced on port toward the mark, assuming the breeze would only get stronger; instead it backed off to about 8 knots by the finish. Diaz/Pline rounded first and never looked back, leaving the battle for second to be won by Telmo Basterra/David Perez.
Before race three, no one was sure what to do with their rig settings. Believe the forecast (which called for more wind) or what we saw looking up the course (which looked even lighter)? Most teams chose to leave them tight, so when the wind died off to about 5 knots halfway up the first beat and stepped to the right, everyone was looking for power. Hal Gilreath/Brendan Feeney played the right well and had better speed; Hal later admitted that he'd been at a softer tension than the rest of us all day, because his shrouds were bottomed out! They were followed around the bottom mark by Hoffman/Golison and Cronin/Couranz, and all three teams worked to the right. Gilreath/Feeney covered well to hold their lead around the last windward mark, but a left shift/puff close to the finish allowed Cronin/Couranz and Hoffman/Golison to sneak by.
It was raining by the time we all sailed back to Coconut Grove Sailing Club, so everyone warmed up with a shower before collecting again at Gonzalo "Old Man" and Carmen Diaz's house for the traditional lasagne dinner. In addition to the chance to mingle with other sailors and race committee members, the highlight of this special evening are the stories and videos from Old Man about his seventy-five years of sailing Snipes. Commodoro Rasco was the commodore of Miramar Yacht Club in Havana, Cuba, in the 1950s. The regatta was started in Miami by a group of Cuban sailors as a tribute, but after several years of hearing Old Man's stories it might be better named as the Dr. Inclan Regatta. Whatever its name, this regatta is one of the true "must-do" events on the annual Snipe calendar.
Sunday dawned clear and chilly (56 degrees), with a puffy and shifty northwesterly that was supposed to peak around the start time of 10am. Again rigs and vangs were tightened, and the fleet set off on a double-triangle course for some grinding upwind followed by really fun reaching. Diaz/Pline took over the lead by the first jibe mark and never looked back, but Cronin/Couranz finished second to maintain the overall regatta lead by one point. That led to a friendly battle on the starting line that was eventually won by Diaz/Pline. After another double triangle course in marginal planing conditions, a second place won them the regatta. First place went to Ian Holtzworth /Margaux Bacro-Duverger to move them up to tenth overall.
After packing up boats in warming sunshine, teams gathered around for the singing of La Bomba Va! Another much-loved Rasco tradition, the top teams (both skipper and crew) have to sing the words of a Cuban drinking song and then drink as much as possible of a fizzy, alcoholic concoction, closely monitored by the Old Man. Though many videos were taken, you really have to be there to appreciate the addictive spirit of a fleet of Snipe sailors singing to their heroes: "Come drink it down old partner, or else I'll have to kill you." If you haven't yet experienced this regatta, put it on your list for 2021!
Final results (5 races, no throwouts)
Augie Diaz & Lexi Pline, 10
Carol Cronin & Kim Couranz, 16
Hal Gilreath & Brendan Feeney, 22
Alex Pline & Lisa Pline, 39
Trevor Long & Jessica Bennett, 39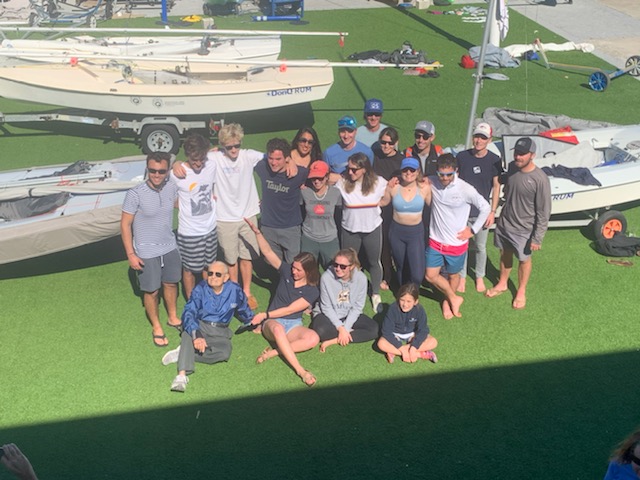 1. 30288, Danilu, Augie Diaz/Lexi Pline, CGSC, 2-1-4-1-2- ; 10
2. 31295, , Carol Cronin/Kim Couranz, Severn Sailing Association, 1-3-1-2-9- ; 16
3. 8653, , Hal Gilreath/Brendan Feeney, Florida, 5-6-3-4-4- ; 22
4. 31313, The Bitch is Back, Alex Pline/Lisa Pline, Severn Sailing Association, 4-7-7-9-12- ; 39T
5. 30299, , Trevor Long/Jessica Bennett, MITNA, 13-5-9-5-7- ; 39T
6. 29966, , Evan Hoffmann/Marissa Golison, San Diego Yacht Club, 3-14-2-12-10- ; 41
7. 29442, The Conquistadors, Telmo Basterra/David Perez, Real Club Maritimo de Abra Real Sporting Club, 7-2-11-16-6- ; 42
8. 29781, Swim Trunks & Flippie-Floppies, Charlie Bess/Taylor Scheuermann, Coral Reef Yacht Club, 8-9-8-6-15- ; 46T
9. 31555, , Jim Bowers/Jim Bowers, Winchester Boat Club, 11-8-6-8-13- ; 46T
10. 28814, , Ian Holtzworth/Margaux Bacro-Duverger, SPYC, 9-16-12-11-1- ; 49T
11. 31304, , Lee Griffith/Nikki Bruno, Surf City Yacht Club, 6-12-10-10-11- ; 49T
12. 30510, , Gannon Troutman/Lucas Masiello, Fishing Bay Yacht Club/CCS, 17-4-17/DNS-14-5- ; 57
13. 30571, , Sharon Seymour-Johnson/Sharon Seymour-Johnson, Lauderdale Yacht Club, 10-11-14-7-16/RET-BF- ; 58
14. 31114, , Enrique Quintero, Coral Reef Yacht Club, 20/DNC-19/DNC-17/DNC-3-3- ; 62
15. 30027, , Andre Guaragna/Charlie Breath, Jacksonville University Sailing Team, 20/OCS-10-5-17-14- ; 66
16. 29687, one twenty one, Scott Steele/Martha Parker, MRSA, 15-18-13-15-8- ; 69
17. 30236, , Kenneth Voss/Tara Lobo, CRYC, 14-15-15-18/RET-BF-16/DNS- ; 78
18. 30338, , Gabriel Porzecanski/Daniel Porzecanski, US Saling Center, 16-13-17/DNS-18/DNS-16/DNS- ; 80
19. 30336, Popeye, Gonzalo Diaz/Bruno Mello, CGSC, 12-19/DNS-17/DNS-18/DNC-16/DNC- ; 82
20. 30888, Bliffzard, Blake Cabassa/Tiffany Fernandez, Coral Reef Yacht Club, 20/DNC-19/DNC-17/DNC-13-16/DNS- ; 85T
21. 29114, , Liam Munzenmaier/Laura Munzenmaier, N/A, 18-17-16-18/RET-BF-16/DNS- ; 85T
22. 28142, , Flora Cole/Andrew Cole, Severn Sailing Association, 19-19/DNS-17/DNS-18/DNS-16/DNS- ; 89
23. 30759, The Love Boat, Patrick Rynne/Fiona Rynne, MRCSS, 20/DNC-19/DNC-17/DNC-18/DNC-16/DNC- ; 90T
24. 29572, The Hen, Charlie Bustamante/Michele Bustamante, None, 20/DNC-19/DNC-17/DNC-18/DNC-16/DNC- ; 90T
25. 23230, , Cesar Travado Rosado, Pensacola Yacht Club, 20/DNC-19/DNC-17/DNC-18/DNC-16/DNC- ; 90T