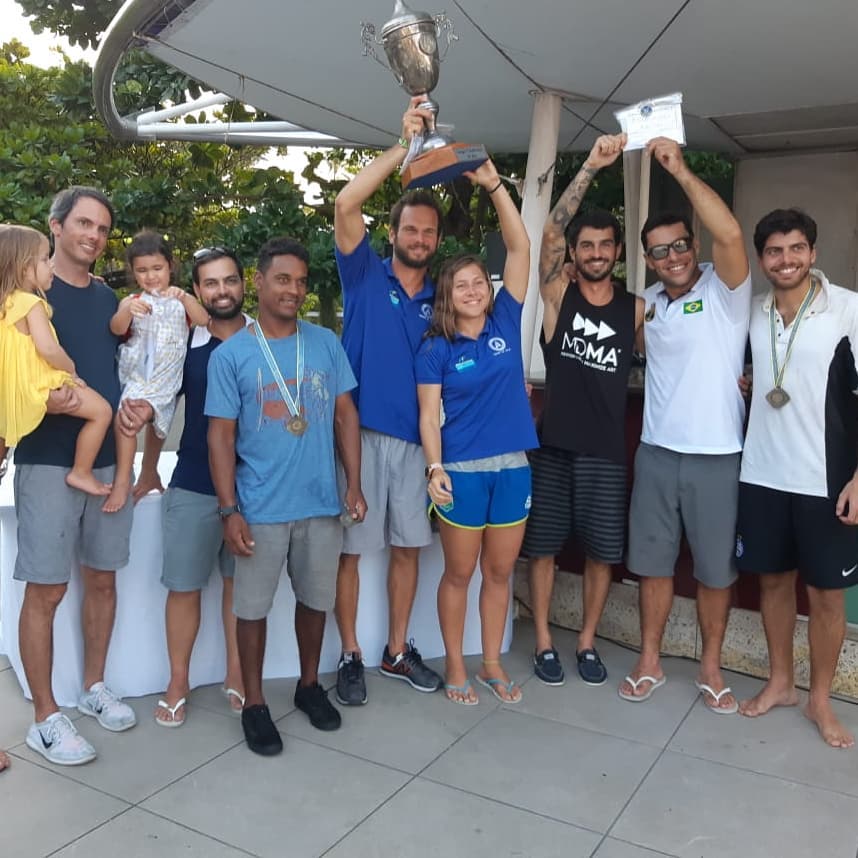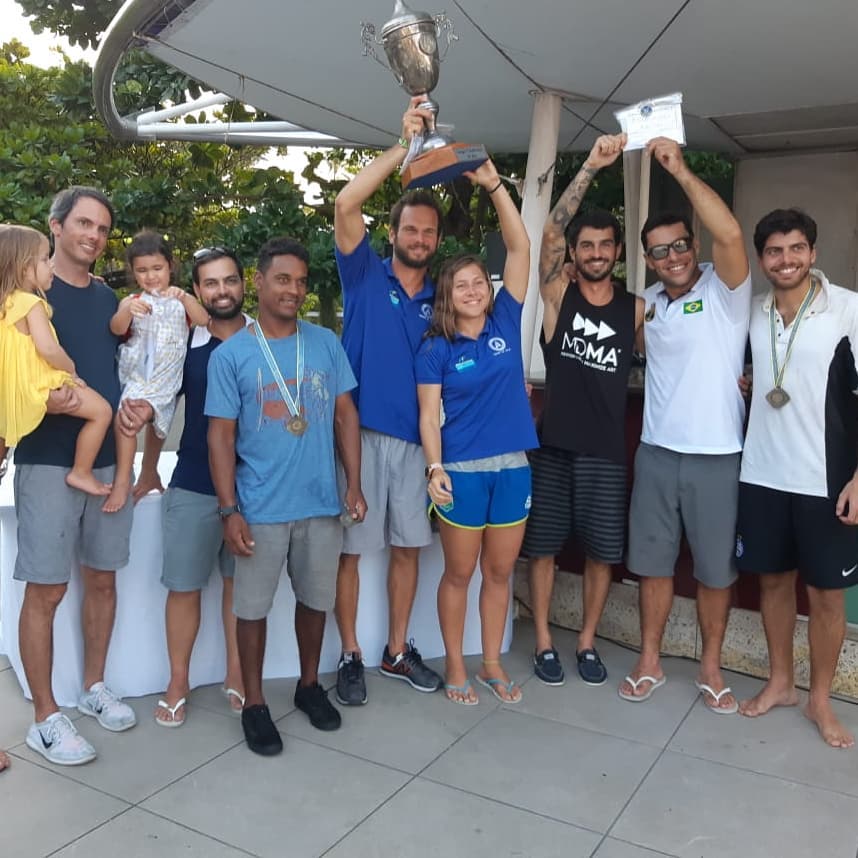 Rio de Janeiro, April 7, 2019. Final results
Juliana Duque & Rafael Martins
Mario Tinoco do Amaral & Matheus Goncalves
Bruno Bethlem & Flavio Castro
Victor H. Demaison & Anderson Brandao
Malcom Scofield & Gustavo Baiano
This weekend, the third edition of the Snipe Challenge occurred in Rio. With 35 boats participating, the snipe regatta which is inspired on the SSL Finals, is getting each time bigger. This year we had very important sailors participating, such as the world champions Alexandre Paradeda and Bruno Bethlem, and many other important names such as Mario Tinoco (runner-up), Victor Demaison, Rafael Gagliotti and our Pan-Am representatives Juliana Duque / Rafael Martins who took the title winning not only the final race, but also the qualifying phase. The top three boats in the final race were awarded with a money prize.
Format:
A regatta inspired on the SSL finals model! This will be the first edition with a money prize for the top 3 sailors of the final race. The prize pot will come from the amount of money gathered by the entry fees, which will cost R$ 100,00 per boat (aprox. 30 USD), and the prize will have a 50%-30%-20% division between the top three! The more sailors we have racing, the bigger the prize gets!
On the first day, all sailors will go through 3 qualifying races with no discard. 50% of the fleet qualifies for the quarter finals on the second and last day of racing, with the first one going straight to final and the second one going straight to the semifinals, exactly like the SSL.
The 50% of the fleet eliminated on the first day will have a second chance to qualify on a single race, in which the top three are qualifying for the quarter finals and will be back on the game.
The top 9 boats of the quarter final + 2nd overall of the qualifying round go for the semi finals. The top 4 boats of the semi finals + 1st overall of qualifying round go for the final! All these phases are single 30 – 40min races.
FINAL
SNIPE Class
Class.

Tripulação

Barco

SailNo

Club

Total

R1

1st

Juliana Duque
Rafael Martins

Os Roedores

31526

YCB / BA

1.0

1.0

2nd

Mario Tinoco do Amaral
Matheus Gonçalves

Aloha Spirit

31404

MB

2.0

2.0

3rd

Bruno Bethlem
Flavio Castro

Old Black

31531

ICRJ

3.0

3.0

4th

Victor H. Demaison
Anderson Brandão

Arriverdenci

31574

ICRJ
EVI

4.0

4.0

5th

Malcolm Scofield
Gustavo Baiano

John

1

ICRJ

5.0

5.0
SNIPE CHALLENGE 2019 (4ª FASE)
Dias 06 e 07 de abril de 2019 – ICRJ
Results as of 14:22 on April 7, 2019
SNIPE Class
Class.

Tripulação

Barco

SailNo

Club

Total

R1

1st

Mario Tinoco do Amaral
Matheus Gonçalves

Aloha Spirit

31404

MB

1.0

1.0

2nd

Bruno Bethlem
Flavio Castro

Old Black

31531

ICRJ

2.0

2.0

3rd

Victor H. Demaison
Anderson Brandão

Arriverdenci

31574

ICRJ

3.0

3.0

4th

Malcolm Scofield
Gustavo Baiano

John

1

ICRJ

4.0

4.0

5th

Felipe Rondina
João Pedro Souto

Cao Barbudo

3120

ICB/DF

5.0

5.0

6th

Ricardo Lobato
Gabriela Chianello

Na Moral

30267

ICRJ

6.0

6.0

7th

Alexandre Paradeda
Gabriel Kieling

Melsojo

31343

EVI

7.0

7.0

8th

Rodrigo Stephan
Bryan Brememkamp

S/Nome

31532

ICES

8.0

8.0

9th

Carlos Alberto Rossi
Alex Wfil

cacareco

31017

CRG

9.0

9.0

10th

Rafael Gagliotti
Fabio Harkott

Guarda Patrinial

31208

ICS

10.0

10.0
SNIPE CHALLENGE 2019 (3ª FASE)
Dias 06 e 07 de abril de 2019 – ICRJ
Results as of 14:19 on April 7, 2019
SNIPE Class
Class.

Tripulação

Barco

SailNo

Club

Total

R1

1st

Mario Tinoco do Amaral
Matheus Gonçalves

Aloha Spirit

31404

MB

1.0

1.0

2nd

Bruno Bethlem
Flavio Castro

Old Black

31531

ICRJ

2.0

2.0

3rd

Malcolm Scofield
Gustavo Baiano

John

1

ICRJ

3.0

3.0

4th

Felipe Rondina
João Pedro Souto

Cao Barbudo

3120

ICB/DF

4.0

4.0

5th

Rodrigo Stephan
Bryan Brememkamp

S/Nome

31532

ICES

5.0

5.0

6th

Carlos Alberto Rossi
Alex Wfil

cacareco

31017

CRG

6.0

6.0

7th

Ricardo Lobato
Gabriela Chianello

Na Moral

30267

ICRJ

7.0

7.0

8th

Rafael Gagliotti
Fabio Harkott

Guarda Patrinial

31208

ICS

8.0

8.0

9th

Alexandre Paradeda
Gabriel Kieling

Melsojo

31343

EVI

9.0

9.0

10th

Fernando Madureira
Luisa Madureira

SIlver Bullet

31163

ICRJ

10.0

10.0

11th

Nick Pellicano Grael
Fernando Tovar Gioia

Papo Reto

31368

ICRJ/MB

11.0

11.0

12th

Paulo Santos
Thiago Sangineto

Luanda

31371

ICRJ

12.0

12.0

13th

Matheus Oliveira
Rafael Pereira

S/Nome

31461

EVI

13.0

13.0

14th

Murilo Borges
Fabio Horta

Perola Negra

30703

ICRJ

14.0

14.0

15th

Matheus Barbosa Franco
Rafael Ribeiro

Papa Leguas

31119

RYC

15.0

15.0

16th

Roberto Martele Blum
Laura Coelho

Charrúa II

31527

ICRJ

16.0

16.0

17th

Francisco Vianna
Michael Frew

Valcat

30266

ICRJ

17.0

17.0

18th

Humberto Cardoso
Érico Penteago

S/Nome

31266

ICRJ

18.0

18.0

19th

Rafael Fontoura
Bernardo Shogo

Furdincin

3153

ICRJ

19.0

19.0
SNIPE CHALLENGE 2019 (2ª FASE)
Dias 06 e 07 de abril de 2019 – ICRJ
Results as of 13:51 on April 7, 2019
SNIPE Class
Class.

Tripulação

Barco

SailNo

Club

Total

R1

1st

Malcolm Scofield
Gustavo Baiano

John

1

ICRJ

1.0

1.0

2nd

Francisco Vianna
Michael Frew

Valcat

30266

ICRJ

2.0

2.0

3rd

Roberto Martele Blum
Laura Coelho

Charrúa II

31527

ICRJ

3.0

3.0

4th

Stefano Motta Geronimi
Felipe Szubdy Berardo

Stekémon

30919

ICRJ

4.0

4.0

5th

Helio Lyra de Aquino Jr.
Pedro Madureira

Lord

31113

ICRJ

5.0

5.0

6th

Bruno Nanni
Dora Nanni

Neurose

30564

YCSA

6.0

6.0

7th

Andre Guarischi
Rosalia de Camargo Guarischi

Mariana
Menina

31485

ICRJ

7.0

7.0

8th

Caio Bailly
João Petersen

Bailly Bullet

30692

RYC/ICRJ

8.0

8.0

9th

Gustavo Abdulklech
Leonardo Gonçalves Motta

Veneno

313

ICRJ

9.0

9.0

10th

Carlos Praça
Pedro Walter

Paquetá

3203

ICRJ

10.0

10.0

11th

Mario Boneti
Maria Lucia Travassos

Suduka

31326

CRG

11.0

11.0

12th

Daniel Faberg
Bento Bocayuna

Vermes

31105

ICRJ

12.0

12.0

13th

Clovis Pereira
Tatiana Campos

uAu!

31051

CRG

13.0

13.0

14th

Lincoln Coutinho
Bernardo Mello

Oceanholic

30671

GVEN/CRG

18.0

18.0 DNC

14th

Roman Davila
David Ferreira

Yamina cinco

31120

ICRJ/GVREFOMM

18.0

18.0 DNC

14th

Graccho Harabedian
Felipe Harabedian

Papaizinho

31110

CRG

18.0

18.0 DNC

14th

Timothy Barr
Fernando Barbosa

NhôTim

30670

ICRJ

18.0

18.0 DNC
SNIPE CHALLENGE 2019 (1ª FASE)
Dias 06 e 07 de abril de 2019 – ICRJ
Results as of 16:51 on April 6, 2019
SNIPE Class
Class.

Tripulação

Barco

SailNo

Club

Total

R1

R2

R3

1st

Juliana Duque
Rafael Martins

Os Roedores

31526

YCB/BA

5.0

1.0

2.0

2.0

2nd

Victor H. Demaison
Anderson Brandão

Arriverdenci

31574

ICRJ
EVI

17.0

4.0

1.0

12.0

3rd

Rafael Gagliotti
Fabio Kohler

Guarda Patrimonial

31208

ICS / ICRJ
GVREFOMM

23.0

3.0

15.0

5.0

4th

Matheus Oliveira
Rafael Pereira

S/Nome

31461

EVI

27.0

10.0

11.0

6.0

5th

Felipe Rondina
João Pedro Souto

Cao Barbudo

3120

ICB/DF

29.0

6.0

19.0

4.0

6th

Bruno Bethlem
Flavio Castro

Old Black

31531

ICRJ

30.0

9.0

13.0

8.0

7th

Fernando Madureira
Luisa Madureira

SIlver Bullet

31163

ICRJ

31.0

21.0

7.0

3.0

8th

Nick Pellicano Grael
Fernando Tovar Gioia

Papo Reto

31368

ICRJ/MB

32.0

8.0

17.0

7.0

9th

Ricardo Lobato
Gabriela Chianello

Na Moral

30267

ICRJ

32.0

12.0

10.0

10.0

10th

Alexandre Paradeda
Gabriel Kieling

Melsojo

31343

EVI

36.0

5.0

22.0

9.0

11th

Matheus Barbosa Franco
Rafael Ribeiro

Papa Leguas

31119

RYC

37.0

17.0

9.0

11.0

12th

Mario Tinoco do Amaral
Matheus Gonçalves

Aloha Spirit

31404

MB

39.0

2.0

36.0 BFD

1.0

13th

Rafael Fontoura
Bernardo Shogo

Furdincin

3153

ICRJ

40.0

15.0

4.0

21.0

14th

Carlos Alberto Rossi
Alex Wfil

cacareco

31017

CRG

41.0

18.0

6.0

17.0

15th

Humberto Cardoso
Érico Penteago

S/Nome

31266

ICRJ

43.0

20.0

8.0

15.0

16th

Rodrigo Stephan
Bryan Brememkamp

S/Nome

31532

ICES

46.0

13.0

20.0

13.0

17th

Paulo Santos
Thiago Sangineto

Luanda

31371

ICRJ

50.0

11.0

25.0

14.0

18th

Murilo Borges
Fabio Horta

Perola Negra

30703

ICRJ

52.0

14.0

14.0

24.0

19th

Francisco Vianna
Michael Frew

Valcat

30266

ICRJ

54.0

7.0

18.0

29.0

20th

Stefano Motta Geronimi
Felipe Szubdy Berardo

Stekémon

30919

ICRJ

56.0

19.0

12.0

25.0

21st

Carlos Praça
Pedro Walter

Paquetá

3203

ICRJ

61.0

26.0

5.0

30.0

22nd

Andre Guarischi
Rosalia de Camargo Guarischi

Mariana
Menina

30485

ICRJ

71.0

25.0

28.0

18.0

23rd

Caio Bailly
João Petersen

Bailly Bullet

30692

RYC/ICRJ

72.0

16.0

36.0 BFD

20.0

24th

Timothy Barr
Fernando Barbosa

NhôTim

30670

ICRJ

74.0

22.0

36.0 BFD

16.0

25th

Gustavo Abdulklech
Leonardo Gonçalves Motta

Veneno

31371

ICRJ

75.0

36.0 DNF

3.0

36.0 DNF

26th

Bruno Nanni
Dora Nanni

Neurose

30564

YCSA

77.0

29.0

26.0

22.0

27th

Graccho Harabedian
Felipe Harabedian

Papaizinho

31110

CRG

79.0

27.0

16.0

36.0 DNF

28th

Lincoln Coutinho
Bernardo Mello

Oceanholic

30671

GVEN/CRG

79.0

33.0

23.0

23.0

29th

Malcolm Scofield
Gustavo Baiano

John

1

ICRJ

81.0

24.0

21.0

36.0 OCS

30th

Roman Davila
David Ferreira

Yamina cinco

31120

ICRJ/GVREFOMM

81.0

30.0

24.0

27.0

31st

Roberto Martele Blum
Laura Coelho

Charrúa II

31527

ICRJ

83.0

28.0

36.0 DNE

19.0

32nd

Helio Lyra de Aquino Jr.
Pedro Madureira

Lord

31113

ICRJ

85.0

23.0

36.0 BFD

26.0

33rd

Mario Boneti
Maria Lucia Travassos

Suduka

31326

CRG

89.0

31.0

27.0

31.0

34th

Clovis Pereira
Tatiana Campos

uAu!

31051

CRG

89.0

32.0

29.0

28.0

35th

Daniel Faberg
Bento Bocayuna

Vermes

31105

ICRJ

106.0

34.0

36.0 DNF

36.0 DNC
https://www.facebook.com/iateclubedoriodejaneiro/videos/808344459533469/