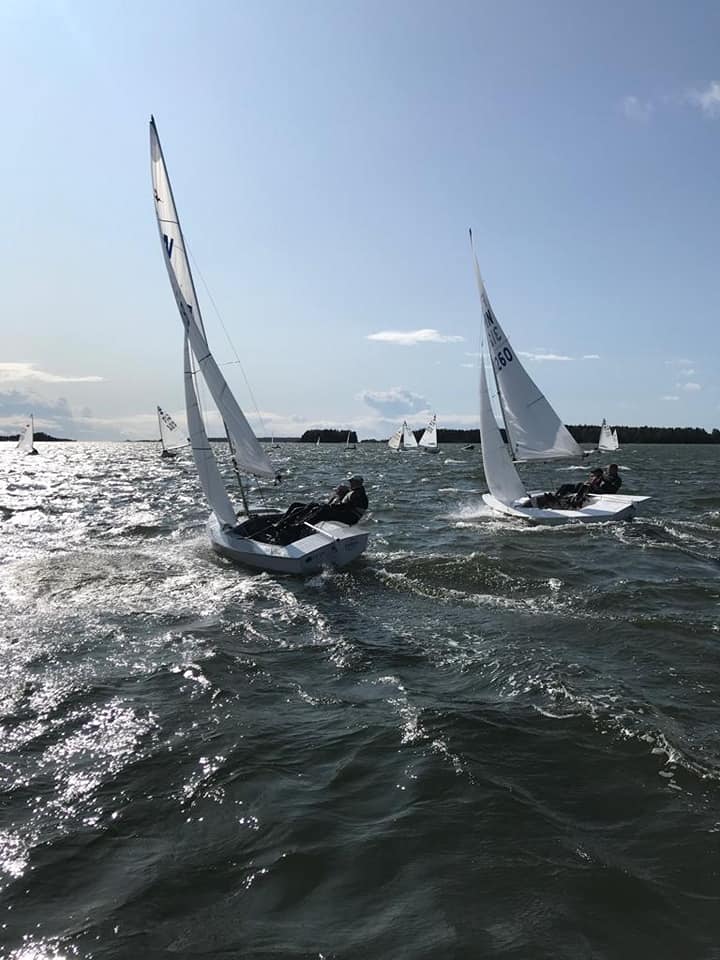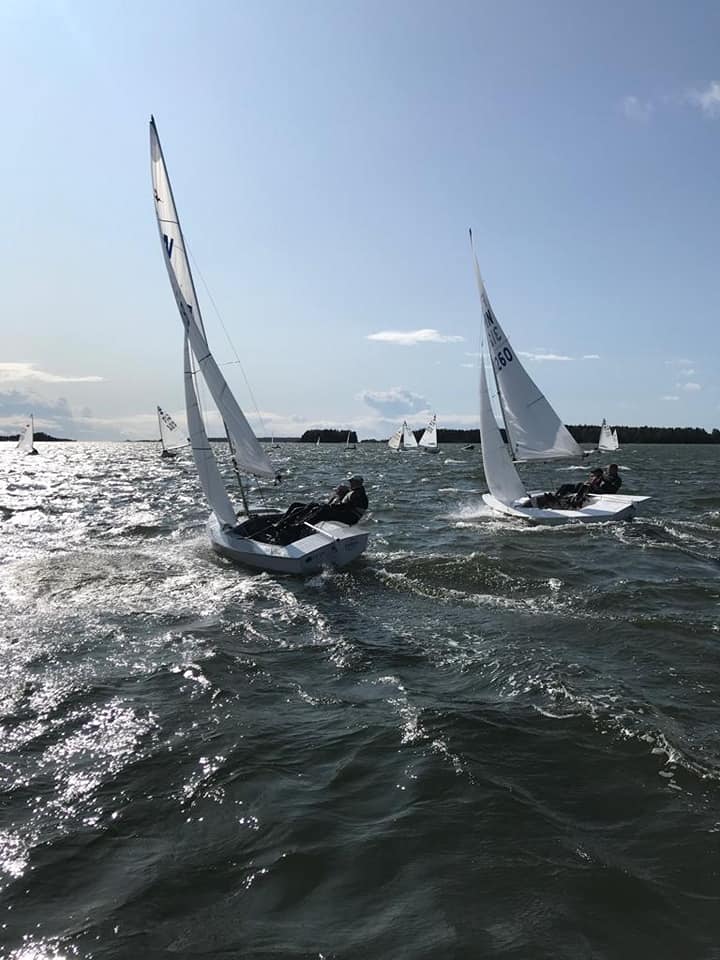 Espoo, Finland, September 6-8, 2019
Report by Kai Saarhelo
This year's Finnish Championship, 72nd in a row, was sailed in a new place for Snipes, at yacht club EMK in Espoo, just 10 km from Helsinki.
Wind conditions Friday W 6-11 m/s, Saturday S 5-7 m/s, Sunday E 3-5 m/s, some rain showers each day.
Real regatta life was experienced on the shore and the sea due to nine classes multi boat event, most of classes were single handed junior boats. Snipe Class took a well-deserved promotion opportunity to show active presence reaching the number of 20 teams, saving the Nationals status for the next two years,. Six new Snipe sailors were newcomers on championship level. After each day we organized get-togethers under the Snipe flag around Hanna-Leena and Juha Lehtinen's Snipe, naturally supporting Serious Sailing Serious Fun spirit.
The shore was not that large, but the launching process worked well against all odds. Special mention could be made of the tasty food included in the race fee. Even we sailed at sea the course area was placed close to the shore between the closest islands, meaning lake conditions with no waves but quite shifty winds. Typically, the windward mark was very close to the shore causing some excitement and blood pressure rise as approaching the windward mark. In most of the races the fleet remained very tight and good racing was seen. The positions varied quite a bit due to wind holes and gusts, between the races and during the races.
Allthough many boats were catching some top positions, the teams Ville Aalto-Setälä with Satu Salminen and Riku Vääriskoski with Salla Vadén stood out. On the last day, Ville and Satu then turned the battle for themselves and brought the win to Pori and BSF, the host of the previous Europeans. The battle of the third place was also very tight with one-point difference to fourth and two points to fifth position, turning finally to the team Chita Wahlroos and Jaakko Mikkonen. Chita is a two-time Olympic sailor in Europe Class and role model in the Class.
According to the winners' comment, the best success was to win Sunday's first race, in the lightest wind of the Regatta: "It was supposed to be Riku's and Salla's way, but after a bad start we were climbing our way to the victory.
The competition was tightest in years, offering good racing all the way in different parts of the fleet.
Next regattas in Finland
21.09                      Masters Nationals                                                              TP, Tuusulanjärvi
22.09                      Short course Nationals                                                                     TP, Tuusulanjärvi
29.09                      Helsinki Fleet 481 Open Championship                                 HSK, Helsinki
Sailing Greetings
Kai Saarhelo, FIN 31260
| Nr | Sail Number | Team | Club | T | N | R1 | R2 | R3 | R4 | R5 | R6 | R7 | R8 | R9 | |
| --- | --- | --- | --- | --- | --- | --- | --- | --- | --- | --- | --- | --- | --- | --- | --- |
| 1 |  FIN 30808 | | BSF | 21.0 | 14.0 | | | | | | | | | | |
| 2 |  FIN 29859 | | Näsijärven Purjehdusseura – Näsijärvi Segelsällskap | 23.0 | 18.0 | | | | | | | | | | |
| 3 |  FIN 30891 | | BSS | 40.0 | 32.0 | | | | | | | | | | |
| 4 |  FIN 28704 | | OPS | 42.0 | 33.0 | | | | | | | | | | |
| 5 |  FIN 31260 | | BSF | 43.0 | 34.0 | RDG | | | | | | | | | |
| 6 |  FIN 30874 | | KPS-KSS | 51.0 | 38.0 | | | | | | | | | | |
| 7 |  FIN 31099 | | EPS | 52.0 | 40.0 | RDG | | | | | | | | | |
| 8 |  FIN 30197 | | HSK | 77.0 | 63.0 | | | | | | | | | | |
| 9 |  FIN 29239 | | TaPS | 80.0 | 65.0 | | | | | | | | | | |
| 10 |  FIN 31482 | | HSK | 93.0 | 72.0 | DNS | DNC | DNC | | | | | | | |
| 11 |  FIN 31031 | | TPS | 88.0 | 73.0 | | | | | | | | | | |
| 12 |  FIN 28861 | | HSK | 90.0 | 75.0 | | | | | | | | | | |
| 13 |  FIN 29918 | | HSK | 104.0 | 83.0 | DNC | DNC | DNC | | | | | | | |
| 14 |  FIN 30560 | | MP | 121.0 | 100.0 | DNC | DNC | DNC | | | | | | | |
| 15 |  FIN 30655 | | KPS-KSS | 121.0 | 102.0 | | | | | | | | | | |
| 16 |  FIN 29243 | | HSK | 131.0 | 110.0 | DNC | DNC | DNC | | | | | | | |
| 17 |  FIN 29418 | | KoPu | 132.0 | 112.0 | | | | | | | | | | |
| 18 |  FIN 30502 | | OM | 136.0 | 115.0 | RET | DNC | DNC | | | | | DNC | | |
| 19 |  FIN 30460 | | HSK | 153.0 | 132.0 | DNC | DNC | DNC | | | | | DNC | | |
| 20 |  FIN 29943 | | M | 163.0 | 142.0 | DNC | DNC | DNC | DNC | DNC | DNC | | | | |