Annapolis Snipe Invite & US Junior Nationals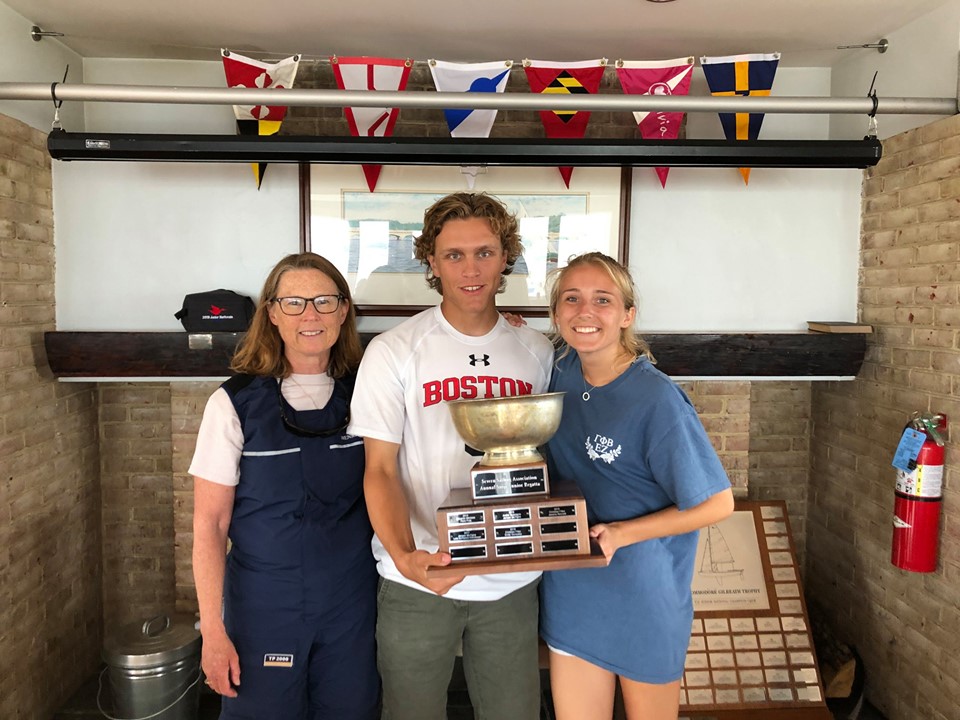 Birds of a Feather Flock Together
by Lisa Pline
Annapolis, MD, USA, June 9, 2019
Snipe Fleet #532 hosted its annual Annapolis Snipe Invite (ASI) to promote Snipe sailing to 30 & Under sailors, this year in conjunction with the US Snipe Junior Nationals.  Nine races were sailed in 8-14, making for two full days of hiking for the young and mostly light teams.  International imports Edgar Diminich (ECU) and Sophie Taylor (Scotland) walked away with the overall ASI event with a solid string of firsts, followed by Zack Kelchner / Kimmie Leonard (Annapolis) and Charlie Bess / Charlotte Mack (Florida).
The US Snipe National Championship was won by Tyler Mowry (Annapolis) & Emily Gilreath (Florida), who received the Duffy Trophy from SCIRA USA, as well as the Reisinger Trophy for Top Jr. Team at the ASI.  In a special moment, Emily Gilreath was awarded the Gilreath Trophy for Top Crew in the US Junior Nationals.  This trophy was donated to SCIRA USA by her grandfather Harold Gilreath in 1957.  Second place went to newcomers Charles Anderson / Caroline Kelly (SSA), with 3rd place to Emma Asturias / Isa Du Plessis (Ft. Lauderdale).  Morgan Carew repeated in the Special Junior "Old Man Diaz" trophy with her dad Keith Carew crewing for her.
This regatta is a labor of love by supporters of the class with generous donations of time and boats by the local Annapolis Fleet (all but one boat in the fleet was loaned/chartered), local "Friends of" who volunteer to do Race Committee, the SCIRA Perpetual Fund & Borrowed Boat insurance program, as well as the Miami Fleet (Arthur Blodgett, Charlie Bess, and Augie Diaz) who brought boats from Florida and mentored the younger sailors.  ASI t-shirts have been seen over the past few years at collegiate and high school events across the East Coast.  Alumni of this event have gone on to sail in other Snipe events such as the US Nationals.  The benefit in exposing a new generation of Snipe sailors to the class is immeasurable, but captured in comments from competitors like:  "Wow – sailing a Snipe was WAY more fun than I thought" and "I LOVE this regatta!".  The Annapolis Snipe Fleet hopes to further bridge to these sailors by offering loaner boat charters, as well as emulating Old Man Diaz's Rent-to-own boat program.
Lisa Pline, Regatta Chair
Jill Bennett Photos
Annapolis Snipe Inivitational/Junior Nationals
Series Standing – 9 races scored
Information is Final
Regatta results saved: Sunday, June 9, 2019 3:48:18 PM EDT
(Entries=12) ASI – Juniors – Special Juniors
Division: ASI (12 boats) (top)
Pos
Sail
Skipper/Crew
Club
1
2
3
4
5
6
7
8
9
Total
Points
Pos
1
31391
Edgar Diminich/Sophie Taylor
Ecuador/ TAYC
[1]
1
1
1
1
1
1
1
1
8.00
1
2
29782
Zachery Kelchner/Kimmie Leonard
2
[6]
4
2
5
2
2
2
6
25.00
2
3
38473
Charlie Bess/Charlotte Mack
CRYC
3
5
2
3
3
7
[8]
3
2
28.00
3
4
30928
Tyler Mowry/Emily Gilreath
AYC/SSA/BU Sailing
5
2
3
4
4
5
6
[8]
4
33.00
4
5
30301
Travis Carlisle/Sally Johnson
SSA
9
3
5
5
2
4
[13/OCS]
7
3
38.00
5
6
31313
Katherine Bennett/Jessica Bennett
SSA
4
4
6
8
6
6
3
4
[9]
41.00
6
7
30552
Charles Anderson/Caroline Kelly
SSA
6
7
8
10
[11]
3
4
5
7
50.00
7
8
3028
Logan Hearn/Sabrina Hesse
Eastport Sportsman's Club
8
[11]
7
6
7
9
5
6
5
53.00
8
9
30288
Emma Aturias/Isabella Du Plessis
lauderdale yacht club
11
8
10
[12]
10
8
7
9
10
73.00
9
10
29044
Lucas Masiello/Fadullon Shallom
Severn Sailing Association
10
9
[13/DNF]
9
8
13/DNC
10
10
8
77.00
10
11
30629
Morgan Carew/Keith Carew
SSA
7
10
9
7
9
[13/DNC]
13/DNC
13/DNC
13/DNC
81.00
11
12
29987
Griffin Richardson/Eric Richards
SSA
[13/DNF]
13/DNC
13/DNC
11
12
10
9
11
11
90.00
12
Notes
| | |
| --- | --- |
| (1) | Scoring System is ISAF Low Point 2013-2016 |
| (2) | Time limit expired (TLE) penalty is: Finishers plus 1 |
| (3) | Finishes in [brackets] denote throwouts |
Subdivision: Juniors (4 boats) (top)
Pos
Sail
Skipper/Crew
Club
1
2
3
4
5
6
7
8
9
Total
Points
Pos
1
30928
Tyler Mowry/Emily Gilreath
AYC/SSA/BU Sailing
1
1
1
1
1
[2]
2
2
1
10.00
1
2
30552
Charles Anderson/Caroline Kelly
SSA
2
2
2
3
[4]
1
1
1
2
14.00
2
3
30288
Emma Aturias/Isabella Du Plessis
lauderdale yacht club
[4]
3
3
4
3
3
3
3
4
26.00
3
4
29044
Lucas Masiello/Fadullon Shallom
Severn Sailing Association
3
4
[5/DNF]
2
2
5/DNC
4
4
3
27.00
4
Notes
| | |
| --- | --- |
| (1) | Scoring System is ISAF Low Point 2013-2016 |
| (2) | Time limit expired (TLE) penalty is: Finishers plus 1 |
| (3) | Finishes in [brackets] denote throwouts |
Subdivision: Special Juniors (2 boats) (top)
Pos
Sail
Skipper/Crew
Club
1
2
3
4
5
6
7
8
9
Total
Points
Pos
1
30629
Morgan Carew/Keith Carew
SSA
1
1
1
1
1
[3/DNC]
3/DNC
3/DNC
3/DNC
14.00
1
2
29987
Griffin Richardson/Eric Richards
SSA
[3/DNF]
3/DNC
3/DNC
2
2
1
1
1
1
14.00
2
Notes
| | |
| --- | --- |
| (1) | Scoring System is ISAF Low Point 2013-2016 |
| (2) | Time limit expired (TLE) penalty is: Finishers plus 1 |
| (3) | Finishes in [brackets] denote throwouts |
Principal Race Officer: Steve Podlich
---