Board of Governors Regatta
Quassapaug, August 22-23, 2015. Results after 5 races 1. Andrew Pimental & Megan Place, 12 2. Jim & Andy Bowers, 15 3. Adam & Jen Rousemaniere, 17 ... full results and regatta report (from SCIRA USA)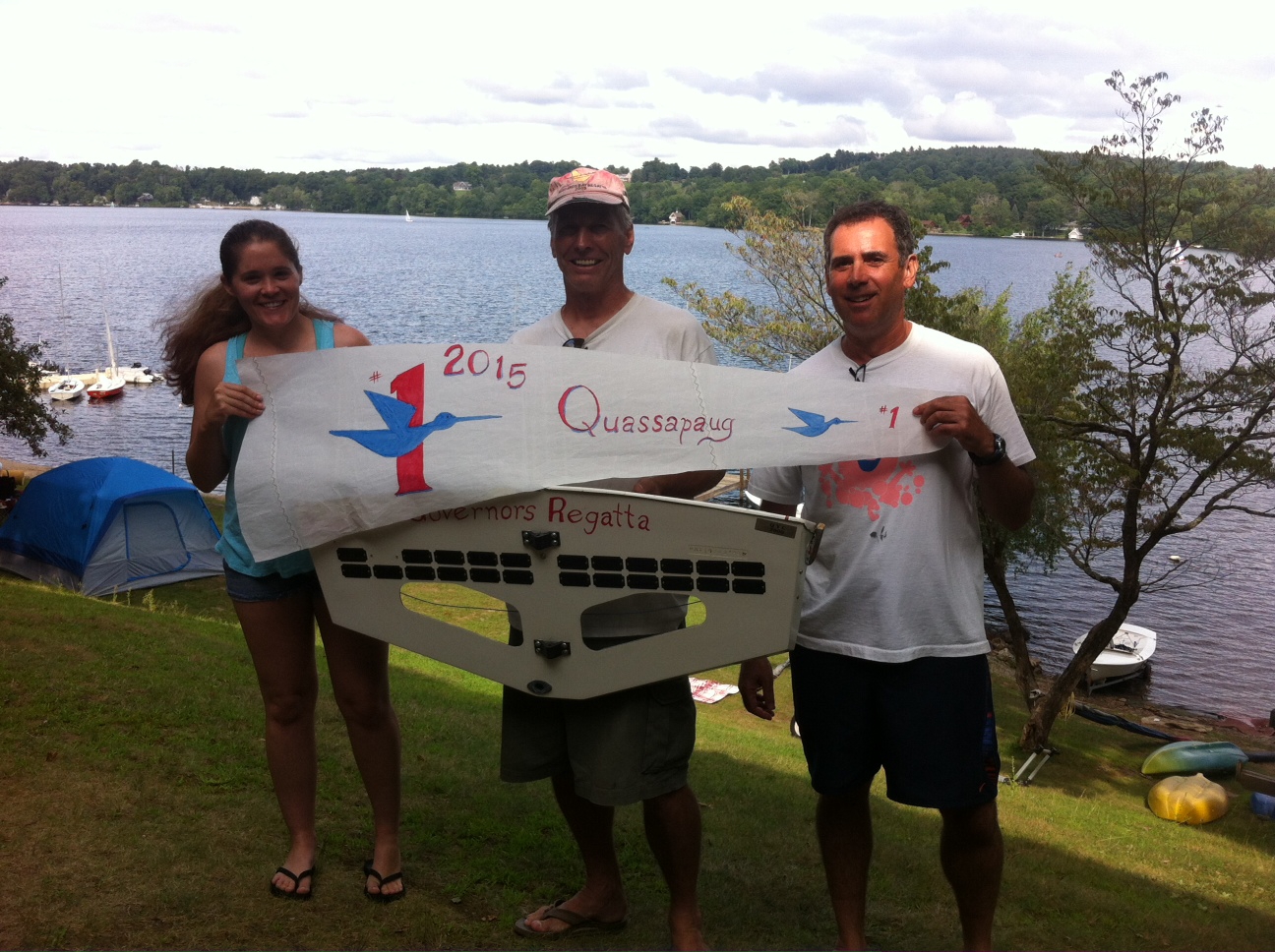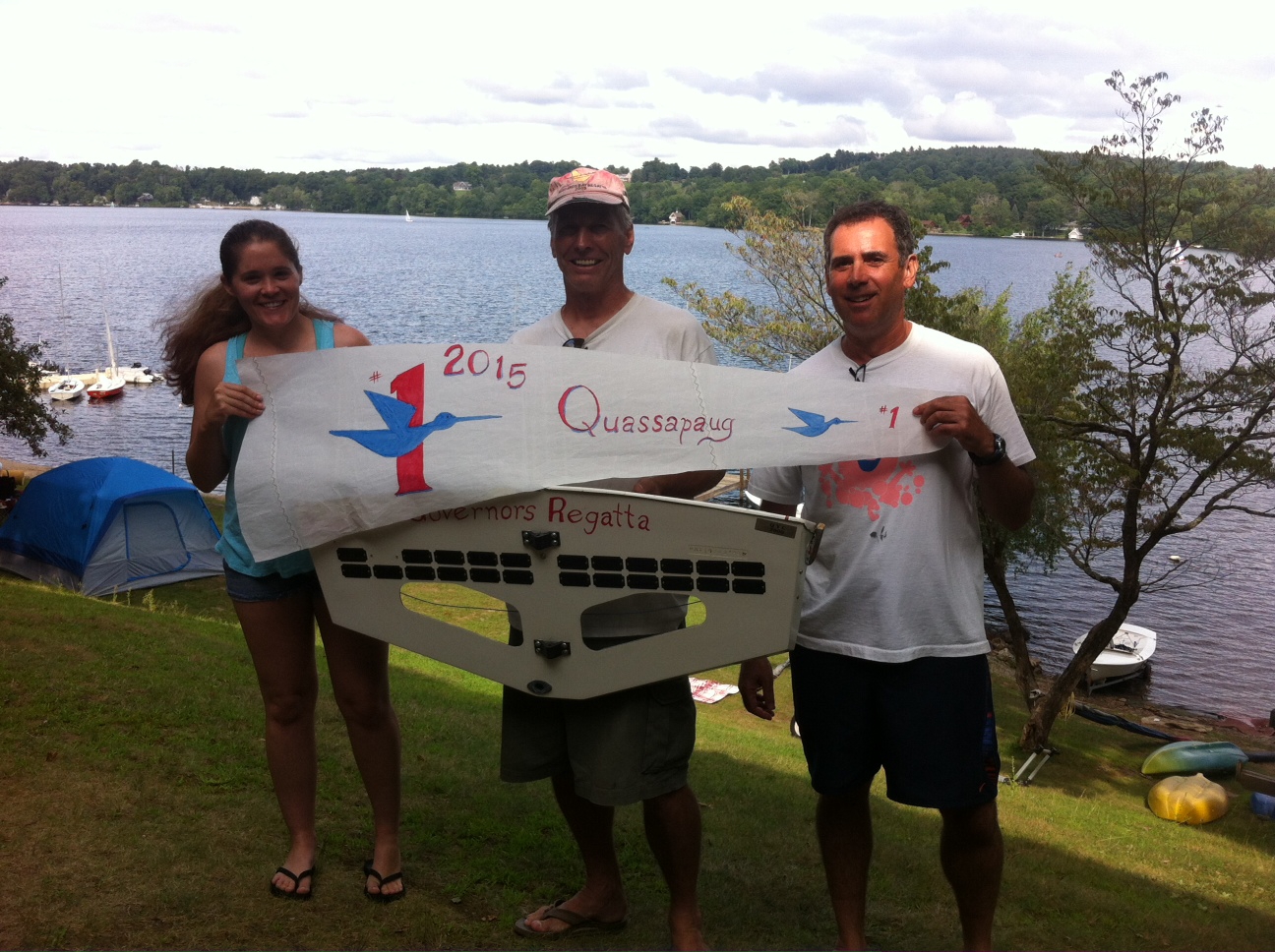 Quassapaug, August 22-23, 2015. Results after 5 races
1. Andrew Pimental & Megan Place, 12
2. Jim & Andy Bowers, 15
3. Adam & Jen Rousemaniere, 17
… full results and regatta report (from SCIRA USA)
The 2015 Board of Governors Regatta at the Quassapaug Sailing Center (QSC) faced a lousy weather forecast of a weekend of thunderstorms. Twenty six boats showed up, and the storms declined to arrive. We were treated to excellent weekend.
The regatta boasted 3 married couples sailing together, 9 parent offspring teams, two sibling teams, and two female skippers. Snipe sailing at it's best.
At the competitor's meeting the only question was Lee Griffith's inquiry: "Would there be a throw out? And if so after how many races?"
Saturday saw only two races sailed, due to the light and variable winds. As the dinner and party began the scores were posted, showing Lee Griffith and Nikki Bruno in front with zero points (two throw outs). Meanwhule Andy Pimental and Megan Place tied with Cam Fraser and Liz Ghuinski, for first place with three points.
Dinner of Clams, Lobsters, Steak, Swordfish and chicken was not to be beat. Dancing followed immediately. Liz Ghuinski showed her championship form by non-stop dancing all night. We kicked the first keg and damaged the second. Lots of fun. After the DJ left, the evening ended by a spirited game of Butt Darts lead by Carol and Jim Tomassetti. I am not sure who kept the quarter.
Sunday we sailed three races in a light Northeast breeze, including a 'Trading Places" race. All four series races where won by different boats. The last race was won by Mark Gargula and Chanel Miller, Snipe and Quassy Rookies sailing their first snipe regatta.
Going into the last race Cam and Liz where leading by 2 points, but after hitting the RC boat and then a competitor while doing a circle, the lead was lost. Andy and Megan won the regatta with a solid forth.
Many Awards were given. Liz Gilvinski won the coveted "Take a Bow Award" for non-stop dancing.
The "Get a Clew" Award (a jib clew) had many runners up:
Max Hetherington-Young for his very spirited Snipe logo shaved into the back of his head.
Cam Fraser for three circles at the start of a race.
Kevin Hetherington for four circles in one leg.
Adam Rousemaniere for lost luggage on bus, and capsizing a kayak.
None of these where enough this year. Bob Coyle clinch the award by sailing into a live, rooted in soil, tree.
Much thanks to Peter and Keri Wolcott, Shela Elser, Debbie Gilnack and all the others that fed us all weekend.
Sailing Awards were give to too many folks to name in many categories: Rookie Quassy Sailors, Top Dropped Races, Top Family Teams, Top Married Teams, Top Junior Sailors, Top Sibling Teams, Skinniest Margin, 16th Place, and 6th place.
2015 Board of Governors Regatta
| | | | | | | | | |
| --- | --- | --- | --- | --- | --- | --- | --- | --- |
| 0 | Lee Griffith & Nikki Bruno | 30904 | (0) | (0) | (0) | (0) | 0 | |
| 1 | Andrew Pimental & Megan Place | 30 | 2 | 1 | 5 | 4 | 12 | |
| 2 | Jim & Andy Bowers | 31171 | 3 | 7 | 2 | 3 | 15 | #1 Family Team |
| 3 | Adam & Jen Rousemaniere | 29499 | 5 | 4 | 1 | 7 | 17 | #2 Family Team |
| 4 | Cam Fraser & Liz Gilvinski | 30903 | 1 | 2 | 3 | 17 | 23 | |
| 5 | Lee Griffith & Nikki Bruno | 30904 | 4 | 10 | 8 | 3 | 25 | |
| 6 | Mark Gargula & Chanel Miller | 26026 | 17 | 5 | 6 | 1 | 29 | #1 Rookie Team |
| 7 | Sue Ladico & Jan Tabor | 28442 | 7 | 3 | 11 | 11 | 32 | #1 Sibling Team #1 Women Skipper |
| 8 | Jim & Carol Tomassetti | 31001 | 11 | 6 | 9 | 10 | 36 | #1 Married Couple |
| 9 | Peter & Pierce Wolcott | 30606 | 12 | 12 | 10 | 5 | 39 | #3 Family Team |
| 10 | Bob Coyle & Annwalt Stallings | 28542 | 9 | 8 | 14 | 14 | 45 | |
| 11 | Harry & Dorothy Waskow | 30325 | 18 | 9 | 7 | 12 | 46 | #2 Sibling Team |
| 12 | Mike, Kevin, & Erin Elser | 29867 | 6 | 20 | 3 | 19 | 48 | #4 Family Team – Skinny Victory! |
| 13 | Conor Fowler & Alexandra ? | 27861 | 13 | 14 | 15 | 6 | 48 | |
| 14 | Katie Levinson & James Moody | 29842 | 10 | 13 | 19 | 8 | 50 | |
| 15 | Ray Schmit & Elisa Silviera Adams | 31204 | 16 | 11 | 13 | 13 | 53 | |
| 16 | Kelly & Art Rousemaniere | 28656 | 8 | 16 | 12 | 18 | 54 | #5 Family Team |
| 17 | Martin & McKenzie Fraser | 30999 | 15 | 23 | 16 | 9 | 65 | #6 Family Team |
| 18 | Simon & Theresa Verhese | 31077 | 14 | 17 | 20 | 15 | 66 | #2 Married Couple |
| 19 | Bob and Jane Panza | 29964 | 21 | 21 | 17 | 16 | 75 | #3 Married Couple |
| 20 | Kevin & Audrey Hetherington-Young | 30600 | 23 | 15 | 18 | 22 | 78 | #7 Family Team |
| 21 | Darryl Waskow & Madeline Hoeckmaker | 29645 | 20 | 26 | 21 | 20 | 87 | |
| 22 | Jurgen, Brenden, & Minna Holleck | 25991 | 19 | 22 | 23 | 24 | 88 | #8 Family Team#2 Rookie Team |
| 23 | Charlie Baywood & Matt Weisgable | 26128 | 25 | 19 | 24 | 23 | 91 | |
| 24 | Max Hetherington-Young & Alex Bowers | 29704 | 24 | 24 | 22 | 21 | 91 | #1 Juniors (under 18) |
| 25 | Dave & Brigid Anderson | 25090 | 26 | 18 | 25 | 25 | 94 | #9 Family Team |
| 26 | Simon Strauss & Susan York | 31081 | 22 | 25 | dnf | dns | 99 | |