Western Hemisphere & Asia Championship – Day 3
No Racing on Day 3 of the Snipe WHA Championship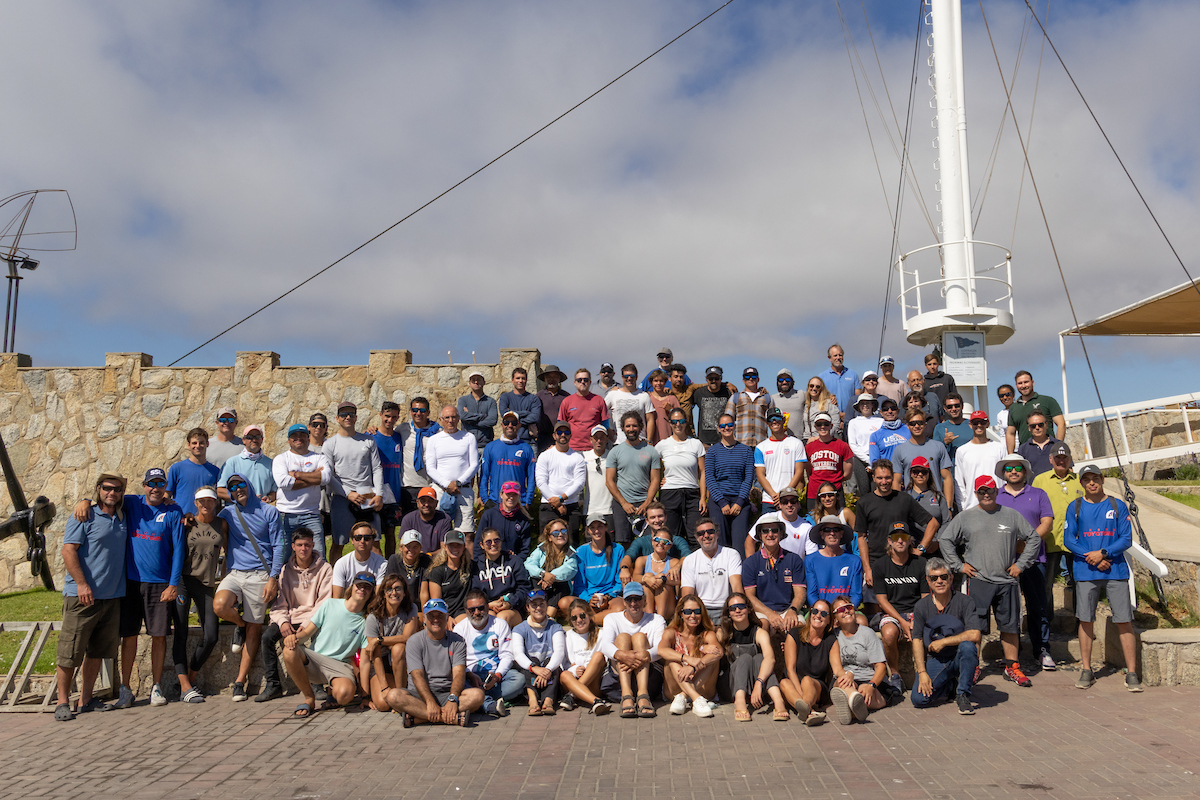 Algarrobo, Chile, March 16, 2023. No Racing on Day 3 of the Snipe WHA Championship
No wind and fog were the order of the day for the competitors at the Snipe Western Hemisphere & Asia Championship.Postponed onshore for no wind, the sailors waited anxiously for the wind to fill, but the day was called once the fog rolled in, not bringing any wind with it.
No racing gave the competitors time to do some boat work and enjoy the local flora and fauna.
With 3 races completed, the Championship is valid, but all competitors are hoping for more wind to sail at least the last 2 days of the schedule.
Racing continues on Thursday with 2 races scheduled per day, although 3 can be held to make up for today's missed second race, with the final day on Saturday, March 18.
The regatta can be followed on the Championship website: https://wha.snipechampionships.org/ for results and additional information with photos by Matias Capizzano.
Facebook: SnipeToday
Instagram: @SnipeTodayInstagram Chile: @SnipeChile
Results after 3 races:
ARG Luis Soubie & Diego Lipszyc, 15
BRA Rafael Gagliotti & Matheus Manezes Goncalves, 15
CHI Matias Seguel & Constanza Seguel, 17
USA Randy Lake & Alice Schmid, 17
PUR Raul Rios & Lexi Pline, 19
SAILORS
SAIL NUMBER
DIVISION
NET
TOTAL
R1
R2
R3
1
Luis Soubie
Diego Lipszyc
ARG 317014
Open
Master
15
15
2
2
11
2
Rafael Gagliotti
Matheus Manezes Goncalves
BRA 312086
Open
15
15
3
5
7
3
Matias Seguel
Constanza Seguel
CHI 3155421
Open
Mixed
17
17
7
8
2
4
Randy Lake
Alice Schmid
USA 3129833
Open
Master
Mixed
17
17
4
7
6
5
Raul Rios
Lexi Pline
PUR 2984130
Open
Mixed
19
19
5
4
10
6
Ernesto Rodriguez
Kathleen Tocke
USA 3133736
Open
Master
Mixed
21
21
1
1
19
7
Juliana Duque
Rafael Martins
BRA 316785
Open
Mixed
25
25
18
6
1
8
Julio Alsogaray
Malena Sciarra
ARG 310451
Open
Mixed
27
27
13
9
5
9
Nicolas Garcia
Juan Cruz Garcia Quiroga
ARG 298273
Open
29
29
12
14
3
10
Ricky Fabini
Silvia Tourn
URU 3154632
Open
Master
Mixed
32
32
21
3
8
11
Pablo Defazio
Mariana Foglia
URU 2982931
Open
Mixed
32
32
11
17
4
12
Antonio Poncell
Carola Martinez
CHI 3144317
Open
Master
Mixed
32
32
6
13
13
13
Enrique Quintero
Charlie Bess
USA 3114438
Open
Mixed
36
36
8
10
18
14
Nick Pellicano Grael
Felipe Berardo
BRA 313687
Open
37
37
9
12
16
15
Ismael Muelle
Alessia Zavala
PER 3108327
Open
Mixed
39
39
15
15
9
16
Agustín Segovia
Cristian Segovia
CHI 2884320
Open
51
51
16
23
12
17
BENJAMIN GUZMAN
Rodrigo Guzman
CHI 3119910
Open
52
52
19
19
14
18
Diego Figueroa
Fernanda San Roman
PER 3108628
Open
Mixed
53
53
25
11
17
19
Roberto Malsch
Jacinta Martinez
CHI 3132316
Open
Master
Mixed
56
56
10
25
21
20
Jorge González
Ignacio Seguel
CHI 3178712
Open
59
59
14
22
23
21
Jose Diaz
Mercedes Delgado
PUR 3037729
Open
Mixed
Junior
62
62
20
20
22
22
Francisco Viada
Maria Jesus Viada
CHI 2927423
Open
Mixed
63
63
17
26
20
23
Juan Sanchez
Juan Valenzuela
CHI 2991019
Open
69
69
UFD – 36
18
15
24
Alec Hughes
Valeria Brena
PER 3108537
Open
Mixed
72
72
26
16
30
25
Matias Poncell
Trinidad Prieto
CHI 3179118
Open
Mixed
79
79
22
21
UFD – 36
26
Rodrigo Sánchez
Ignacio Annunziata
CHI 3178622
Open
81
81
27
30
24
27
Guillermo Contreras
Catalina Vienne
CHI 317539
Open
Master
Mixed
83
83
23
28
32
28
Fernando Gallyas
Constanza Gallyas
CHI 3166711
Open
Master
Mixed
83
83
29
27
27
29
Juan Lyon
Valentina Lyon
PER 3108426
Open
Mixed
84
84
24
32
28
30
Nicolas Halles
Felipe Halles
CHI 315513
Open
84
84
28
31
25
31
Ignacio Almarza
Patricio Flores
CHI 317858
Open
Master
91
91
31
29
31
32
Sebastian Larrain
Vicente Larraín
CHI 3180614
Open
92
92
32
24
DNC – 36
33
Alberto Prieto
Carlos Gomez
CHI 3168125
Open
Master
94
94
33
35
26
34
Francisco Jacobsen
Rodrigo Sotomayor
CHI 3178124
Open
97
97
30
34
33
35
Patricio Middleton
Emilia Salvatore
CHI 2864315
Open
Master
Mixed
98
98
DNS – 36
33
29