Snipe World Championship – Day 4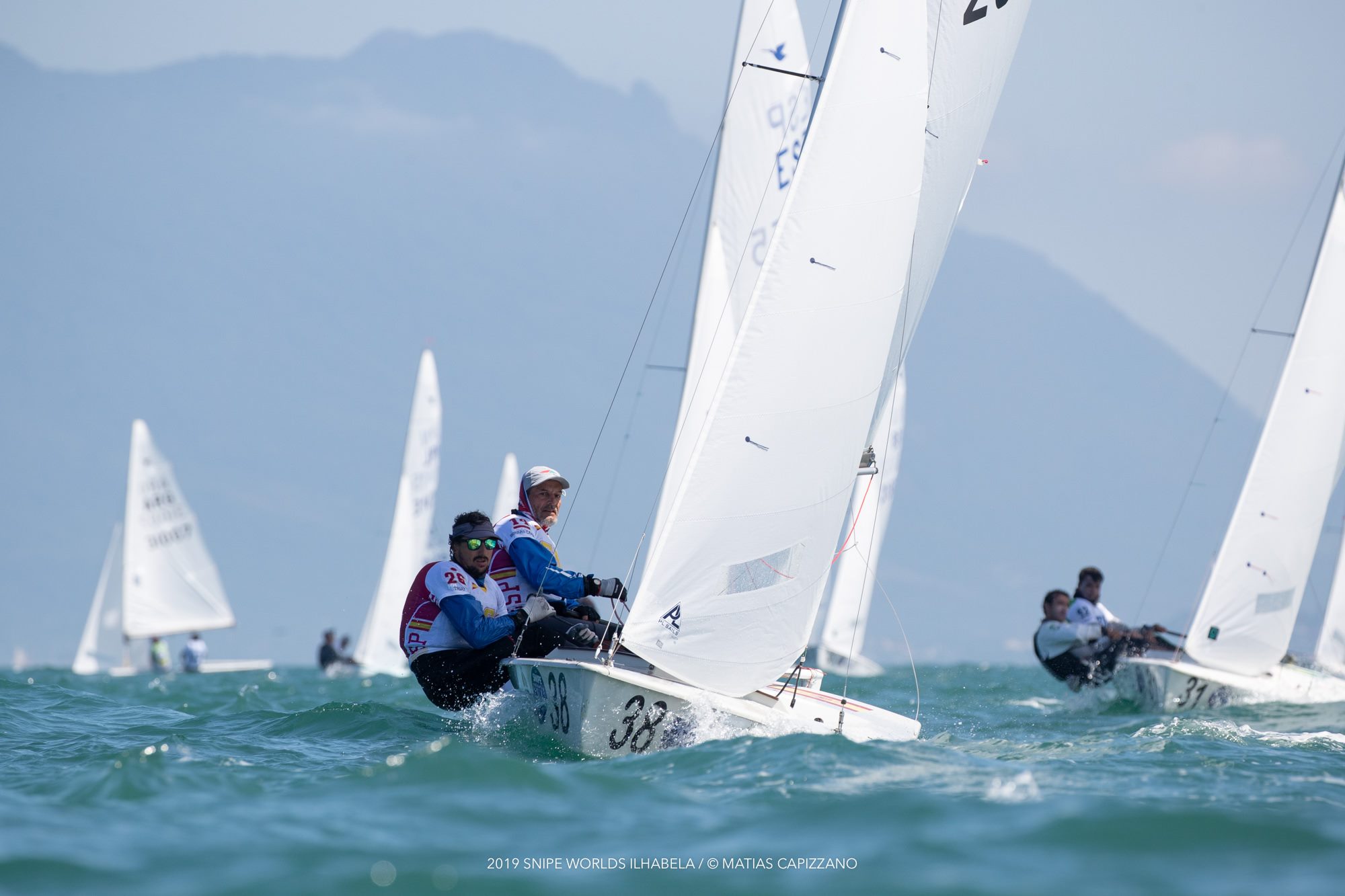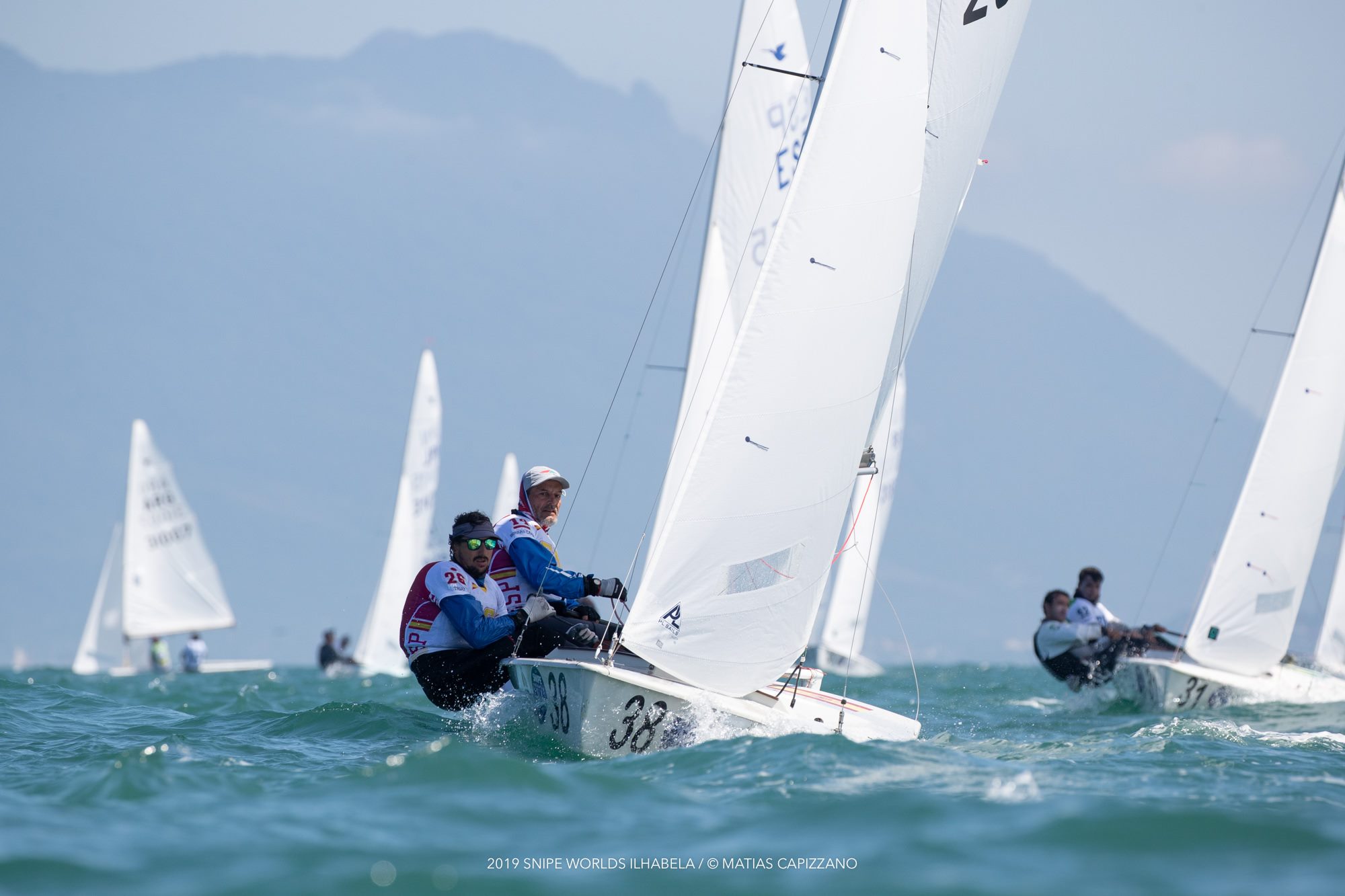 Ilhabela, Brazil, October 11, 2019
SPANISH LEAD WITH TWO RACES TO GO AT THE 2019 SNIPE WORLD CHAMPIONSHIP
The fourth day of the 2019 Snipe World Championship started out with bright sunshine, blue skies and the wind blowing at about 8 knots from the east, all great components for another brilliant day of sailing in Ilhabela, Brazil.
Only two races were completed today, and they were very similar to the three held yesterday, with an easterly breeze of about 12-13 knots and waves. These conditions are much appreciated by the Brazilians, who are used to sailing in heavy wind, but today they were not the only ones in the top of the fleet.
In today's first race after the Brazilian duo Alexandre Paradeda and Gabriel Kieling, there were the Spaniards Damian Borras and Jordi Triay followed by the young Portuguese skipper Mafalda Pires de Lima with her brother Tomas.
At the end of race six, the wind proved to be less stable than yesterday and the Race Committee boat moved in search of a better spot. Once the course was set – 13 knots from East – a Brazilian team was once again leading the fleet, and this time it was Juninho de Jesus with crew Gabriel Borges, followed by another Spanish team Juan Deben with José Pardo and in third another female  skipper, Juliana Duque with Rafael Martins (BRA).
Once the race was over long clouds covered the skies, and the wind dropped significantly. After an attempt to start ended with a general recall, the Committee sent everyone back ashore and will try for a two race day tomorrow starting at 11.
After seven races, with the discard coming into effect after race six, there is a Spanish team  leading the provisional ranking: Damian Borras and Jodi Triay, who are ahead of the Brazilians by only one point. Henrique Haddad with Gustavo Nascimento (BRA) are in second followed by Juninho de Jesus with Gabriel Borges (BRA).
"The regatta is very balanced and our strategy is to stay in the middle, since we are not familiar with this racecourse. It has worked well so far and we are glad to be leading the ranking in such a difficult event", said Damian Borras. "We are from Minorca, one of the Balearic islands, and the conditions are very similar to these, the only difference is the current, I just didn't expect so much current in Brazil. That's why we work in the middle of the fleet. Tomorrow we'll go in the water to fight to be among the first teams in the last races and win the Snipe World Cup."

Snipe Worlds Official Website
https://2019.snipeworlds.org/
https://www.snipe.org/
Press enquiries to:
Rachele Vitello
[email protected]
Photo gallery ©Matias Capizzano