Snipe World Championship – Day 3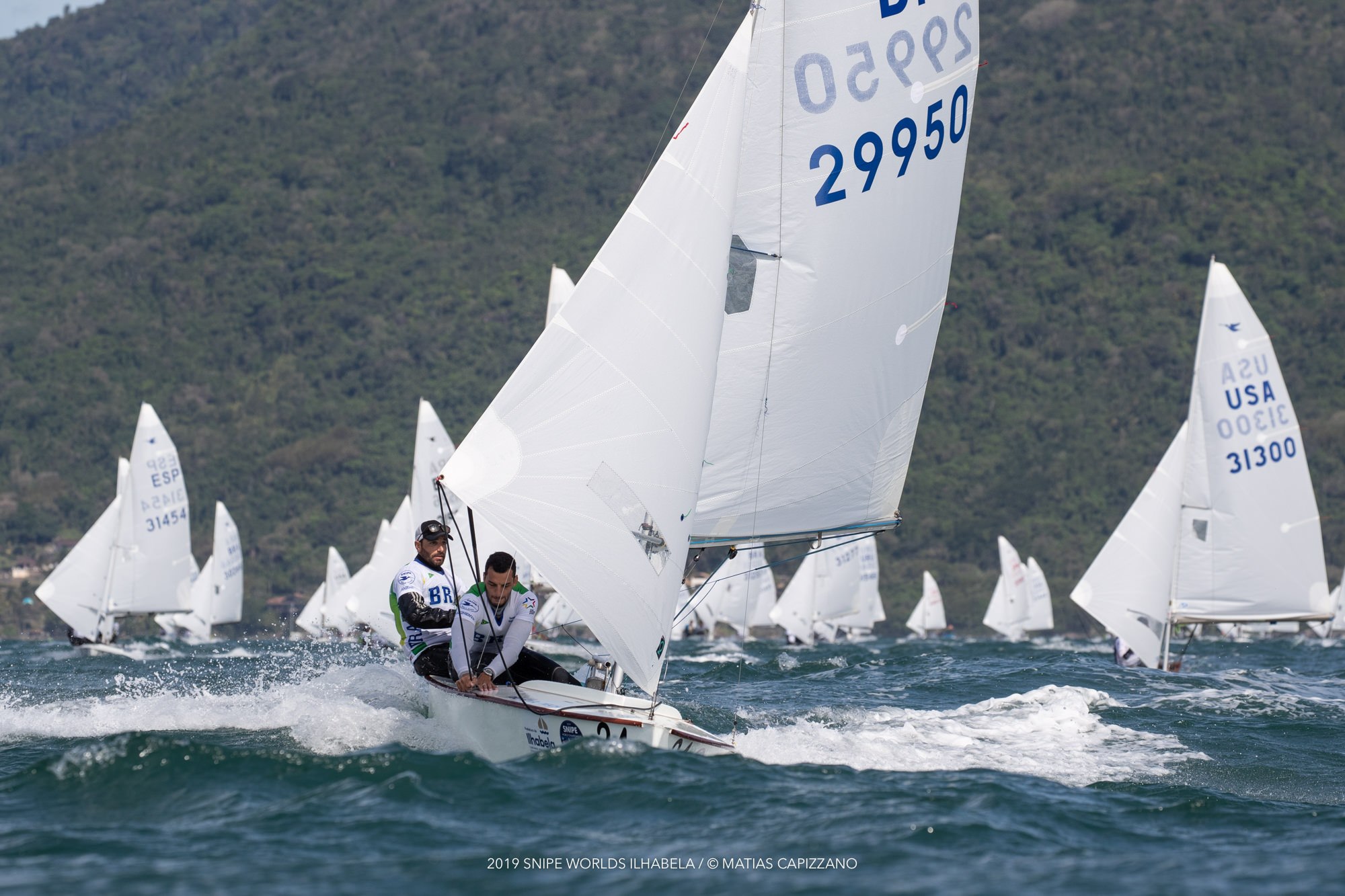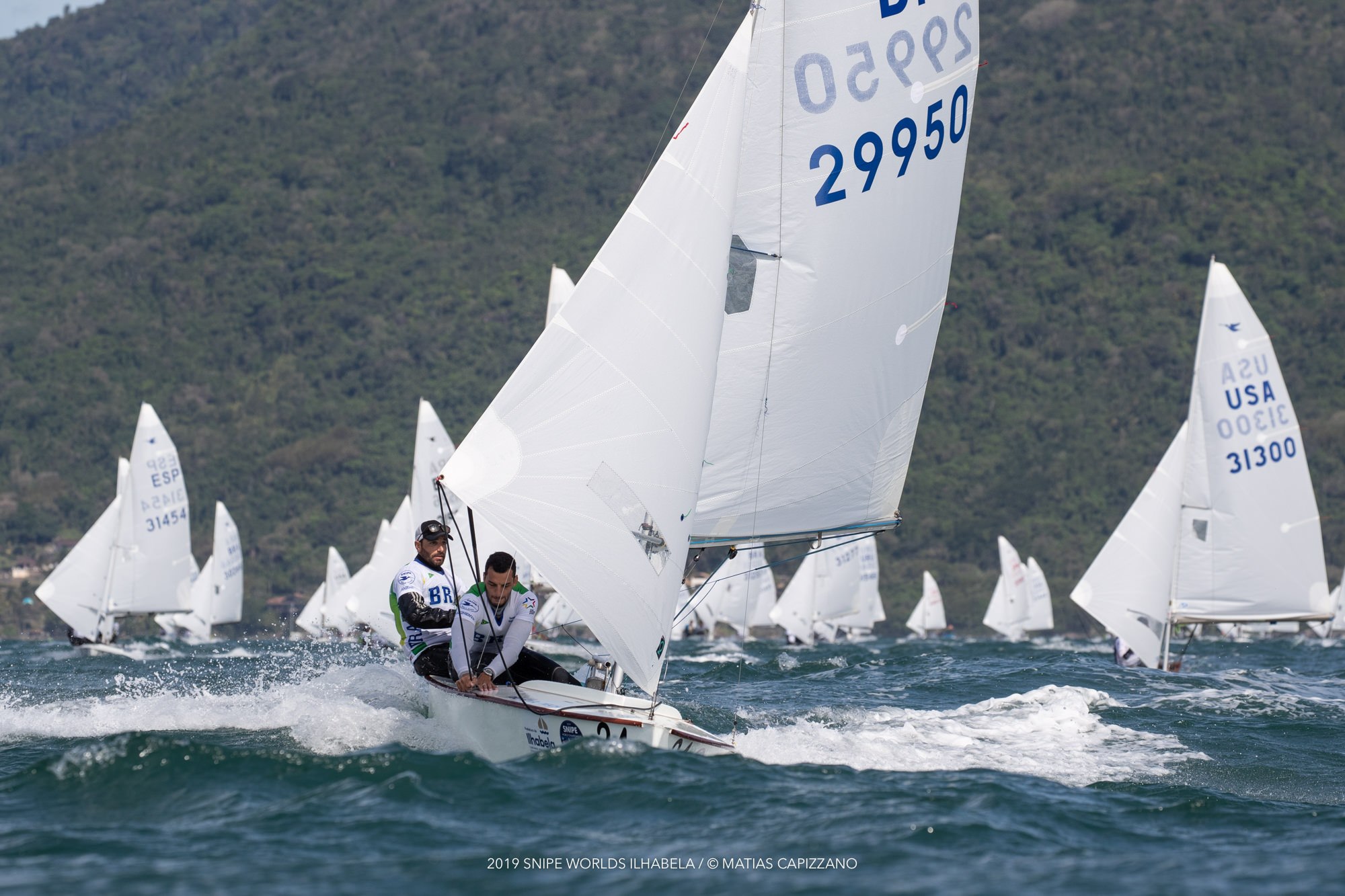 Ilhabela, October 10, 2019
BRAZILIAN STORM ON THE RACE COURSE, THREE RACES WON BY THREE CARIOCA TEAMS IN WINDY CONDITIONS
A challenging three race day awaited the sailors at the Escola de Vela Lars Grael in Ilhabela, Brazil, for day three of the 2019 Snipe World Championship. After two very cloudy days with light winds, today's conditions were typically Ilhabela with the wind coming from East getting stronger as the sun warmed the air.
The Brazilians, in the 70 boat fleet from 11 nations, mastered the wild, wavy conditions and are now right up on the top of the ranking: five of them in the top 10, with the first two leading the ranking. Henrique Haddad with Gustavo Nascimento (BRA) are on top after winning today's last two races (6,1,1), they have a big margin on the second place team, Mario Jesus with Gabriel Borges (BRA) (8,2,7); in third the winners of yesterday's only race, the Argentines Luis Soubie with Diego Lipszyc (2,16,23).
"There are still four races left and there's still much that can happen, but we are confident, we are sailing very well and know our competitors well" said 470 Olympic sailor Haddad. "We are very fast in strong wind. We didn't have a great start in today's first race, but we managed to do better in the following races and we claimed two bullets, so we are very happy!"
The day started off with an easterly breeze at about 8 knots, but the locals warned us it would increase if the sun stayed out. And so it did, the sun shone bright and the wind picked up to 16 knots, and the waves made it even more challenging for the sailors and more fascinating for the spectators.
Alexandre Paradeda with Gabriel Kieling (BRA) won the first windward-leeward race, followed by Soubie/Lipszyc amd Bruno Bethlem with Daniel Seixas (BRA). In the second race Haddad/Nascimento and Jesus/Borges were first and second, foreseeing today's provisional overall ranking, and in third the winners of race 4, Paradeda/Kieling. The third race was a triangle first run followed by a windward-leeward with an upwind finish. The wind by now was really blowing at 16-18 knots and the fleet enjoyed blasting reaches!
Mateus Tavares (BRA) with Kathleen Tocke (USA) were second behind the unstoppable Haddad/Nascimento, and in third Juliana Duque with Rafael Martins (BRA).
Five races are finished, with the first drop figured in tomorrow after the 6th race.  Four more races will be sailed in the next two days and on Saturday the 2019 Snipe World Champion will be crowned at the Marina Porto Ilhabela.
Tomorrow's three races will begin at 11, to leave only one final and decisive race on Saturday morning.

Photo gallery @ Matias Capizzano