Master European Championship – Day 1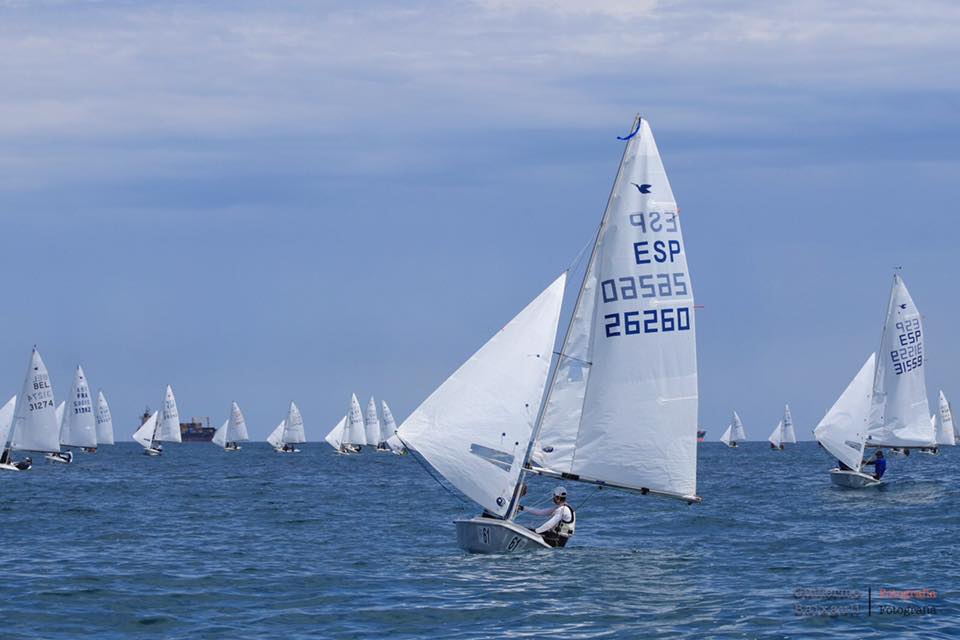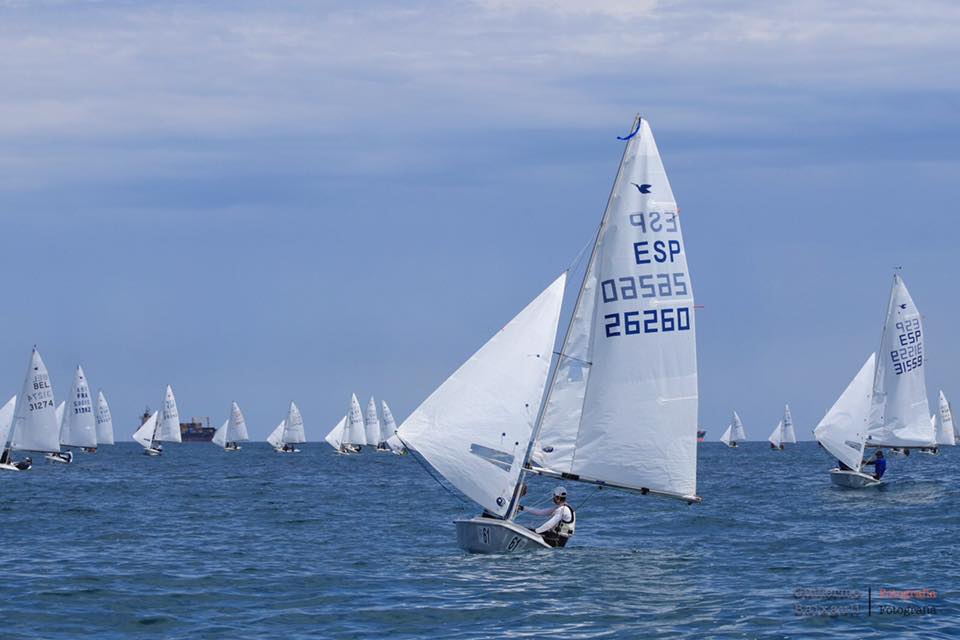 Valencia, Spain, May 2, 2019
(Photo courtesy of Guillermo Baixaulli)
A very high level and even fleet at the European Snipe Master Championship in Valencia
The Andalusian Alejandro Fresneda and Javier López lead the provisional ranking along with the Portuguese Tiago Roquette and Dries Crombe after Day 1.
The regatta will continue until Saturday at the Real Club Náutico de Valencia.
The first day of the Snipe European Masters Championship was on today at the Real Club Nautico de Valencia, the 91 teams completed two technical windward-leeward races with a light 5 to 7 knots southeast to northeast wind, as the typical Valencian sea breeze didn't show up today on the race course.
The huge fleet, with sailors representing 11 countries, was split into yellow and blue groups, and the scores have then been combined at the end of the day to offer a joint provisional classification. The fundamental requirement in this competition is the age of the skipper, which must be over 45, with the sum of the ages of both team members 80 years or over.
The level of the competitors is really high, and after day one there's a tie on the top spot of the ranking; two teams won both races in their own fleet: Alejandro Fresneda and Javier Lopez, Club de Mar de Almería (ESP), and the Portuguese Tiago Roquette and Dries Crombe. The Valencian José Luis Maldonado and Alexandre Tinoco occupy the provisional third place with a third and a second, also claiming a provisional spot on the podium of the Apprentice Master category, the ones for skippers between 45 and 54 years of age.
The fourth overall, and provisional leaders, in the Masters category, in which the skippers must be from 55 to 64 years old, are the Italians Enrico Michel and Antonia Contin, who were fourth in the first race of the day and second in the second race. Behind them in second, with even points are the current Snipe Master World Champions, Damián Borrás and Jordi Triay (ESP), in the Masters category.
Jose Palacio and Francisco Palacio (ESP) are the provisional leaders in the Grand Master, the category in which the skippers must be over 65 to participate, they're eighth in the overall standings; while the most senior category, the Legend Masters, with skipper older than 75, it's led by José Pérez Morales and Jorge Juan Soriano (ESP) who are 52nd overall.
Sailing will continue tomorrow and on Saturday May 4th, with two additional races per day. Following the motto of the Snipe class "Serious sailing, serious fun", every day after racing all of of the participants enjoy some entertainment ashore before heading to different dinner parties. Tonight the location is at "Umbracle", a Calatrava beautiful architecture in Valencia, tomorrow's dinner will be held at the "Españolé" and on Saturday at the Real Club Nautico de Valencia, after the prize giving ceremony.
Results after 2 races:
ESP Alejandro Fresneda Arqueros & Javier Lopez Fernandez, 2
POR Tiago Roquette & Dries Crombe, 2
ESP Jose Luis Maldonado Dasit & Alexandre Tinoco, 5
ITA Enrico Michel & Antonia Contin, 6
ESP Damian Borras Camps & Jordi Triay Pons, 6
USA Ernesto Rodriguez & Kathleen Tocke, 7
BEL Manu Hens & Maj Kristin Hansen Borgen, 12
ESP Jose Palacio Gonzalez & Francisco Palacio Iglesias, 13
ITA Roberto Tozzi & Giuseppe Borrelli, 14
ITA Dario Bruni & Francesco Scarselli, 15