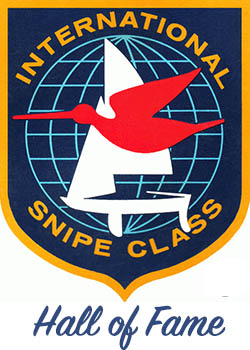 Giorgio Brezich
Giorgio Brezich, born in Trieste in 1940, started sailing Snipes at a very young age. ""My story on the Snipe begins when I was six and I started crewing not because of my skill, but because of my light weight."
As a sailor, Giorgio won a total of 3 Junior Italian Nationals and 9 Italian Nationals. He also held the role of Italian National Secretary from 1988 to 1995 and spent many years on the Board of Governors for SCIRA International, and one term as SCIRA Commodore in 1996. He was Chairman of the Rules Committee for almost two decades and helped clarify and unify the Measurement Rules. That interest probably dates back to the 1959 Junior Europeans, as this anecdote explains:
"For travel reasons, Prof. Vidulich (our chaperon) and my crew Franco Ostoich and I arrived on site at the very last minute, with the measurement now over. But we were expected to get things done faster, I took care of the boat and Franco of the sails. At the end of the operation, the boat was all right, but the sails were almost all out of measurement. We had arrived with five complete suits of sails and of these only one was accepted, the others were all "too small". After a long and careful investigation, I learned that the measurer had arranged the mainsail and jib marks on the floor and that anything that did not match was refused. It wasn't fair, but could I, at 19, go up against an international measurer? Fortunately, Vieri Lasinio (Italian National and European Secretary) was present and I explained the mistake. After a long discussion with the measurer himself, all the sails were re-measured. So, I promised myself to enter the measurement system to have a say."
The first Snipe Giorgio sailed was "Quarner", which belonged to his club, the Triestina della Vela. He won his first Italian Junior Championship in 1957 in Riva del Garda with Franco Ostoich, as crew on "Bon II" # 6370.
In 1957 Giorgio's father built "Barbanera I" #11012, from a project by Giuseppe Fabian, chief carpenter of the Navalgiuliano shipyard in Porto Lido. With this boat Brezich and Ostoich won two more Junior Championships in 1959 and 1960. This boat was followed by "Barbanera II" #11593 in 1960, "Barbanera III" #13908 in 1963 (designed by D'Isiot and built in okoume by Giorgio's father), and "Barbanera IV" #15790 in 1966. With these boats he won the Italian Championship in 1967, 1970, and 1973 with Giorgio Ferin. In 1972, he won the Southern European Championship with Roberto Vencato, and in 1973 he took the Mediterranean Championship with Sergio Morin.
In 1973 Giorgio, always attentive to innovations, bought the first fiberglass boat, a Skipper, followed by some Lillias and finally a Perssons. With these fiberglass Snipes, Giorgio continued his winning ways in the Italian championships in 1974, 1976, and 1978 with Piero Napp, in 1979 and 1981 with Marco Penso, and in 2000 with Lucio Penso.
Giorgio held the role of Italian National Secretary from 1988 to 1995, but he is known around the world for his many years of activity in SCIRA International. He was a member of the Rules Committee from 1985 to 1995.
In 1996, after organizing the 1995 Snipe Worlds in Rimini, he was elected SCIRA Commodore. In the January 1996 issue of the Snipe Bulletin, he wrote: "It is a great honor and pleasure to be elected in such an important position within the Snipe Class organization. … Also, 1996 will be the 50th anniversary of my Snipe sailing career, as I began at the age of six and it is a fantastic coincidence to be Commodore in the same year! Having been involved in the class for so long means that I have seen first-hand the evolutions of boats, rigging and sails. I believe in evolution, without traumatic revolution. The Snipe must maintain its philosophy but accept the technology of the time being. Carefully selecting innovations, we will maintain the Snipe always up to date and attractive for the top champions as well as for family crews which are the core of our fleets."
From 1997 to 2012 he was Chairman of the Rules Committee, watching over the class rules with extreme competence and rigor. Always present at international events, he held seminars and workshops on Snipe measurement techniques in San Diego, Santiago de la Ribera, Punta del Este, Porto, Rungsted, and other places. This greatly helped the class unify measurement techniques around the world.
Thanks to his hard work, the class rules have been updated and made clearer. The latest draft of the Rule Book is the latest gift from Giorgio and his colleagues of the Rules Committee.
Giorgio retired from racing in 2010, but he continued his activity on the SCIRA Board of Governors until 2012 and after that as a measurer; he still actively follows the Snipe Class, and he is an inexhaustible source of advice thanks to his technical experience and competence. He celebrates his 80th year in 2020, as an inductee to the SCIRA Hall of Fame.