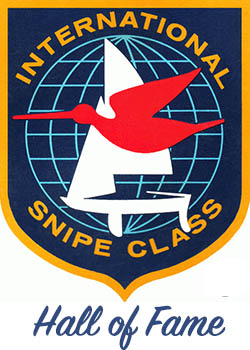 Carlos & Jorge Vilar Castex
Carlos and Jorge Vilar Castex sailed Snipes together from 1947 to 1957.
They were both architects, and lived their whole life in San Isidro, Buenos Aires, Argentina, being members of the beautiful and historic Club Nautico San Isidro.
They learned to sail with their father at 6 years old, on a homemade wooden dinghy. The brothers were often "left alone" on the tricky Rio de la Plata at the very early age of 9 years old. They developed by themselves such a love and technique for sailing, that when they tried a Snipe for the first time in 1947, they were very soon Argentinian National Champions (held since 1937) that same year at the age of 17and 16, defeating sailors with more than a decade of Snipe sailing experience.
After this, they repeated 6 National titles in a row, from 1947 to 1952, and won again in 1957. Most of them with their historic snipe "Pamperito" #7165, built by Gutierrez & Peralta under the brothers fathers request. This boat was just a few years ago restored by the Club Nautico San Isidro and is displayed today at the Club in the very same place where it was built (now the club informal restaurant and bar).
When they both married and graduated they had to stop sailing, leaving behind an amazing and unique in terms of effectiveness, career were they won almost everything there was to be won.
They raced internationally in only 5 regattas in their life, with amazing results, being World Champions in their first international regatta, after only one year of Snipe sailing, at ages 18 and 17, in the second Worlds held outside the U.S., in Palma de Mallorca, Spain, in 1948.
They travelled the following year to Larchmont, N.Y., in 1949 to finish second behind the great Ted Wells, losing the regatta in the last race.
In the 50´s the Worlds began to be held every two years, and they won the title again in 1951 in Havana, Cuba, and finished 5th in the 1953 Worlds in Monaco where their new boat they shipped from Argentina had many problems.
In addition, in 1951 they were Gold Medalist at the very first Pan Am Games held in Buenos Aires.
Funny and really unique fact is that the brothers shared the helm all their career, exchanging positions every year. That is why Carlos won 4 Nationals as skipper and 3 crewing and Jorge viceversa. At International events, Carlos helmed to win 1948 Worlds and Jorge did then followed winning in '51 and ´53.
A few decades later in the 70´s Carlos started building the world famous "Vilar Castex" Snipes that won many regattas internationally and were one of the first fiberglass Snipes made in South America.
Carlos Vilar Castex won in 1980 the "diamond Konex" award, the most important Argentine distinction, for his contribution to the national sports.
In 2015 Carlos and Jorge were the first sailors to received the "ARG snipe Hall of Fame" award created that year for the Argentinian SCIRA.
Also, in 2019 he was declared "Ilustrious Citizen of San Isidro".
Jorge Vilar Castex sadly passed away in 2014, but Carlos continues to support sailing to this day, following every regatta on Facebook and SnipeToday, and being present in person in every National or International regatta prizegiving ceremony that takes place in Buenos Aire. It is a special honor for the currently active Snipe sailors to receive cups and medals from him in those events.
After Carlos and Jorge Vilar Castex, Argentina has had many more great Snipe sailors, many of them also Champions, but Carlos and Jorge opened the path for us all in Argentina and South America, proving to the whole continent 70 years ago that distance and lack of materials and information were not obstacles to succeed and be the very best in the world.
Only talent and dedication is needed. They have this in abundance and this is why they received this award from us today.