Winter Circuit / Series 2019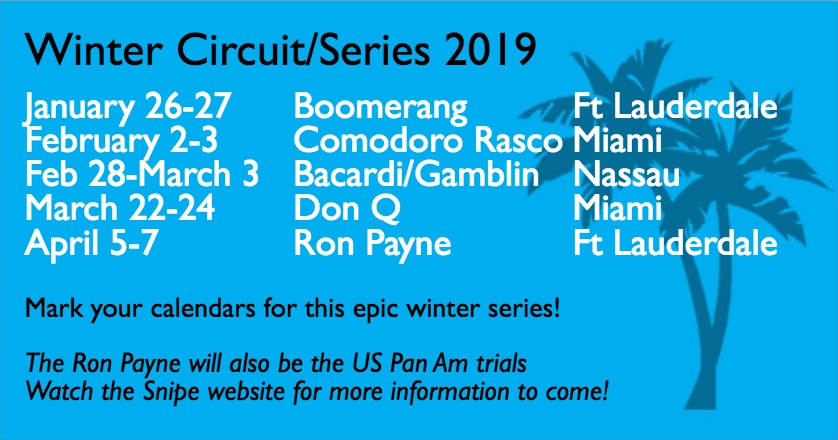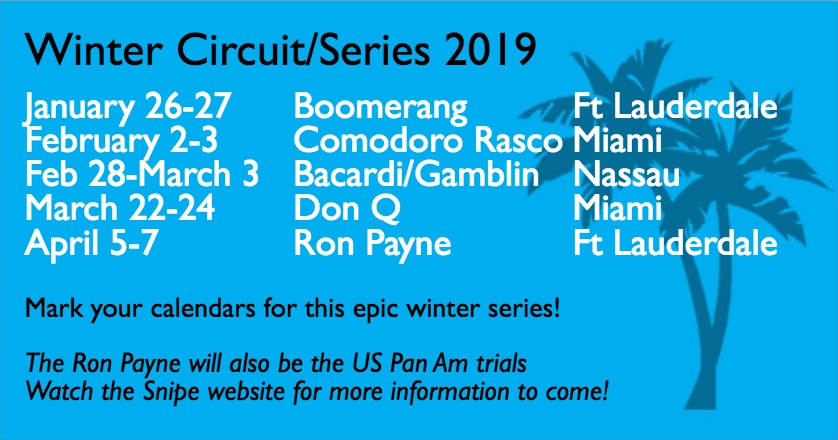 January 26-27 – Boomerang – Ft. Lauderdale
February 2-3 – Comodoro Rasco – Miami
February 28 – March 3 – Bacardi/Gamblin – Nassau
March 22-24 – Don Q – Miami
April 5-7 – Ron Payne – Ft. Lauderdale
5 great regattas -lots of racing, large fleets, warm water, great hospitality
–Ft. Lauderdale
–Nassau, Bahamas
–Miami, Florida
Schedule
Winter Series Events 1 | Boomerang | January 26-27 | Ft Lauderdale
Winter Series Events 2 | Comodoro Rasco | February 2-3 | Miami, Florida
Winter Series Events 3 | Bacardi/Gamblin Series | Feb 28-March 3 | Nassau, Bahamas
Winter Series Events 4 | 52nd Don Q Rum Keg | March 22-24 | Coconut Grove, Florida
Winter Series Events 5 | Ron Payne/US Pan Am Trials | April 5-7 | Ft. Lauderdale
Winter Series Details
Class membership and boat registration required for Bacardi/Gamblin, Midwinters and overall Zimmerman scoring. Skipper and boat membership required for all regattas. (SCIRA USA SAILORS RENEW ONLINE HERE)
Registration Details
Boat Charters
Nassau Shipping Details
Shipping to Nassau can be effected using the Betty K Shipping Line situate at 3701 NW SOUTH RIVER DR. MIAMI, FL 33142 PHONE: (305) 635-4650. Boats must be delivered to Betty K Shipping. Arrangements can be made to ship on an earlier sailing of the Betty K. Return voyage to Miami will depart Nassau arriving Miami. Shipping costs from the Betty K for Miami-Nassau return voyage and including customs clearance and brokerage fees in Nassau is $550.00 per boat. Additionally charges on the Miami side for US Homeland Security and Customs Broker run approximately $375.00 per boat. These figures are approximate only and may be subject to change.
Customs on the Bahamas side will be handled by the Nassau Snipe Fleet. Boat Owners are responsible for US Side import. We recommend the Florida Customs Broker we have used over the past few years, Carlos Arguello Tel 786-601-3969 Cell 305-705-5713 Email: [email protected] or [email protected] Savings on the US Charges can be made if multiple boat trailers are used and one bill of lading is done for all boats on a particular trailer. There are various forms required by US Homeland Security for inboard to Miami and which must be completed and provided to the US Broker prior to export. (including:- Pro Forma Invoice, Customs Power of Attorney, ISF Form 10+2 and HS7 Form in relation to any Trailers). Please contact Carlos Arguello for the correct forms. These forms must be completed by the boat owner and provided to Carlos and Betty K Shipping with the boats as they include information required for the Betty K manifest which must be finalized prior to departure from Florida. All boats and trailers should be marked with the hull number clearly visible on the exterior of the hull or exterior of any hull cover so as to be seen while the boat is secured for shipping on the trailer on which the boat is to be shipped. Please also mark trailer ball size clearly on the trailer hitch.
Trophies
Zimmerman Trophy – Snipe South Eastern Winter Circuit Champion: for 2019, the Zimmerman will be based on the Don Q & Bacardi/Gamblin overall.
Dudley Gamblin Memorial Trophy – Bahamas Snipe Winter Championship
Midwinters Trophy – Snipe Midwinter Championship: for 2019  the Midwinters will consist of Rasco, Don Q and Ron Payne overall.