10 Snipe Tips for Small Teams in Big Breeze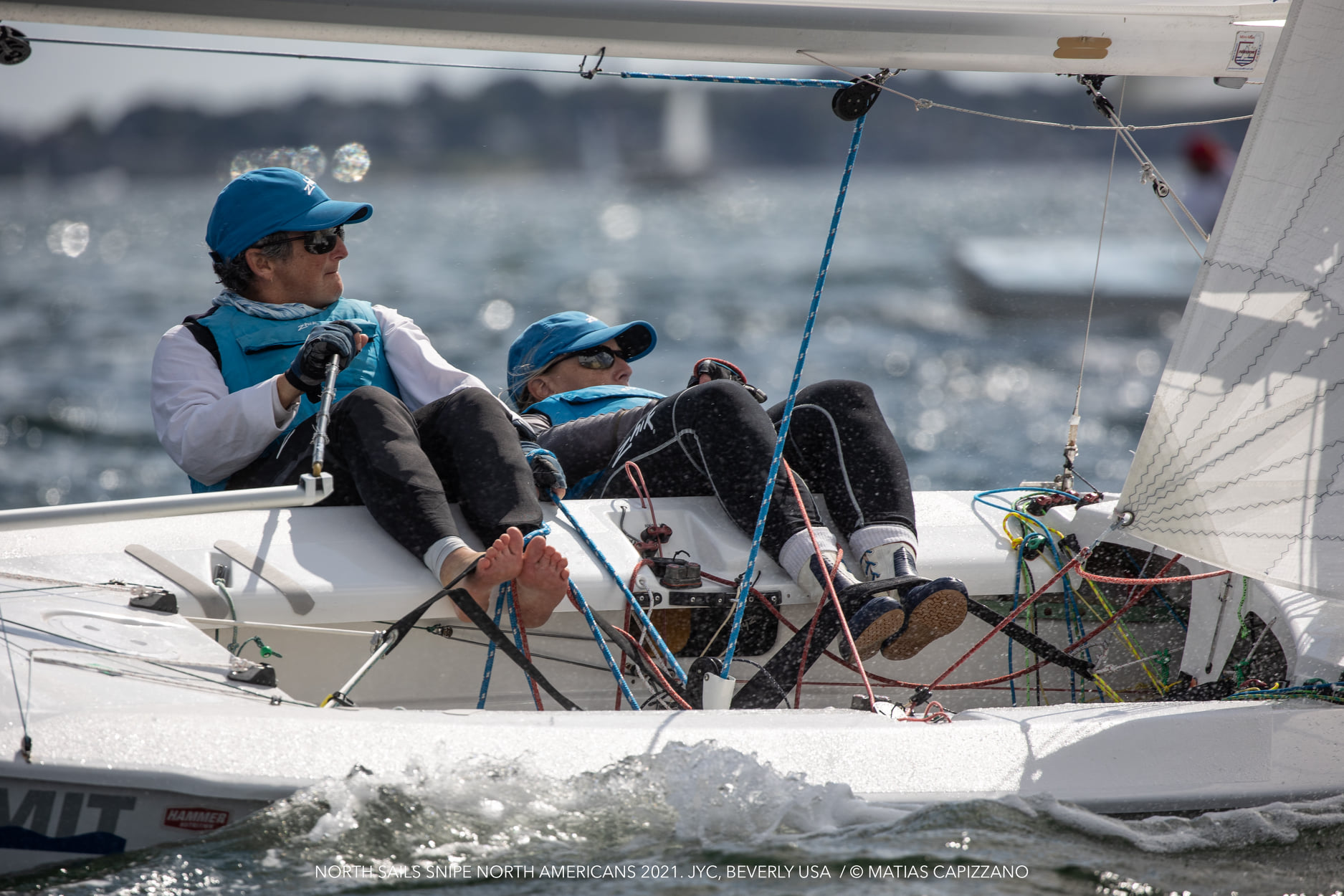 I'll just come right out and say it: I'm very proud that Kim Couranz and I tied for third with Augie Diaz/Barbie Brotons at the generally windy 2021 Snipe North Americans. As a team we tip the scales at 280 pounds (127 kilos), so heavy air is always a challenge. And after a spring and summer of mostly light conditions (and not nearly as many regattas as usual), it was great to put ten years of heavy air Snipe lessons to work once again.
The last day saw puffs to 22 knots and occasional lulls to 12 knots, a difficult day even without an overlay of current lines and powerboat chop. We posted two fifths on the double triangle courses, and though we couldn't quite catch the Miami veterans, there was a significant gap to the pack behind us. One of the best things about the Snipe class is everyone's willingness to share what works, so here are 10 tips (5 for upwind, and 5 for reaching) that helped us hang onto the leaders' coattails.
Upwind: Make it feel good
There's one thing that is still true after thirty years of Snipe sailing: the harder you hike, the faster you go. That said, all the hiking in the world won't compensate for a boat that's hard to sail. If you feel like you're stalling and pounding into waves, change something. With a good setup, the boat will become lively and playful. Rig tension is the most obvious thing to get right, but here are some other changes you can try while racing:
If you have too much weather helm, trim the jib harder (you may need to ease off the lead or move it aft, or both).

Put the bow down a bit more than usual to keep the boat trucking forward. Sometimes it's just too windy to prioritize pointing.
Pull on more vang (and cunningham) to blade out the mainsail.
Ease your jib halyard a half inch. We call this our "magic setting," because it widens the upwind groove and makes the boat feel "skippy."
Drop the traveler.
Reaching Nirvana
Time in the boat as a team is the best way to get faster on reaches, but no matter how much experience you have the end goal is the same; keep the boat on that fast hairy edge, constantly adjusting your sailplan's power to the max you can handle.
The biggest question is always: when to set? When I first started sailing Snipes, the stated reason for the triangle course was to avoid setting the pole altogether. Now all the top teams set poles on all but the tightest reaches, because it's easier to get and keep the boat planing. But it often seems like too big a sacrifice—and potentially risky, too.
1. It's definitely time to set if any of the following are true:
You can't keep the boat planing

You have to steer above your ideal course to catch waves

The apparent wind is 90 degrees (or even farther aft)
2. To optimize a reaching set:
Make sure both skipper and crew are ready

Ease jib halyard 2 inches

Bear off at least ten degrees until the pole is all the way out

Cleat the jib sheet and get it into the reaching hook

Come back up to your desired sailing angle, and enjoy the ride
3. Once the pole is up, the jib halyard is a HUGE power setting. If the boat starts to slow down or you have lee helm, ease the halyard. If you're overpowered or need to sail a higher course, pull on halyard. Even an inch or so of adjustment will make an enormous difference (and it's much easier than adjusting the sheet).
4. You can also pull on more vang (and/or mainsheet) to add power as necessary.
5. Upwind boat speed matters, but maintaining that fast hairy edge on reaches is where you can make the really big gains. And it's the fun part, too!
Always More to Learn
There are many ways to sail a Snipe fast, and everyone has their own sailing style. That's good for Kim and me, because it makes it possible to play with the big boys if we set the boat up well and keep making adjustments. Hopefully some of our lessons learned from eleven years of sailing Snipes together will help you up your heavy air game too. Meanwhile, I can't wait for our next big breeze day—because in the Snipe, with so many lines to pull, there's always more to learn.