Interview with the photographer: John Payne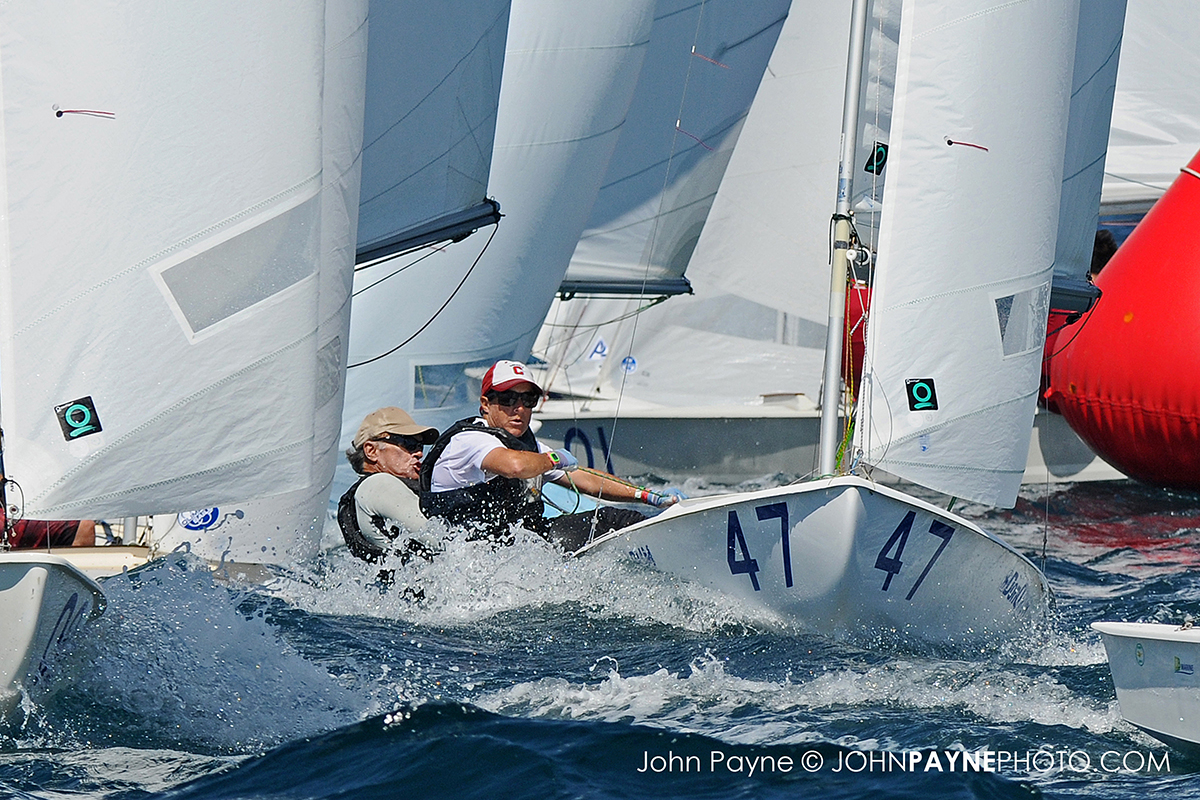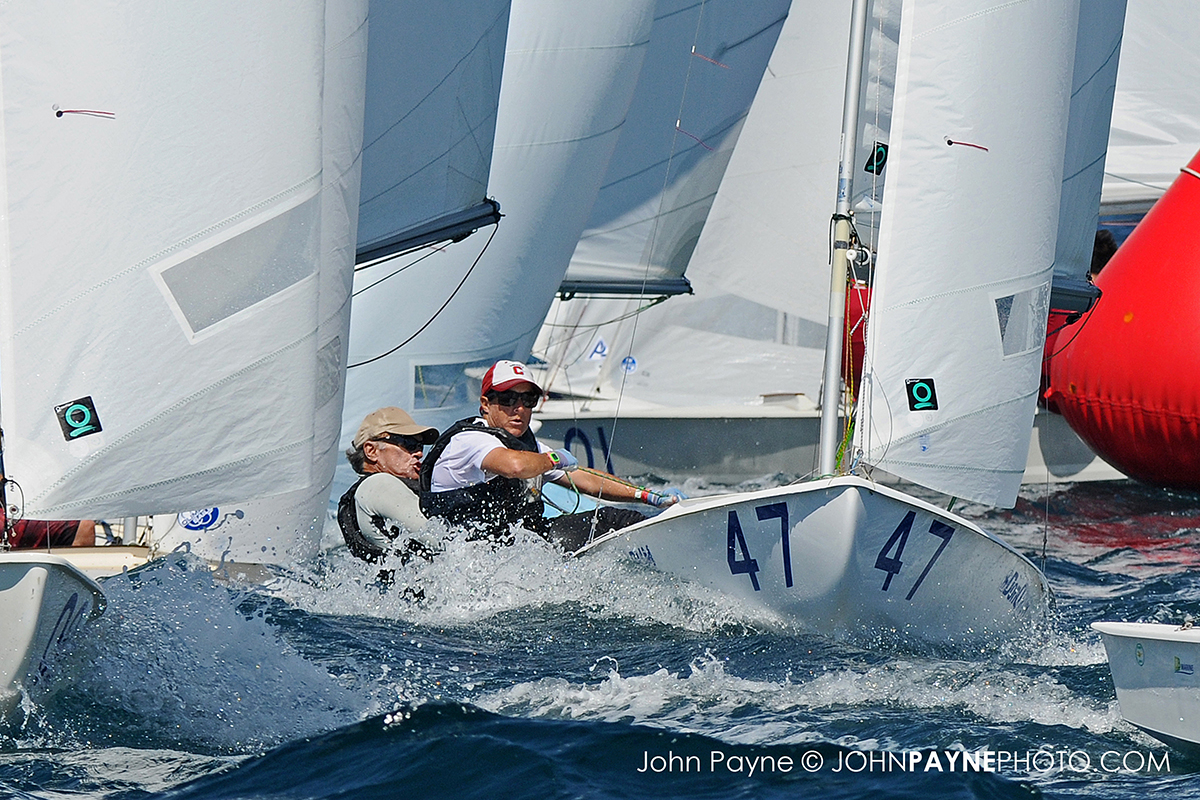 John Payne, photographer from Fort Lauderdale, Florida
– 1) When did you start as a photographer and what sparked that?
My earliest relocation of taking photos was in the sixth grade (age 12), and they were travel photos while on a school trip to Yucatan, Mexico. I loved being able to share my experiences with friends and family when we returned. I was using a Kodak Instamatic. The camera probably saved my life. Three friends and I were exploring a building in Uxmal. We were inching our way down a pitch-black corridor, firing off a photo every few feet so that we could see what lay ahead in the light of the flash cube. On one flash, there was a ten foot gap in the corridor floor about three feet ahead of us.  The hole was ten feet deep.  We would have tumbled in if not for the flash cube.
– 2) When did you first take photos of sailing boats and Snipes?
While I took some photos of Solings in high school and college, my real immersion in sailing photography corresponded with my oldest daughter sailing Optis. I would shoot from friends' boats using 35mm film cameras. Later, organizers asked me to shoot their regattas and started arranging photo boats. During that time I also started shooting the regattas held out of Lauderdale Yacht Club (LYC).  My first experience shooting Snipes was The Ron Payne Memorial regatta at LYC.
– 3) What is your best sailing photograph?
I have many favorites of different classes and venues, but I'd have to say my favorite is of a rather serendipitous shot, taken during the LYC Hangover Bowl, of three young Opti sailors crewing a 420.  The looks of exuberation, glee and terror are priceless. Southern Boating used it as their cover, and the late publisher Skip Allen told me he received more positive feedback on that photo than any their magazine had ever run.

– 4) What is the most challenging thing about capturing sailing in photos?
At times it can be quite gnarly. To steal the quote from Montgomery Scott in Star Trek, "it's like trying to hit a bullet with a smaller bullet whilst wearing a blindfold, riding a horse." Trying to hold a long telephoto lens steady while aiming at moving targets all the while sitting on a rocking boat, can be challenging to say the least. Then there is the issue of protecting your equipment from the elements. Throw in blowing rain sea spray getting on the lens, and it can be difficult.
– 5) Do you have a special technique or secret to take pictures of Snipe sailing?
I love shooting Snipes going upwind in fresh breeze.  The athleticism of the sailors, hiking flat out, having waves explode in their faces, makes for exciting images. I also love to be upwind of the leeward mark as the boats round.  Of course, with a gate, you only get half the fleet.  The trick is trying to judge the favored gate because that's where the leaders usually will be rounding.
– 6) Is this Class different from other Classes?
All classes are different.  One thing I struggle with when photographing Snipes is when they are tacking. I love that mid-tack shot from the bow, as the crew scrambles to the weather rail.  The problem with Snipes is that, unlike other two-person dinghies, the only the skipper faces the bow as they tack.  You can't get both faces until they are settled on the next tack.  Also, what is it about Snipe skippers holding the mainsheet in their teeth? It's the only class where that seems to be prevalent.
– 7) Which kind of equipment (cameras, lens, drone) do you use?
I have two Nikon digital bodies, a D300S and a D500.  That allows me to use two lenses, an 18-200mm for close-in and wide-angle shots, and an 80-400mm zoom telephoto to bring the action closer. I haven't made the move to drones, although I am jealous of some of their footage.
– 8) Do you take only photos or are you also filming video?
Pretty much just still images for now.
– 9) Do you change your technique according to the sailing conditions and light?
Absolutely! All photographers long for fresh breeze and good light coming from over their shoulder as they are shooting. Dare to dream.
Usually something is amiss, and you don't get that combination. You might have bright sunlight, but it's behind the boats. Or there is virtually no wind. Or it's raining.
Fortunately, as for the sun angle, you can always shoot from a different vantage point around the course  to get more favorable light.  If the boats on starboard tack are backlit, try to get the boats on port. If they're all backlit, shoot the leeward mark. Changing the Active D-lighting will also help with backlit photos. When the seas get gnarly, I shoot a faster shutter speed to try to effectively reduce movement of the lens. If the light is poor, I dial up the ISO number. (The hgher the ISO, the more sensitive the sensor is to light, but higher ISOs result in a grainy image).  For me, the lower the ISO, the better, but newer digital cameras have reduced noise (graininess) at higher ISO settings.  When shooting in a squall, I always have a two gallon Ziploc bag with a hole cut in the bottom that is just the diameter of the snout on my 80-400 lens.  I tape it to the snout and keep the lens and body in the bag to keep them as dry as possible.
Then there's always Photoshop. As I learn more and more, I find I can edit out some problems.
– 10) What's your favorite sailing condition for taking photos?
See above.
– 11) Which regatta or sailing venue do you remember with most pleasure?
That's a tough one. I love shooting on Biscayne Bay. I've been fortunate to shoot probably a couple dozen different classes on the bay. The beautiful aqua color of the water when the light is right is tough to beat. Some of my best Snipe photos have been taken on Biscayne Bay. The Snipe Don Q is a favorite regatta. You know any regatta sponsored by a rum company will be a fun event, and the class takes their motto to heart, "Serious Sailing, Serious Fun!"
I also loved shooting Key West Race Week.  Basically a one week Bacchanal with some great sailing thrown in. The waters around Key West are a prettier shade of aqua than Biscayne Bay, and the light is almost always perfect.
– 12) Which would you rather do, sail or take photos of sailing?
I'm guessing we've never met.  While I enjoy sailing, the boat better be pretty big to offset my size.  No, I'll stick to taking photos.
– 13) What is your dream in the peak? (Your sailing photography dream)
Another tough one. I guess I'd have to say I've dreamed of shooting the Olympics or America's Cup. I've shot the Miami Olympic Class Regatta and Bacardi Cup a few times so that gets close to shooting the Olympics.   As for the Cup, it will have to remain a dream. This may sound weird, but I'd also love to tag along for a shoot with Carlo Borlenghi, Matias Capizzzano or Sharon Green, just to observe their process.
– 14) Do you have any advice for budding photographers?
Shoot, shoot and shoot.  There is no substitute for time on the water.  Almost anybody going out to the race course will swap a ride for a few photos. This is especially true of youth regattas.  If you can't get on the water, try from the beach.