District 2 Championship
Perry Lake, KS, USA, August 20, 2023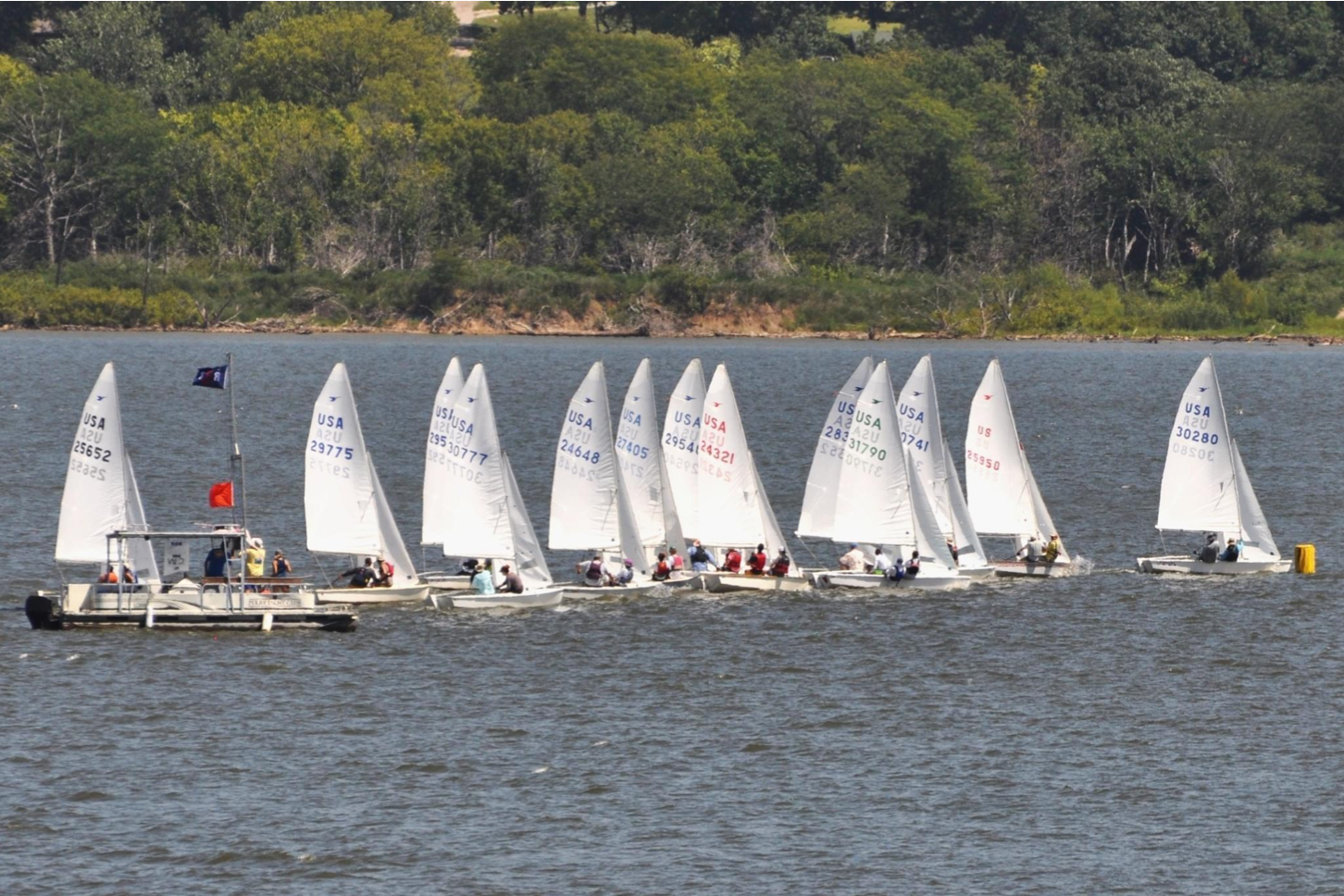 Perry Lake, KS, USA, August 20, 2023. This past weekend August 19th and 20th Snipe Fleet #597 hosted the District 2 Championships at Perry Yacht Club at Perry Lake Kansas.
The Snipe District 2 Championship regatta was expected to be hot (as pondered during an icy February meeting) and provide heated competition, but it was next level for the 14 boats from 6 different states. The representation was impressive and of particular note was many newer and younger Snipe sailors attending their first District champs, with 5 sailors under 21 years old and of note Elliot Scofield at "seven and a half" years old sailing with his dad Chris, were always in the mix.
Despite the hottest temperatures in the country the competitors and race committee had wind conditions that were very good overall.
The RC, led by Ron Holm was able to complete four races mixing Windward-Leeward and an Olympic course on Saturday with southern breeze ranging in the teens to gusts in the low 20 mph range. The shifty gusty conditions placed a priority on tacking, depowering in the puffs and boat handling.
At the end of Saturday Union Sailing Club's Ryan Schubert with crew Amanda Kremer and Gene Soltero and crew Siobahn O'Neill-Schwenk from Dallas Corinthian YC were tied for the lead. Once ashore in the shade all enjoyed some fantastic Kansas City style smoked bar-b-que.
After a delay Sunday morning the wind filled in and three more races were completed in lighter conditions that built from 4 to about 7 mph testing the competitors tactics and light air boat speed.
Ryan Schubert and Amanda Kremer demonstrated their skill in all conditions with 4 bullets over 7 races.
The event would not have been possible without some great volunteers. Jill Huffmire and Sarah Melling provided much appreciated on shore support of food and keeping the beverages cold. Special thanks to Neal and Nancy Barkley for providing on-site smoked bar-be-que that rivals any restaurant. Special recognition to Richard Oben, Joe Glasgow, Jeff Dobbs and Kathleen Coode for their race committee work and Sean Kahlic for great pictures.
Final Results:
| | | | |
| --- | --- | --- | --- |
| Place | Skipper, Crew | | Totals pts |
| 1 | Ryan Schubert , Amanda Kremer | Union Sailing Club | 10 |
| 2 | Gene Soltero, Siobhan O'Neill-Schwenk | Dallas Corinthian YC | 26 |
| 3 | Doug Day, Pat Carr | Fleet 597 KC Metro | 31 |
| 4 | Joe Frey, Emma Brand | Lincoln Sailing Club | 33 |
| 5 | Tim Kelley, John Kelley | Fleet 597 KC Metro | 35 |
| 6 | Joel Erickson, Edik Erickson | Fleet 597 Killcreek YC | 44 |
| 7 | Dennis Miller, Anne Hansen | Lincoln Sailing Club | 54 |
| 8 | Chris Scofield, Elliott Scofield | INSA | 59 |
| 9 | John Buckley, Mary Buckley | Lincoln Sailing Club | 61 |
| 10 | Alexander Blitz, Kim Adam | Union Sailing Club | 62 |
| 11 | Art Matje, Karen Hawkins | Dallas Corinthian YC | 74 |
| 12 | Sydney Brown, Marcia Dority Baker | Lincoln Sailing Club | 79 |
| 13 | Mike Kuhl, Max Frey | Lincoln Sailing Club | 87 |
| 14 | Cait Park, Laura Selivanoff | Lincoln Sailing Club | 93 |