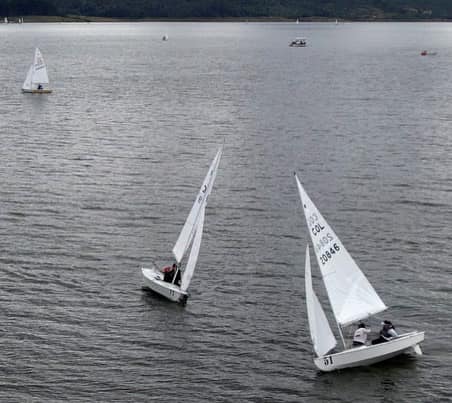 Lake Tomine, Colombia, November 8, 2022. Final results after 8 races (1 discard):
Esteban Echavarria & Juan Esteban Restrepo, 9
Javier Andres Delgado & Antonio Mila, 17
Santiago Uzcategui & Alejandra Osset, 24
Rafael Tamayo & Tomas Vargas, 27
Juana Rojas Mayol & Juan Gabriel Sanchez, 37
Snipe National Championship 2022 was held in Tominé lake, a two-hour car ride away from the Colombian capital Bogotá, with a total of fourteen boats participating. The first day we were not able to do any regatta due to a storm of maximum of 33 knots and hail. All sailors were sent to land in good health conditions and the Regatta Committee acted quickly and strategically for getting everyone safe to land. The second and third days we had sunnier windy days in which we were able to do 3 and 5 regattas for a total of 8.
The General results were as follows:
White Fleet:
First place: The Antioquia League – Esteban Echavarria and Juan Esteban Restrepo
Second place: The Bogotá League – Javier Andrés Delgado and Antonio Mila
Third place: The Bogotá League – Santiago Uzcategui and Alejandra Osset
Tricolor Fleet
First place: The Bogota League – Juan Pablo Angulo and Helen Ortiz
Second place: The Cundinamarca League –Pablo Bright and Tomás de La Vega
Third place: The Cundinamarca League – Joaquin Tamayo and Tamayo