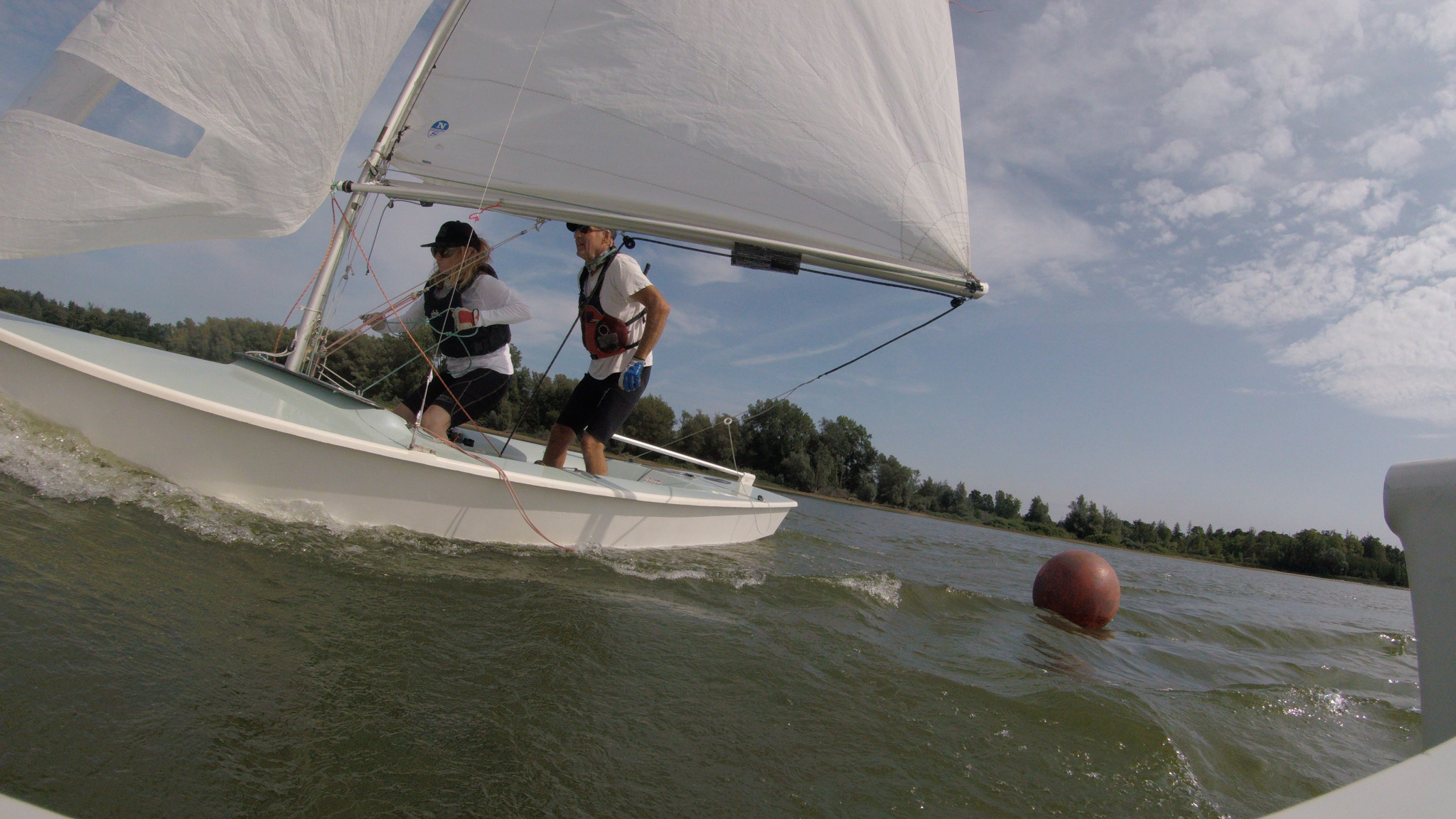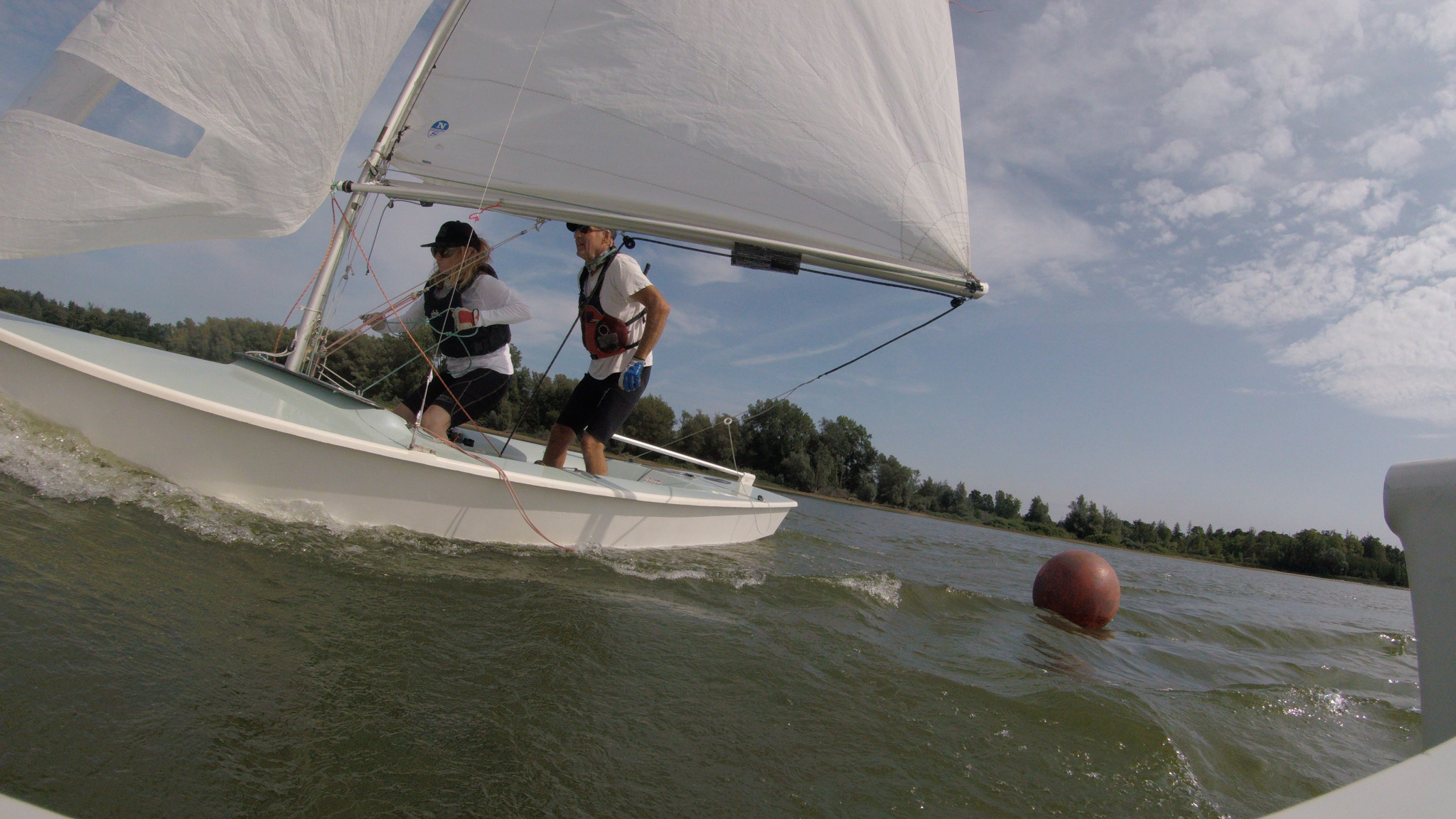 Guelph Lake, September 13, 2020. Report by Julian Inglis
The Canadian Snipe Championship took place this past weekend with two fantastic days of racing on Guelph Lake.
On Day One, the wind direction (and shiftiness) combined with a shrinking lake made it a challenge for PRO Dave Sprague to find a wide enough spot to set a course, but he managed to find just the right spot. The light breeze held through the day, and after eight races, defending champion Harri Palm was in the lead with former Canadian Champion Chris Hains close behind. After blowing out a halyard in the 5th race. Julian and Oliver Inglis finished the day strong with three consecutive wins. Edging them up into third place.
Day 2 presented sailors with typical Guelph Lake challenge: 7-10 knot lulls punctuated randomly by 15 to 18 knot shifty gusts rolling down the lake.
Julian and Oliver Inglis continued their momentum from the previous day and won the first two races, bringing them up to within a point of the leaders, Palm & Hatlelid.
In the final two races the frequency and intensity of the gusts continued to build, throwing some chaos into the races with several boats capsizing on the tricky downwind legs. Juniors Lucas Conrad and Mason McGrath pulled off a second place finish in Race 12 demonstrating some serious heavy air chops and edging ahead of former Canadian Junior Champions Inessa Townsend Fish and Krisina Harris in the standings. Inglis & Inglis pulled off a 3rd place finish and another win, edging into the lead.
With several boats capsized and the wind continuing to build, PRO Irene McNeil called the boats into the dock after the twelfth race.
Final results after 12 races (1 discard):
Julian Inglis & Oliver Inglis, 24
Harri Palm & Stacey Hatlelid, 29
Chris Hains & Adam Caldwell, 34
Lucas Conrad/Mason McGrath 1st Junior Crew
SAILORS
SAIL NUMBER
BOAT NAME
CLUB/ORG
NET
TOTAL
R1
R2
R3
R4
R5
R6
R7
R8
R9
R10
R11
R12

1

Julian Inglis
Oliver Inglis

29536

None

None

24

31

4

2

4

5

[7]

1

1

1

1

1

3

1

2

Harri Palm
Stacey Hatlelid

30765

None

None

29

36

2

4

3

1

2

2

2

2

6

2

[7]

3

3

Chris Hains
Adam Caldwell
Simone Maksym

31325

None

None

34

39

3

1

1

4

1

3

4

5

4

[5]

4

4

4

Jeff Fullerton
Sarah Hinchcliffe

29610

None

None

35

41

[6]

3

2

3

3

4

3

3

3

3

2

6

5

Gord Richards
Ryan Perry

29314

None

None

39

47

1

5

5

2

4

6

5

4

2

4

1

[DNF – 8]

6

Lucas Conrad
Mason McGrath

2931

None

None

64

71

7

7

7

6

5

7

[7]

7

5

6

5

2

7

Inessa Townsend Fish
Kristina Harris

2917

None

None

65

73

5

6

6

7

6

5

6

6

7

[DNF – 8]

6

5