Western Hemisphere & Asia Championship – Day 1
Rodrigue/Tocke (USA) win first 2 races of WHA.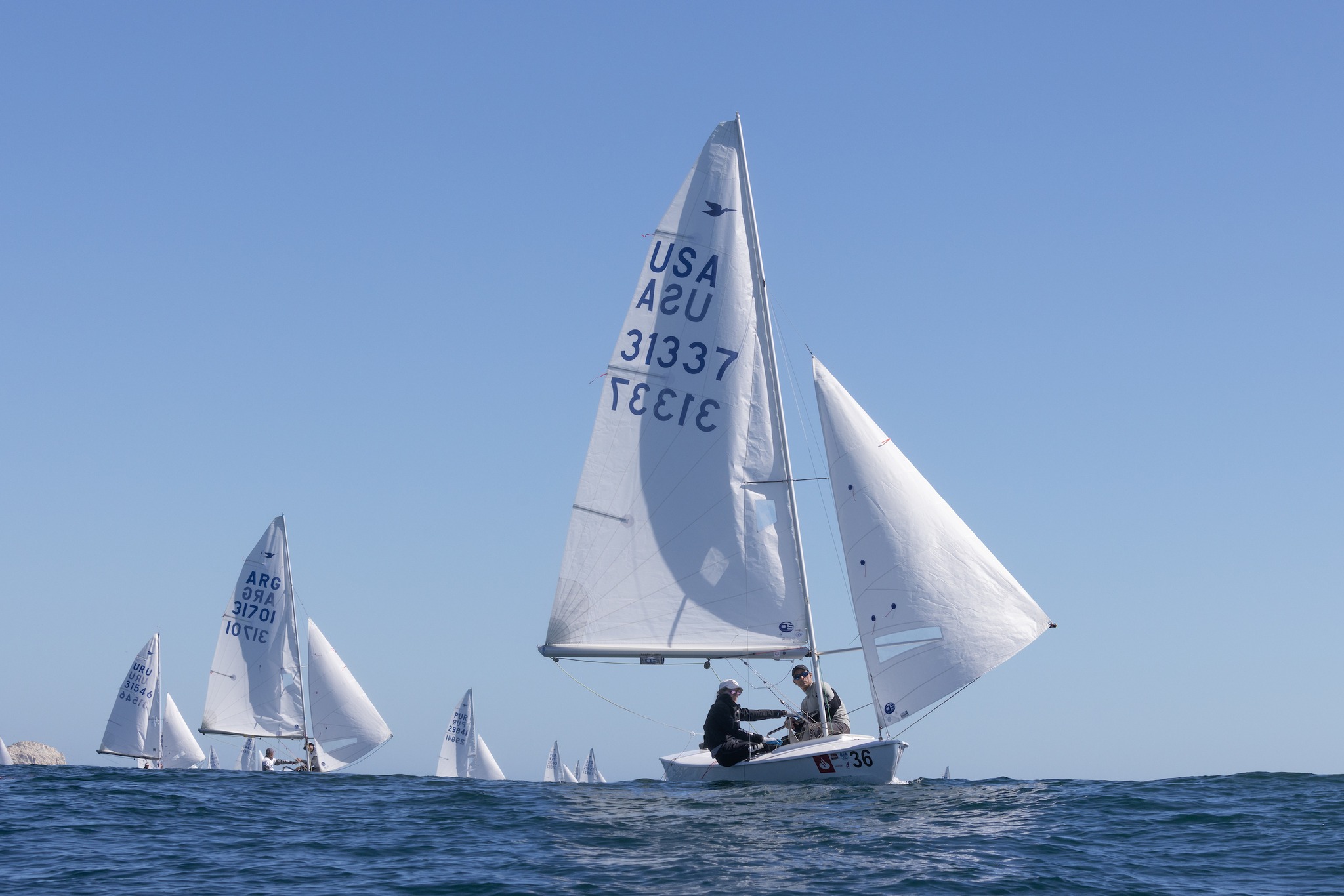 Algarrobo, Chile, March 14, 2023. Results after 2 races:
USA Ernesto Rodriguez & Kathleen Tocke, 2
ARG Luis Soubie & Diego Lipszyc, 4
BRA Rafael Gagliotti & Matheus Manezes Goncalves, 8
PUR Raul Rios & Lexi Pline, 9
USA Randy Lake & Alice Schmid, 11
Rodrigue/Tocke (USA) win first 2 races of WHA.
Light conditions of 4-8 knots were all the competitors and Race Committee had to work with on the opening day of the Snipe Western Hemisphere & Asia Championship.
After a short on-shore postponement while the wind filled, the racers were sent off in 5 knots. All but 1 boat were on the starting line as the father-of-the bride took precedence this day for local skipper Patricio Middleton. Never the less, the rest of the fleet did their best to keep their boats moving in the lighter breeze sailed on the Pacific Ocean.
Ernesto Rodriguez/Kathleen Tocke of the USA led both races and never relinquished their lead, winning both races easily. "This is a favorite course for the left so if you get to the left and manage to hold your lanes in the top group you have a chance," stated Ernesto. Luis Soubie/Diego Lipszyc (ARG) posted a 2-2 behind the Americans to stay consistent while Rafael Gagliotti/Matheus Conclaves (BRA) are in third, Raul Rios/Lexi Pline (PUR) in 4th and Randy Lake/Alice Schmid (USA) rounding out the top 5. Soubie commented, "we were conservative today and sailed toward the gusts and didn't fight for the pin like everyone else. Racing here is a challenge because if you start poorly there are very few things you can do as you need to be ahead some way or the other, otherwise it's death on water."
Race Committee chairman Christian Gonzalez was pleased with the first day, commenting "Today was a good day and we set the bar high – we'll do better tomorrow but that will be hard!"
The WHA serves as a country qualifier for 2 nations for the Pan Am Games to be sailed in these same waters October 25-Nov 5, 2023. The Snipe is a mixed dinghy for the Pan Am Games with 21 of the teams registered as mixed.
Racing continues on Wednesday with 2 races scheduled per day with the final day on Saturday, March 18.
The regatta can be followed on the Championship website:
https://wha.snipechampionships.org/ for results and additional information with photos by Matias Capizzano.
Instagram: @SnipeToday
Instagram Chile: @SnipeChile
SAILORS
SAIL NUMBER
DIVISION
NET
TOTAL
R1
R2
1
Ernesto Rodriguez
Kathleen Tocke
USA 3133736
Open
Master
Mixed
2
2
1
1
2
Luis Soubie
Diego Lipszyc
ARG 317014
Open
Master
4
4
2
2
3
Rafael Gagliotti
Matheus Manezes Goncalves
BRA 312086
Open
8
8
3
5
4
Raul Rios
Lexi Pline
PUR 2984130
Open
Mixed
9
9
5
4
5
Randy Lake
Alice Schmid
USA 3129833
Open
Master
Mixed
11
11
4
7
6
Matias Seguel
Constanza Seguel
CHI 3155421
Open
Mixed
15
15
7
8
7
Enrique Quintero
Charlie Bess
USA 3114438
Open
Mixed
18
18
8
10
8
Antonio Poncell
Carola Martinez
CHI 3144317
Open
Master
Mixed
19
19
6
13
9
Nick Pellicano Grael
Felipe Berardo
BRA 313687
Open
21
21
9
12
10
Julio Alsogaray
Malena Sciarra
ARG 310451
Open
Mixed
22
22
13
9
11
Ricky Fabini
Silvia Tourn
URU 3154632
Open
Master
Mixed
24
24
21
3
12
Juliana Duque
Rafael Martins
BRA 316785
Open
Mixed
24
24
18
6
13
Nicolas Garcia
Juan Cruz Garcia Quiroga
ARG 298273
Open
26
26
12
14
14
Pablo Defazio
Mariana Foglia
URU 2982931
Open
Mixed
28
28
11
17
15
Ismael Muelle
Alessia Zavala
PER 3108327
Open
Mixed
30
30
15
15
16
Roberto Malsch
Jacinta Martinez
CHI 3132316
Open
Master
Mixed
35
35
10
25
17
Diego Figueroa
Fernanda San Roman
PER 3108628
Open
Mixed
36
36
25
11
18
Jorge González
Ignacio Seguel
CHI 3178712
Open
36
36
14
22
19
BENJAMIN GUZMAN
Rodrigo Guzman
CHI 3119910
Open
38
38
19
19
20
Agustín Segovia
Cristian Segovia
CHI 2884320
Open
39
39
16
23
21
Jose Diaz
Mercedes Delgado
PUR 3037729
Open
Mixed
Junior
40
40
20
20
22
Alec Hughes
Valeria Brena
PER 3108537
Open
Mixed
42
42
26
16
23
Francisco Viada
Maria Jesus Viada
CHI 2927423
Open
Mixed
43
43
17
26
24
Matias Poncell
Trinidad Prieto
CHI 3179118
Open
Mixed
43
43
22
21
25
Guillermo Contreras
Catalina Vienne
CHI 317539
Open
Master
Mixed
51
51
23
28
26
Juan Sanchez
Juan Valenzuela
CHI 2991019
Open
54
54
UFD – 36
18
27
Sebastian Larrain
Vicente Larraín
CHI 3180614
Open
56
56
32
24
28
Juan Lyon
Valentina Lyon
PER 3108426
Open
Mixed
56
56
24
32
29
Fernando Gallyas
Constanza Gallyas
CHI 3166711
Open
Master
Mixed
56
56
29
27
30
Rodrigo Sánchez
Ignacio Annunziata
CHI 3178622
Open
57
57
27
30
31
Nicolas Halles
Felipe Halles
CHI 315513
Open
59
59
28
31
32
Ignacio Almarza
Patricio Flores
CHI 317858
Open
Master
60
60
31
29
33
Francisco Jacobsen
Rodrigo Sotomayor
CHI 3178124
Open
64
64
30
34
34
Alberto Prieto
Carlos Gomez
CHI 3168125
Open
Master
68
68
33
35
35
Patricio Middleton
Emilia Salvatore
CHI 2864315
Open
Master
Mixed
69
69
DNS – 36
33