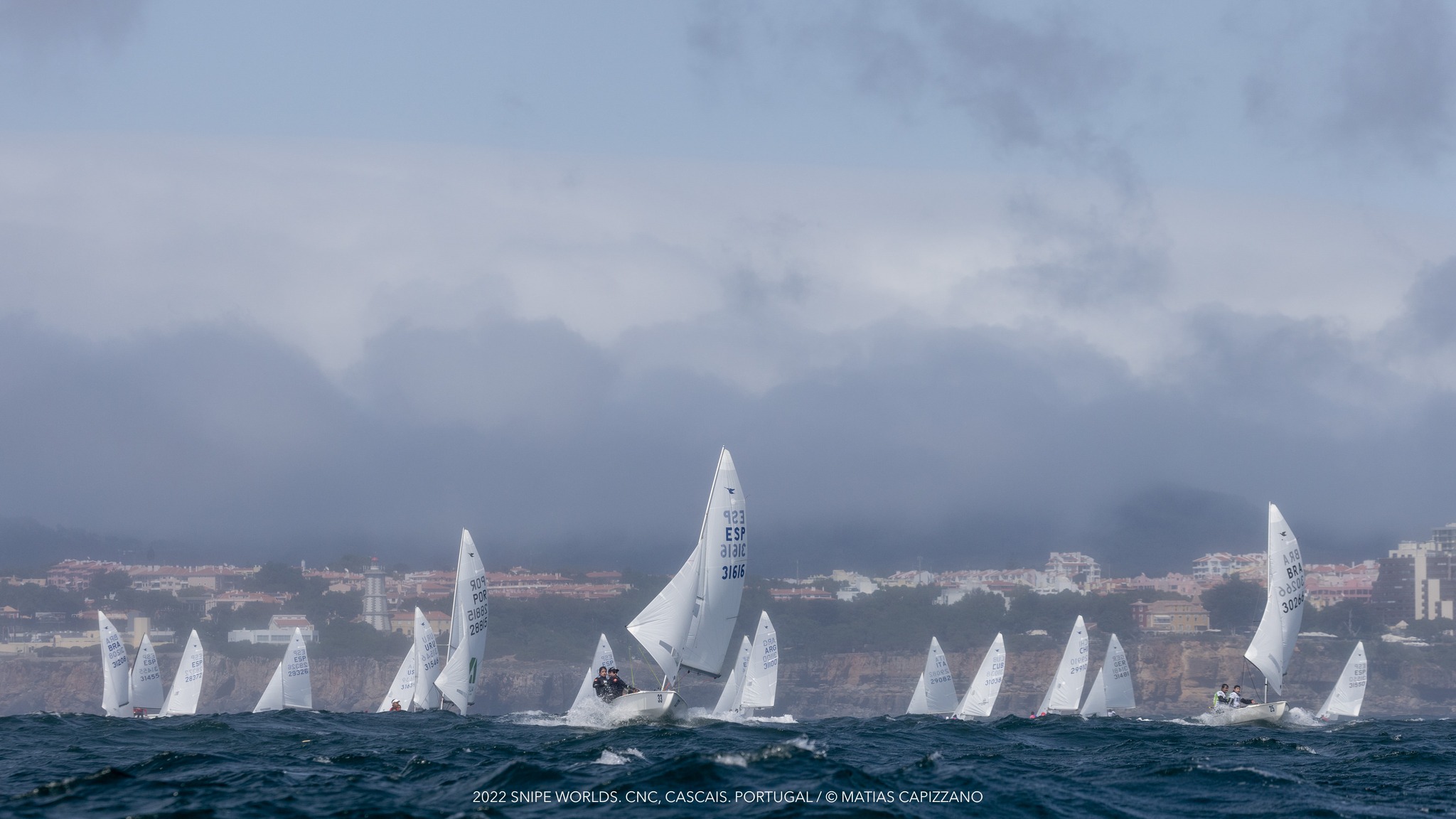 Cascais, Portugal, August 24, 2022. Results after 8 races (1 discard):
USA Ernesto Rodriguez & Kathleen Tocke, 24
BRA Alexandre Paradeda & Gabriel Kieling dos Santos, 30
ESP Alfredo Gonzalez & Cristian Sanchez, 31
BRA Henrique Haddad & Gustavo Nascimento, 44
BRA Juliana Duque & Rafael Martins, 45
BRA Bruno Bethlem & Dante Bianchi, 65
ESP Gustavo Del Castillo & Rafael Del Castillo, 74
POR Henrique Brites & Francisco Maia, 93
BEL Sam Vandormael & Daan Vandormael, 104
ESP Victor Perez Campos & Enric Noguera, 107,4
Day 4 Highlights and interviews
FIELD NARROWS TO LAST RACE
After the 4th day of racing with 8 races completed at the 2022 Snipe World Championship in Cascais, Portugal, the field is narrowing. The top teams are laser focused on winning the title with 1 race remaining and those in contention managed single digit scores today to push them to the top. Between the top 5 teams in contention, 21 points separate them, with the ultimate title still up for grabs.The day began in 13 knots when the competitors arrived on the course, but quickly built to a consistent 17 knots after the 2nd start under a U flag. 4 boats were caught under the U flag including would be contender Victor Perez Campos/Enric Noguera (ESP). The weather mark reported increased puffs to 20 knots and Xandi Paradeda/Gabriel Kieling (BRA) arrived first followed by the Belgian team of Sam & Daan Vandormael (BEL) and Henrique Brites/Francisco Maia (POR), followed by Americans Ernesto Rodriguez/Kathleen Tocke. Most teams did not launch the pole and took off on a jib reach on the double triangle course. A tricky gybe and screaming reaches and back upwind for another triangle, this time with Rodriguez/Tocke taking the lead and Juliana Duque/Rafael Martins (BRA) finishing behind them in 2nd with Paradeda/Kieling in 3rd.
With the wind increasing to 18 knots, the Race Committee signaled another double triangle course for the last race of the day. After a clear start, the racers headed toward the weather mark which was reporting puffs to 21 knots but also with a fog bank hanging just off the course. Paradeda/Kieling rounded in first followed by early regatta leader Mario Sergio de Jesus/Henrique Wisniewski (BRA) and Alfredo Gonzalez/Cristian Sanchez (ESP). After the first triangle, the wind dropped a bit in velocity, but not enough to change the course, but causing teams to change gears. At the finish, Paradeda/Kieling hung on with Rodriguez/Tocke just behind. A bit of a gap and Gonzalez/Sanchez crossed in 3rd with Juliana Duque/Rafael Martins in 4th and managing to finish the day with a severely damaged rudder that managed to get them through the day (2-4 finishes).
Going into the final day, Rodriguez/Tocke have a 6 point lead over Paradeda/Kieling (30) and Gonzalez/Sanchez (32). Rodriguez commented, "we knew we would have our chance but there are many good sailors here so we would have to sail pretty well in order to be in the top spots and we did a good job today. Upwind was pretty much maintaining our position, it was on reaches that we made our gains" And on the plan for tomorrow, "hopefully we don't sail tomorrow. No, just kidding, …hike really hard and keep it clean tomorrow"
Haddad/Nascimento are in 3rd with 44pts and Duque/Martins in 5th with 45. All have double digit drops except Gonzalez/Sanchez. Tomorrow will be the determiner with more of the same winds forecast for tomorrow.